By Jacqueline Pitts, The Bottom Line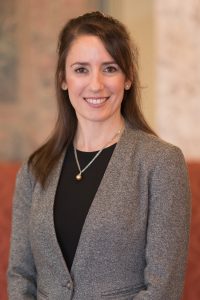 FRANKFORT, Ky. — Kate Shanks has been promoted to the position of vice president of public affairs, Kentucky Chamber of Commerce President and CEO Ashli Watts announced Monday.
Shanks joined the staff of the Kentucky Chamber in November 2015 as a director of public affairs specializing in energy policy. In October 2018, she was promoted to the position of vice president of policy development. In her new role, she will lead the chamber's lobbying team and direct the organization's public policy efforts.
"I am so pleased to have Kate lead public affairs and continue advocating for the business community," Watts said. "With her strong work ethic and knowledge of policy, Kate has earned the respect of her peers, legislators and chamber members. I know the advocacy of the chamber will achieve new heights with Kate at the helm."
Prior to joining the chamber, Shanks spent nearly 12 years working for state agencies and held multiple positions relating to communications, policy analysis and design, and legislative affairs. She is a lifelong resident of Kentucky and earned both a bachelor of science in natural resource conservation and management and a master of public administration from the University of Kentucky. Shanks is originally from Louisville and is the daughter of a small business owner.
---