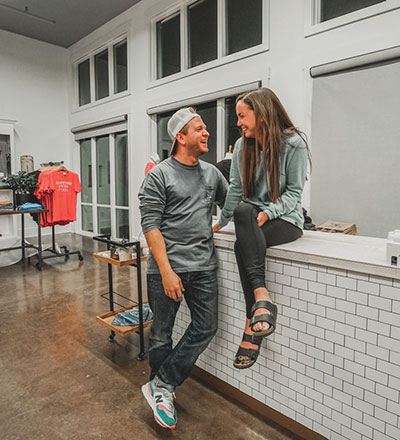 From branded ballcaps and socks to seasonally themed sweatshirts and saucy message tees, promoting Kentucky with fun and joy is an important aspect of the Shop Local Kentucky business model – as is providing an opportunity to donate proceeds to charities.
Owners Rick and Joni Paynter sell merchandise through their online store (thekyshop.com) and retail locations in Lexington, Bowling Green and Covington.
"I love that we get to work together," Joni said. "Spreading joy one T-shirt at a time, we hope we do that. We hope we make people smile."
Most of their business comes from online orders, and they ship to all 50 states, 25 countries and to military personnel through APOs. Production takes place in-house at the Lexington headquarters.
With the job title of "Chief Kentuckian," Rick Paynter oversees "a little bit of everything," he said. He works with the design team, production, garment sourcing and marketing. Joni is hands-on with the customer experience and makes sure everything behind the scenes is coming together with the company's two dozen employees.
"We're very much of the mindset that kindness rules everything," Rick said. "We're super nice to our customers. They have a nice dialog with us about what they want and how they want it."
Instead of creating a product and promoting it to customers, the Paynters do it the other way around more often than not, asking their social media followers what they want.
"How can we provide something you think is a cool garment?" is an underlying marketing message from Shop Local Kentucky. To date, best sellers are "anything relating to Southern life or Kentucky living," according to Rick.
When Rick Paynter graduated from the University of Kentucky with a degree in psychology, he was prepared to enter several different fields. Unfortunately, it was during the 2009 recession, so there weren't a lot of positions available. He worked in a tire store, found himself coding and designing websites, then landed a job as marketing director with the Kentucky Chamber of Commerce.
---
IT'S FREE | Sign up for The Lane Report email business newsletter. Receive breaking Kentucky business news and updates daily. Click here to sign up
---
A native of Winchester, Paynter has an innate love of the commonwealth, so he started an Instagram account highlighting all things Kentucky, like restaurants, scenery, activities and cool places. His wife, Joni, grew up in Owensboro. They soon amassed 20,000 followers on Instagram and one day decided to design a T-shirt and donate 100% of the proceeds to The Toy Chest, a children's charity based in Lexington.
"We took the shirts online on a Friday morning at 10 a.m. and sold out in 10 minutes flat," Rick said. He and Joni discussed what it would look like as a business opportunity, to create themed T-shirts and sell them online and at local festivals. They bought a screen-printing press, put it in their Georgetown home and grew the business grassroots-style, pounding the pavement.
"We did that out of our garage for two years," he said.
They opened a seasonal Christmas shop in 2014, then found a permanent retail space in nearby Lexington the next year – until a car drove through the building in summer 2017. Shortly after, Shop Local Kentucky opened a shop in the Shelby Park area of Louisville – and a vehicle drove through it as well, less than six months after the Lexington incident. The Louisville building was condemned, but the Lexington building was repaired and Shop Local Kentucky still has a retail shop there on Woodland Avenue, near the UK campus.
The owners of Shop Local Kentucky spent 2018 and most of 2019 concentrating on their Lexington store, e-commerce business and social media presence. The shop has more than 141,000 followers on Instagram and 257,000 on Facebook.
In October 2019, the Paynters opened a store on State Street in Bowling Green, and in November they opened in Covington on Pike Street, next to Braxton Brewery.
"There's a ton of action there," Rick said of downtown Covington. "The area is up and coming with young entrepreneurs and businesses."
Weathering the ups and downs (and drive-throughs) of retail, Rick and Joni Paynter are in it for the long haul. "We love what we do every day," he said. Because, as one of their best-selling designs says, "Life is better in Kentucky."