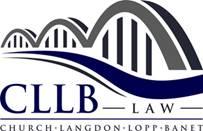 NEW ALBANY, IND. — Representatives from Church Langdon Lopp & Banet, the City of New Albany, Ind., and One Southern Indiana will celebrate on Monday the opening of the new law firm at 318 Pearl Street with a ribbon cutting. The event will begin at noon.
Founded by attorneys Larry Church, Steve Langdon, Jason Lopp and Gary Banet, CLLB Law is a full-service law firm operating on both sides of the Ohio River, equipped and experienced to handle a multitude of legal issues including, but not limited to: civil litigation, elder law, family law, real estate matters, wills, trusts and probate, corporate and business matters and litigation, as well as dispute resolution.
While this is a new firm, the attorneys and support staff have been working with clients in the Southern Indiana region for many years under a different company name.
"Same people. Same service. Just a new name," Church said.
CLLB Law attorneys and staff have been active in supporting local charities, contributing time, talent and treasure.  Some of the organizations that have benefitted include: Center for Women and Families, Crystal Boots and Silver Spurs, The Waterfront Botanical Gardens, Animal Cares, New Albany/Floyd County Educational Foundation, Beaux Arts Ball, American Heart Association, Leadership Southern Indiana and 1si.
The 16 full-time and two part-time staff members are in the office, Monday through Friday from 8 a.m. to 5 p.m. For more information, visit the company's website at www.cllblegal.com.
Who: Church Langdon Lopp & Banet LLC (CLLB Law)
What: Ribbon Cutting
When:  Noon, Monday, Jan. 13, 2020
Where: 318 Pearl Street, New Albany, Ind.
Google Map: Click here