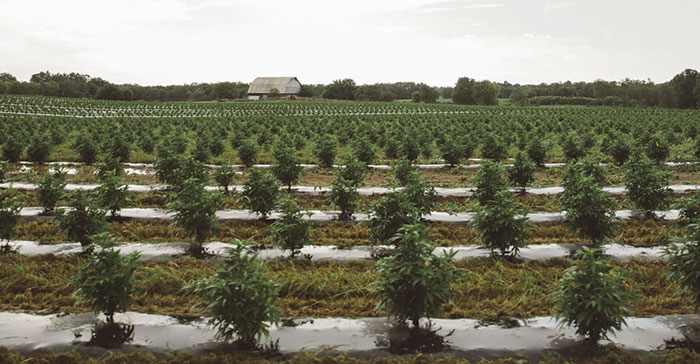 FRANKFORT, Ky. — Agriculture Commissioner Dr. Ryan Quarles announced the Kentucky Department of Agriculture (KDA) will use 2020 as a year to transition from a hemp research pilot program to a commercial hemp program.
"The 2018 Farm Bill removed industrial hemp from the federal list of controlled substances, a move which has been a catalyst for hemp growers and businesses. Wisely, Congress also gave state departments of agriculture the option to operate state pilot programs for another year before submitting new plans to the U.S. Department of Agriculture," Commissioner Quarles said. "The industry has changed dramatically, but the national hemp marketplace is experiencing some real challenges. After much discussion with industry stakeholders in Kentucky, I determined our state will operate our current hemp program for another year as we responsibly make plans to take Kentucky's hemp industry into the next phase in 2021 and beyond."
In October, the United States Department of Agriculture (USDA) published an Interim Final Rule (IFR) which established the federal regulatory framework for industrial hemp growth in the United States and gave states an option to operate programs under the state pilot provision of the 2014 Farm Bill for the 2020 growing year. Kentucky will operate its program for the 2020 growing year under the 2014 provision and use the extension to continue discussions with key stakeholders and USDA.
"I wish to thank USDA Under Secretary Greg Ibach and his team for spending time with my staff discussing the IFR and the suggested guidelines. We will continue to work with them as we make plans to file a State Plan later this year for Kentucky's hemp program in 2021 and beyond," Quarles said. "Additionally, my Administration will continue working with Senate Majority Leader Mitch McConnell, Senator Rand Paul, and the rest of our federal delegation to make sure that the other federal regulators, particularly the Food and Drug Administration, hear the needs of farmers in Kentucky and make regulatory decisions with them in mind."
"Kentucky hemp producers have learned a lot since the beginning of the 2014 pilot program as they explore the crop's potential, and we have the nation's best Agriculture Commissioner in Ryan Quarles leading the way. By maintaining the pilot program for another growing season, Commissioner Quarles is protecting Kentucky's farmers, processors and manufacturers while the U.S. Department of Agriculture continues developing its final rule," said U.S. Senate Majority Leader Mitch McConnell. "I'm grateful to the USDA for answering my call to publish a proposed framework for states' hemp plans before the 2020 growing season. I hope USDA will continue working with states, including Kentucky, to make the final rule as workable as possible in accordance with the Farm Bill."
The window to apply to grow hemp in Kentucky is open until March 15, 2020 and is available online at www.kyagr.com/hemp. Processor applications are available there as well and will be accepted year-round.
The 2018 Farm Bill included a measure authored by Senator McConnell that removed industrial hemp from the federal Controlled Substances Act, gave hemp growers increased access to USDA programs, and outlined the requirements a state regulatory framework must contain to earn approval by the U.S. Department of Agriculture. Those interested in commenting on USDA's Interim Final Rule can do so by visiting USDA's website here.
The KDA will submit comments to USDA about the interim final rule before the Jan. 29 deadline.