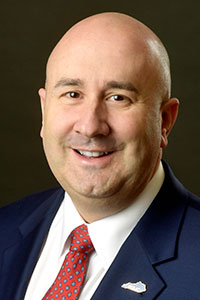 J.D. Chaney was named executive director/CEO for the Kentucky League of Cities (KLC) in December 2019.
Chaney has worked at KLC in a variety of positions over the past 18 years including deputy executive director over membership, director of governmental affairs and chief legal counsel.
Chaney, who began his career with KLC as a law clerk, has spent years advocating for Kentucky's cities with the General Assembly in Frankfort and he continues to draft and lobby legislation to help benefit city governments throughout the Commonwealth of Kentucky.
During his career, he has written numerous articles and publications on municipal law and participated in several legal cases impacting cities in Kentucky. He is a member of the International Municipal Lawyers Association, the Madison County Bar Association, the Municipal Attorneys Association of Kentucky, and is a past chairman of the Kentucky Bar Association's Local Government Law Section.
Chaney also serves on the Kentucky Local Insurance Premium Tax Advisory Council, Commerce Lexington's Public Policy Council, the Kentucky Chamber of Commerce's Competitiveness Council, and the Richmond Chamber of Commerce Board of Directors.
He holds a law degree from the University of Kentucky College of Law, a master of business administration degree from Eastern Kentucky University, and a bachelor of arts degree in political science and economics from the University of Montana.
Chaney lives in Richmond with his wife Colleen and their two daughters, Adaleen and Evaleen.