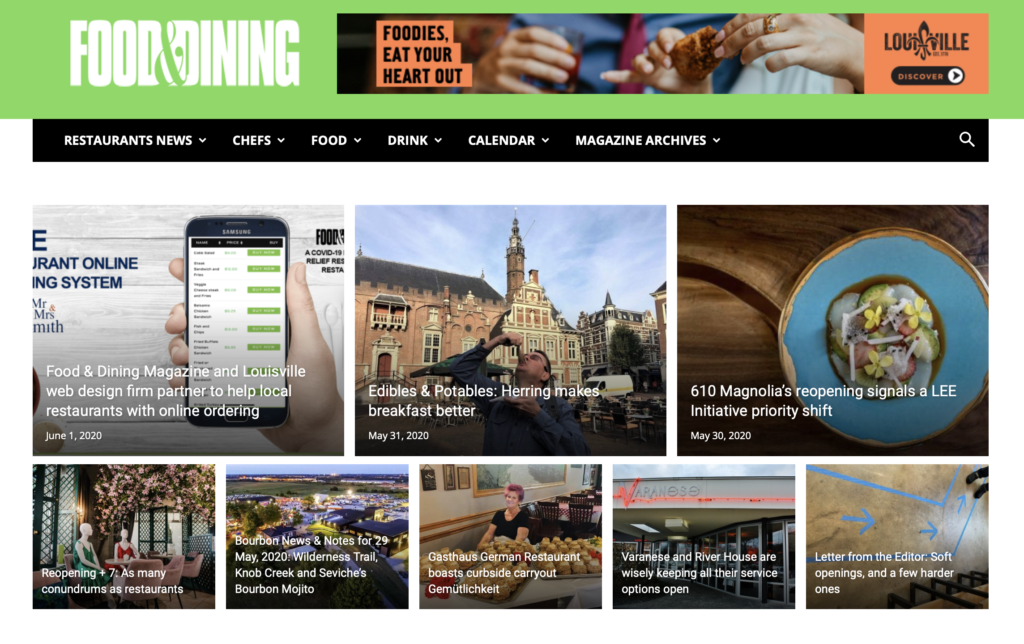 LOUISVILLE, Ky. — Food & Dining magazine and Louisville web design firm Mr and Mrs Smith LLC have partnered to create a free custom online restaurant ordering system to assist Louisville's locally-owned restaurants coping with the coronavirus crisis.
The goal of this free service is simple — to help Louisville restaurants reach and serve their customers in this new and ever-evolving environment.
This a free custom ordering system designed specifically for the restaurant. It will reside on the restaurant's own website. The entire process is completely free — no set-up fees, no monthly fees, no service fees, or delivery fees.
As the COVID-19 crisis forced Louisville restaurants to abruptly shift business models toward carryout and delivery both Jason Smith (founder of Mr and Mrs Smith, and designer of F&D's website) and John Carlos White (publisher of F&D) grew concerned that many independent restaurants lacked the technical resources and the funds to create an online ordering system tailored to meet this new demand. In response, Smith set out to create a simple to use carry-out and delivery ordering system that can reside on the restaurant's own website and easily accessed by customers on either a desktop or a mobile device.
The result is an intuitive ordering virtual menu system. Customers simply choose their items, add them to a cart, and check out. The free system allows restaurants to offer up to 18 menu items and connect the restaurant's own online merchant for free (for full details see www.mrwebsmith.com/restaurant).
Restaurants can also opt to install additional features, for a fee, beyond the basic service, including offering more than 18 menu items, scheduled orders, delivery area restrictions, text message confirmation systems, daily and time slot limitations.
With the implementation of this free service, Food & Dining Magazine and Mr and Mrs Smith LLC are giving local independent restaurants access to high-quality design and technical support that has previously only been open to larger restaurants and chains.
"I believe delivery and carryout will continue to be a significant portion of a restaurants business well after this crisis has passed," said White. "Restaurants need to be equipped for the new normal."
"It is our desire," said Smith "that our restaurants may once again thrive, both during and after this crisis."