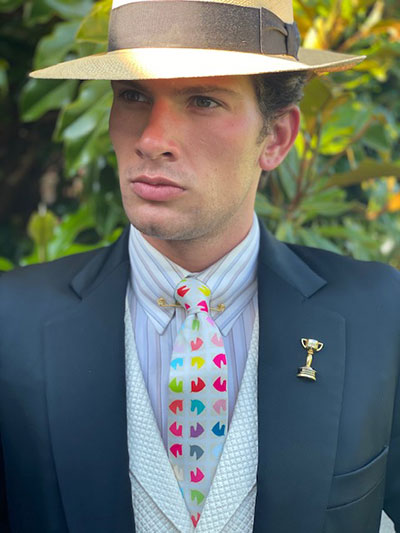 LEXINGTON, Ky. — Known for his fashion sense, style and love of horses, designer and actor Carson Kressley has partnered with Lexington's E.F. Meeks to raise funds for the United Professional Horsemen's Association. E.F. Meeks is selling a limited-edition necktie and bow tie designed in collaboration with Kressley. Donated directly to UPHA, which is also based in Lexington, 100 percent of the funds will be used to support horsemen and horsewomen who have been negatively affected by COVID-19.
Kressley, who is a world-champion equestrian, wrote about the partnership in a quote that was shared by the UPHA: "I was inspired by our industry coming together to help both horses and humans adversely affected by the COVID-19 pandemic through the United Professional Horsemen's Association and the Joint Leadership Council. I thought I could help by designing a tie that we could all wear during our return to the show ring — one that would show our support for our fellow horsemen and also raise funds during these extremely challenging times. My friends at E.F Meeks stepped right up to make them and donate 100% of the profits to the UPHA."
The ties are hand-made from pique fabric that features horse heads in vibrant colors on a white background. The fabric is soft to the touch and wrinkle resistant. Available online, the necktie is $100 (plus shipping & handling) and the bow tie is $60 (plus shipping & handling).
Founded in 2015, E.F. Meeks is known for custom hand-sewn ties, bow ties, pocket squares, scarves and, most recently, face masks. E.F. Meeks is owned by Eric Goff, "I have been in contact with Carson for about a year regarding doing a custom design for UPHA. When the pandemic came about, he mentioned wanting to do something to raise funds for those affected in the horse business. I was more than happy to help such an important industry for Kentucky and this region."
Goff designs the patterns for the fabrics, which are often bright and equestrian, or bourbon-themed. He created E.F. Meeks to pay homage to his grandfather, Eugene F. Meeks, an Air Force Colonel, Kentucky Colonel, University of Kentucky football player.
"My grandfather never met a stranger and always enjoyed a good party," said Goff. "Unfortunately, while I was in college at Transylvania University, he was diagnosed and, eventually passed, from Alzheimer's. I chose to remember his spirit — rather than the disease — by wearing his bright, unique sport coats. I've expanded that tribute into E.F. Meeks, a brand that embraces bright colors, fun patterns and the occasions that bring friends and family together."