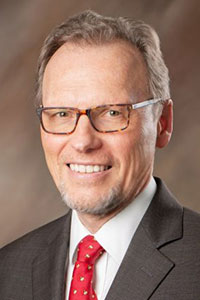 LOUISVILLE, Ky. — Dr. Joern B. Soltau has been named the Dr. William H. and Mrs. Blondina F. Evans Endowed Chair of the Department of Ophthalmology and Visual Sciences in the University of Louisville School of Medicine.
Soltau served as acting chair of the department since November 2018 and has been a member of the UofL faculty since 1998. In clinical practice, Soltau is a glaucoma specialist with UofL Physicians – Eye Specialists. He is board certified by the American Board of Ophthalmology.
Soltau was born in Hong Kong and grew up in Germany. He earned his M.D. from Ruprecht-Karls Universität in Heidelberg, Germany, in 1988, followed by an internship in ophthalmology at Klinikum Mannheim in Germany. After spending two years in research at UofL in the Kentucky Lions Eye Center, he completed his residency at Washington University School of Medicine in St. Louis, followed by a year as chief resident at the same institution. He then completed a glaucoma fellowship at the Bascom Palmer Eye Institute in Miami.
At UofL, Soltau served as residency program director from 2001-16. He received the American Academy of Ophthalmology Achievement Award in 2018 and was listed among Louisville's Top Surgeons in Louisville Magazine for Cataract Surgery in 2010 and 2018.
"I am confident Dr. Soltau will continue to be a good fit for leading the department into the future, building on its strong tradition of research, clinical care and education," said Dr. Toni Ganzel, M.B.A., dean of the School of Medicine.
Soltau's appointment as chair of the department was effective April 1.