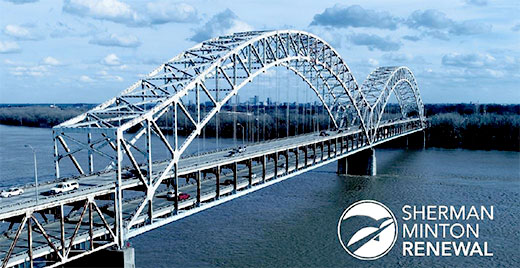 LOUISVILLE, Ky. — The Sherman Minton Renewal project team unveiled its plan for a preferred alternative for construction while it works on the 57-year old bridge between downtown Louisville and southern Indiana, starting in 2021.
Input from community leaders, elected officials, business owners and the general public led the project team to develop a plan that will minimize the impact of the major restoration project on traffic flow. The bridge will remain open with at least one lane of traffic in each direction for nearly 95% of the three-year construction process. Full closure of the bridge will be restricted to only 54 total days of the estimated 843 days of work.
Additionally, the plan will ensure that the closures will not be in one consecutive period, but will be limited to nine consecutive days per direction in a calendar year and up to three three-day weekends per direction in a calendar year, for a total of just 18 days of full closure per year.
The Preferred Alternative reflects the public's preference for maintaining access across the bridge to the fullest extent possible during construction.
Here are some further details about the recommended approach:
Cross-river traffic will be maintained with two eastbound and two westbound travel lanes open during the majority of construction.
Temporary crossovers and additional temporary widening to ramp lanes will be implemented to facilitate the movement of traffic during construction.
One eastbound and one westbound lane will be closed throughout construction.
Existing access ramps will remain open during the majority of construction.
Two eastbound and/or two westbound lanes and associated access ramps may be closed nightly during construction for up to 180 nights per calendar year.
The Sherman Minton Renewal project team also released the Environmental Document required by the National Environmental Policy Act (NEPA). It is viewable on the project website (shermanmintonrenewal.com), or in person at the following locations:
INDOT Seymour Office, 185 Agrico Lane, Seymour, IN 47274
TARC, 1000 West Broadway, Louisville, KY 40203
NIA Center, 2900 West Broadway, Louisville, KY 40211
Shively City Hall, 3920 Dixie Highway, Shively, KY 40216
Hope Southern Indiana, Brown-Starks Neighborhood Place, 1200 Bono Road, New Albany, IN 47150
The public will have until Aug. 15 to submit comments on the plan, which can be done by going to shermanmintonrenewal.com/contact-us , by calling (502) 329-8320, or by completing a comment card at any of the above locations. After considering additional comments, the states will confirm the Preferred Alternative.