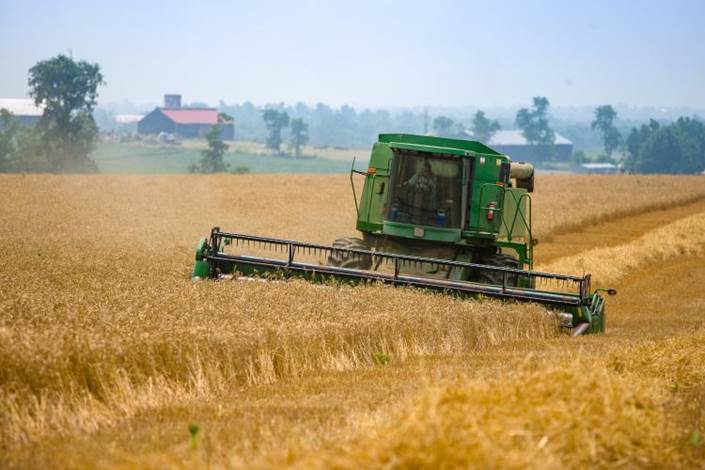 LEXINGTON, Ky. — Two very late spring freezes slowed harvest and reduced wheat yields across Kentucky, according to grain crop specialists with the University of Kentucky College of Agriculture, Food and Environment.
Much of the state saw freezing temperatures the mornings of April 15 and 16 and again on May 8 and 9. Wheat in Western Kentucky suffered damage from the April event while the Central Kentucky crop was more impacted by the May freeze. Some locations in the state saw damage from both. While uncommon, an April freeze is not unheard of in Kentucky, but the May 8-9 freeze had less than a 10% chance of occurring.
"The fact that we were harvesting in early July tells you that we were about seven to 10 days behind pretty much across the entire state," said Chad Lee, grain crops specialist and director of the UK Grain and Forage Center of Excellence.
Carrie Knott, UK grain crops specialist, said Western Kentucky wheat yields averaged 25% below normal. Despite the wheat's location in the state, yields varied greatly with farmers reporting drastic differences in the same field. On July 10, the National Agricultural Statistics Service reported a statewide average yield of 63 bushels per acre.
"The freezes impacted yields more than we anticipated," Knott said. "In Western Kentucky, yields are all over the place. Parts of fields are averaging 25 bushels per acre while other parts will be more than 100 bushels per acre. Overall yield averages are in the 80 bushel per acre range."
Fields at the University of Kentucky Research and Education Center reflect the spotty freeze damage with one plot receiving damage while the other was unharmed. Knott's freeze-damaged plot averaged 78 bushels per acre, while her other plot yielded 108 bushels per acre.
Despite normal planting times and growing conditions throughout the winter, much of the state's crop was about two weeks ahead of schedule when the freezes occurred.
"Most of the Western Kentucky wheat that was damaged in April was at heading or beyond in development," Knott said. "It was quite a shock that the crop was this far along in mid-April."
Despite the yields, test weights generally are good for harvested Kentucky wheat, which means the crop maintained its quality. However, the Central Kentucky wheat harvest was further delayed, as nearly daily rains leading up to July 4 kept a mature crop in the field. Lee said rain on a mature crop could hurt Central Kentucky test weights.
The delayed wheat harvest also means producers are scrambling to plant double-crop soybeans.
"We typically think that when we get into July, we are getting too late to plant double-crop soybeans. I imagine, though, many farmers are going to try to capture something out of this season, after they harvest what mostly looks like disappointing wheat yields in their fields," Lee said. "Those farmers are hoping that we have a more favorable August and delayed freezes this fall and those soybeans produce a good yield."