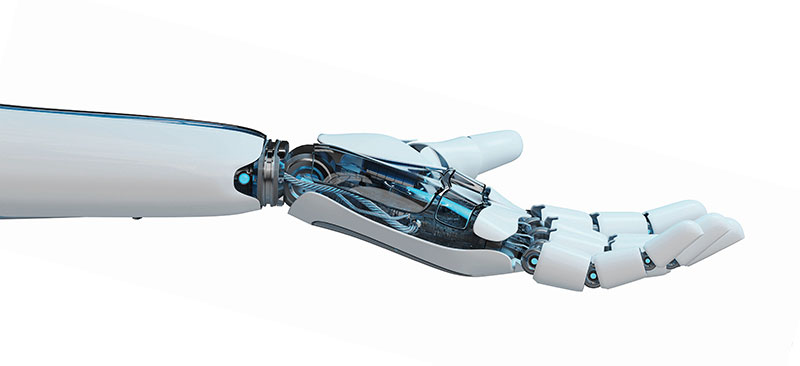 The future of technology is now — and it's right here in Louisville.
If you don't believe it, just ask Microsoft. Or IBM, or GE, or the hundreds of other tech-based companies that are making investments in the Greater Louisville region.
Louisville has been working for many years to transform itself into a regional tech hub, creating infrastructure to support technology companies and building programs to cultivate the region's tech talent pipeline. Local leaders stepped on the gas pedal in 2019, ramping up efforts to create a skilled workforce that attracts companies to the region.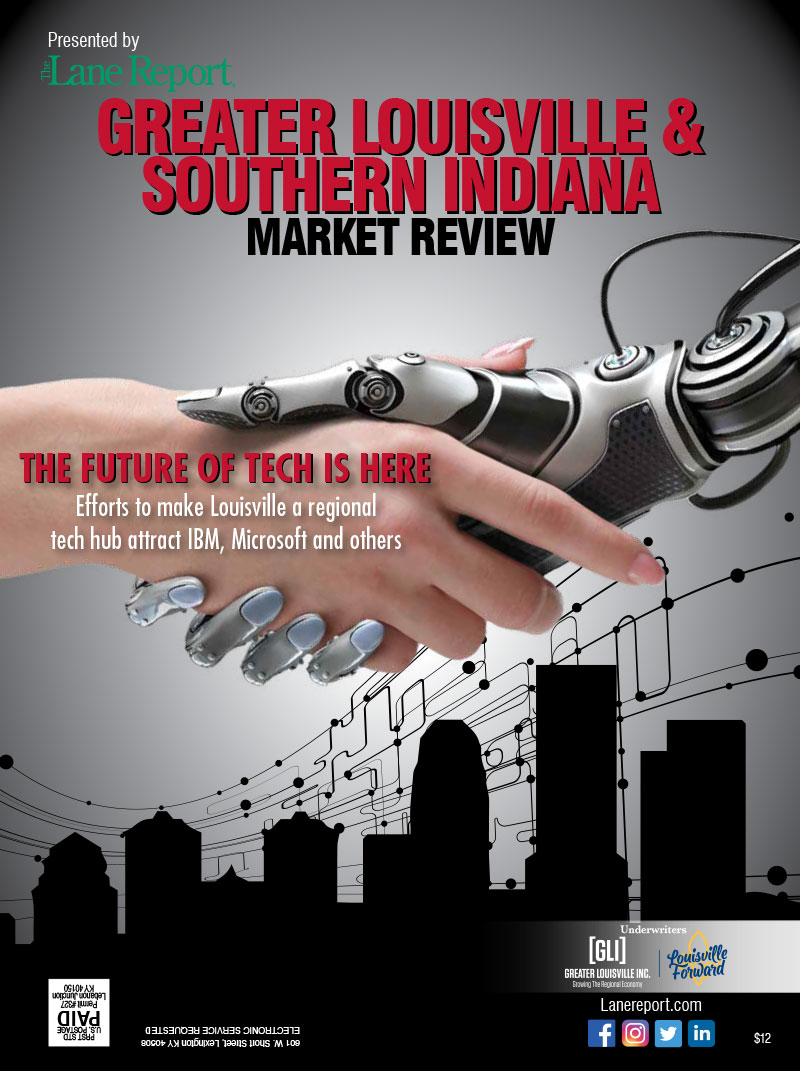 Calling Louisville an "emerging tech city," Greater Louisville Inc. (GLI), the Metro Chamber of Commerce, proclaimed 2019 the "Year of Tech." It was a fitting title. Soon after, the technology heavyweights came calling.
In April 2019, IBM announced plans to establish an IBM Skills Academy at the University of Louisville, the first of its kind at an institute of higher learning. On June 3, 2019, Mayor Greg Fischer outlined an initiative called LouTechWorks to rapidly expand its tech talent pipeline in collaboration with education, nonprofit and employer partners. Just days later, Microsoft announced it had chosen Louisville to become a Microsoft regional hub for artificial intelligence (AI), the Internet of Things (IoT), and data science.
What has happened since is a true testament to one of Louisville's greatest traits: its collaborative nature. Numerous programs, companies and organizations are working toward the same goal – growing local tech talent and attracting new tech jobs.
"Louisville is poised to accelerate its economic success throughout the next decade, in part because of our unique culture of collaboration," said Mary Ellen Wiederwohl, chief of Louisville Forward, the city's economic and community development organization.
The city's plan to grow tech jobs and create a sustainable future-focused tech economy has embraced that spirit of collaboration. The strategy is simple: Get everyone involved in tech training, from public schools to universities, employers, the city government, local foundations and nonprofits, and more.
---
IT'S FREE | Sign up for The Lane Report email business newsletter. Receive breaking Kentucky business news and updates daily. Click here to sign up
---
The result: Schools across the region are offering more career pathways and courses that emphasize tech education, such as computer science and information technology. Innovative partnerships have formed to expand opportunities for all area residents, through existing programs such as Code Louisville and new programs like bit502 and Tech Louisville. Regional tech employers are collaborating to solve hiring challenges and identify credentials they value when making hiring decisions, which informs the education and training curriculums of area schools.
"There has been a real coordination of efforts and real sense of momentum," said  Susan Weiss, owner of web solutions company Net Tango. "There is a very bright future for technology companies here in Louisville."   
Michael Gritton, executive director of KentuckianaWorks, the region's workforce development board, agreed.
"There is a growing momentum around the tech sector in the Louisville area, and the recent investments from major companies like Microsoft and IBM reflect that," he said. "There is currently a very strong network of partnerships between city government, the public school system, institutions of higher learning, the chamber of commerce (GLI), and the private sector which creates a uniquely supportive and attractive environment for companies."
Training impacts workforce, changes people's lives
Microsoft and IBM have not only lent credibility to Louisville's tech reputation; the programs — along with other Louisville programs like KentuckianaWorks' Code Louisville — are changing lives.
Tina Maddox was a stay-at-home, single mom seeking a career change, but had no tech background at all. She enrolled in Code Louisville, a program that then partnered with Jefferson Community and Technical College (JCTC) to offer a coding track in its computer and information technology associate degree program. She now works as a software engineer at El Toro, one of Louisville's fastest-growing tech companies.
"It was very hard work but I'm proof that it absolutely can be done, even without any type of tech background," said Maddox, who now serves as a mentor to Code Louisville students.
Autumn Pace was in a hospitality career throughout college but wanted to make a change. After graduating from Code Louisville, she became a web developer specializing in client support for Hatfield Media. She describes her company and role as her "dream job" and loves web development.
"I just don't see any limits to what I can do in this field and who I can help … I go to work every day with a huge smile on my face because I get to work in a field I'm passionate about and I love," Pace said.
Code Louisville and Tech Louisville have helped thousands of participants learn new skills, Gritton said.
Code Louisville began in 2015 and has more than 1,300 graduates and nearly 500 job placements in tech. It is open to all Louisville residents.
The program is focused on computer software programming (coding), which includes both back- and front-end developments.
Tech Louisville, which focuses on IT support skills, began in 2019 and, as of July, was in its third, 30-person cohort. It is funded through an AdvancingCities grant from JPMorgan Chase and places a special emphasis on recruitment and training for residents of the west, south, and central portions of Louisville, where the need for job training and economic opportunity is the greatest.
"Both of these programs equip participants with the skills they need to begin a full-time career in technology if they choose to do so. In addition to developing the requisite technical knowledge, participants also get support connecting with employers who need to hire throughout the job search and application process," Gritton said.
Focusing on equity and inclusion
Tech-training programs can help residents get better jobs and improve their quality of life. They also hope to help workers who may be displaced by automation.
Two of Louisville's core industries, health care and manufacturing, face risks of automation from the progression of AI technology. Thousands are employed in those sectors. The city's partnership with Microsoft, in part, helps companies in vulnerable industries reskill and upskill their workforces to meet the changing demands of the 21st-century economy.
"Artificial intelligence is the next frontier in technology and through this collaboration with Microsoft, we will prepare our workforce for the tech revolution and create economic opportunity, while not losing sight of the need for equity within economic growth," Mayor Fischer said.
Microsoft also created and funded an AI, IoT and data science fellowship program that has one fellow so far, with more expected to be hired in the fall of 2020, said Ben Reno-Weber, executive director of the Microsoft Future of Work Initiative. Called Story Louisville, the program has an office located in the heart of the NuLu and Germantown neighborhood, the program operates from an office at Story on East Main Street, an emerging, entrepreneurial, shared workspace community.
The Future of Work Initiative's strategy is three-pronged, Reno-Weber explained. It includes educating local industries about the emerging data economy; aligning education and training initiatives with the skills and experiences required to meet industry's coming needs; and building a supportive ecosystem that will position Louisville as a center of excellence in the data economy, particularly in health care, manufacturing and e-commerce.
"We're doing this work with a particular eye to shifting the makeup of the new tech economy to include communities that have been traditionally marginalized and positioning AI to augment rather than diminish the human experience," Reno-Weber said.
The city's partnership with Microsoft has been intentionally injecting equity and inclusion into its work around expanding the tech pipeline and reskilling the workforce, Wiederwohl said.
The Tech Louisville program prioritizes free comprehensive training to residents who live in minority and low-income neighborhoods. Participants who complete the class leave with a Google IT Support Professional Certificate.
"[Tech Louisville] is providing opportunities for those residents to obtain skills that will lead to jobs that pay family-supporting wages," Wiederwohl said.
Another program, bit502, allows students to learn on the job while studying computer and information technologies. It's a partnership between JCTC, local employers and Code Louisville.
IBM, UofL partnership benefits extend to community
IBM's investment in the skills academy at UofL has provided about $5 million in technology, faculty training and other resources. The academy is housed at UofL's Center for Digital Transformation, which works to transform access, awareness, design and use of digital technology.
The center's resources are not limited to people affiliated with UofL, a fact that delights Sharon Kerrick, executive director of digital transformation at UofL.
"I was asked to assist in bringing elements forward that would benefit our community. We are using the Center for Digital Transformation as an umbrella for digital initiatives in teaching, research and service," she said.
The center's website, louisville.edu/digital-transformation/learn, provides links to all of the available resources, and anyone in the community can take advantage of them. Most of the courses are free and can result in badges, certifications or credentials.
"It's something we need the whole community to have access to so that we can grow that workforce," Kerrick said. "We just want more people to be educated."
Kerrick has been working her way through each of the courses, so she can help course-takers know how and where to get started.
A longtime member of the tech business community, Kerrick is excited to help others get the training they need to be able to get better jobs.
"At the end of the day, I care about workforce development. I care about students getting jobs," she said. "In today's world, lifelong learning has to take place."
The IBM Skills Academy empowers students of various backgrounds with the skills needed to excel in today's high-demand technologies — AI, cybersecurity, data science, blockchain, IoT, cloud computing, design thinking, quantum computing and more. IBM provides a cloud-enabled learning environment and a train-the-trainer (T3) learning model. Upon course completion, participants can receive badges on relevant skills.
Kerrick, a certified AI trainer, has been teaching participants to train others in artificial intelligence, with many UofL faculty and staff members receiving training at the T3 level. She hopes to find community groups that can host these training sessions as well and help bridge the digital divide.
"We'll be looking at how to be inclusive and diverse in who we put in those free training classes, so they can support it and take it to their communities as well," she said.
Prepared for disruption
As technology advances, all jobs are starting to require some tech skills, Wiederwohl said.
"By teaching students digital skills throughout their educational career — starting in kindergarten — and providing reskilling opportunities, Louisville is positioning itself well with the workforce that employers are looking for today and going forward," she said. "The tech and tech-enabled jobs are the future, and Louisville will be ready."
An analysis by the Brookings Institution indicated that Louisville has a significant cluster of industries that are going to be affected by the rise of the data economy, Reno-Weber explained. Some jobs will be disrupted by automation and machine learning.
"That impact can be good or bad. If we are leading innovation and are thoughtful early adopters, then we have an opportunity to use these trends to catapult our economy to a new level. If we are not, then we will be disrupted," he said. "The interesting thing to me is that most of what's necessary is a cultural shift, rather than a technological shift. Our companies have to recognize data as an asset and invest in maximizing the return on that asset."
So far, the Future of Work Initiative has "touched just over 500 companies," he said, and worked more closely with about 40 businesses.
"COVID-19 shifted our efforts to the workforce side of our strategy, but we're about to launch a new wave of efforts to engage companies," Reno-Weber said.
When the global pandemic virtually shut down much of the state's economy, causing staggering jobs losses, Louisville Metro government and the Future of Work Initiative stepped up to help Louisville residents who are interested in exploring new career options or gaining new skills for the data economy.
The COVID-19 Reskilling Initiative offered free online programs to help residents build valuable skills and get credentials in specific, employer-vetted, digital career tracks, including data analytics, digital marketing, software engineering and user-experience design through a partnership with the Future of Work Initiative, UofL, Humana, tech education firm General Assembly and the Louisville Healthcare CEO Council. The second phase of the initiative, which had room for 500 participants, began in May, offering short-form, instructor-led trainings aligned with career paths that are in demand in the data economy.
More than 4,000 people from across Jefferson County signed up to take the courses, Wiederwohl said. About 58 percent of them were women, and 27 percent were minorities, exceeding both the local community demographic statistics and far outpacing the representation of women and minorities in tech fields today, she said.
"The COVID-19 pandemic has affected every part of our lives — how we work, how we learn, how we play. It also presents us with the opportunity to change and improve systems to be more inclusive and equitable, rather than simply rebuilding what we had," Wiederwohl said.
Attracting new tech jobs
Jobs in information technology have experienced the fastest growth of all the major occupation groups within the Louisville region since 2010, according to an analysis by KentuckianaWorks. Louisville's tech workers are employed across many different industries, but there are a significant number of tech workers employed in the computer design, insurance carrier, and management industries.
The report predicts a 13% growth in tech jobs over the next decade, almost triple the rate growth for other occupations in Louisville. Software developer jobs are expected to have the biggest jobs increase, followed by network and computer systems administrators, computer user support specialists and web developers.
As more residents are prepared to fill in-demand tech jobs, Louisville will be able to attract more tech companies.
"A strong tech workforce is a critical part of a thriving modern economy," Gritton said.
An increase in available tech talent puts the community in a position to better compete for out-of-market companies assessing the region for expansion or relocation, said GLI President Sarah Davasher-Wisdom.
Louisville is well positioned to welcome both tech companies and tech workers, she said.
"In response to this growing industry, GLI is launching TechFirst this fall," said Davasher-Wisdom. "The vision for this network is to position Greater Louisville as an expanding, premier destination for tech-based and data-focused opportunities with its strong quality
of life, professional pathways, and diverse culture."
---
Collaborative effort
Several regional initiatives are working together to train Louisville residents for tech careers, from IT support specialist to software developer and beyond.
• IBM Skills Academy
• Microsoft Future of Work Initiative
• Code Louisville
• Tech Louisville
• bit502
• LouTechWorks
• JCPS Academies of Louisville
• Center for Digital Transformation
• JCTC
• Local colleges and universities
---
Interapt helping build diverse tech workforce
Equity is the name of the game for Interapt, a Louisville software development company that also helps communities and businesses develop a more robust and diverse talent pipeline. Its workforce development program combines tuition-free, paid immersive technical training with on-the-job apprenticeships to provide underemployed and unemployed individuals an opportunity to launch promising careers in tech.
Interapt is helping fill the tech gap by training the next wave of software developers. It partners with area employers to identify needs and demands.
"With a focus on diversity and inclusion, we provide traditionally overlooked individuals the opportunity to develop foundational coding and programming skills, offering them a chance for a new career path. Technology is the future, and we are changing lives one line of code at a time," the Interapt website proclaims.
In May, Interapt was approved for economic development incentives from the Kentucky Economic Development Finance Authority (KEDFA) to establish it national headquarters in downtown Louisville with satellite operations around the country.
"It's a proud moment for me as a native Kentuckian to be able to create job opportunities and economic growth for my fellow Kentuckians," said Ankur Gopal, Interapt founder and CEO.
Interapt plans to hire an additional 100 technology workers in 2020.
---
A region rich with innovation
There are more than 1,360 tech companies in the Louisville MSA. It's the area's fastest-growing job classification, according to Greater Louisville Inc. (GLI), the Metro Chamber of Commerce. 
A thriving tech sector is critical to a city's overall economic health. Tech jobs are less exposed to automation than jobs in most other sectors and they have the second highest wages of any local job group.
Louisville is rich with numerous innovative tech companies specializing in all industries. Here's a look at some of them:
El Toro – A technology firm that specializes in marketing through IP targeting, El Toro has grown significantly in the past few years. In 2019, El Toro announced it planned to create 400 new jobs. The company is moving into a new 37,600-s.f. headquarters in the Gateway to NuLu Building. EdjAnalytics and Lodgic, a nonprofit organization management company, are the two other anchor tenants.
EdjAnalytics – EdjAnalytics uses artificial intelligence, machine learning, predictive analytics, data engineering, research, statistics and other advanced technologies, to create workflow solutions from large and complex sets of data. Its industries include sports, health care, finance, education and gaming.
Coolsoft – Coolsoft is a Certified Minority Business Enterprise headquartered in Louisville that specializes in software development, IT consulting, e-commerce, business analysis and more. It has more than 500 employees in its six offices in the U.S. and India.
RCM Brain – The Louisville startup creates custom health care artificial intelligence platforms. RMC Brain provides revenue cycle management intended to make claims processing quicker and easier.
SkuVault – Founded in 2011, SkuVault's inventory and warehouse management software features are built for e-commerce sellers. It has about 50 employees.
V-Soft Consulting – Headquartered in Louisville, V-Soft is an agile innovative tech services company with offices around the globe. It has expertise in artificial intelligence, mobile development, software, IoT and analytics and more.
AxisPoint Alliance – The Jeffersonville, Ind., company offers concierge shipping coupled with a centralized technology platform (AxisLinx), warehousing and logistics. In the second quarter of 2020, the AxisLinx platform tracked over 10 million miles of shipments across the U.S. The company moved into a new headquarters in March 2020.
Family Directed – An early-stage innovator of in-home care for seniors, Family Directed uses proprietary mobile applications, complete with scheduling tools and real-time activity notifications, to make it simple to find, hire and manage in-home caregivers.
Packaging Technology Group – PTG provides thermal-packaging solutions for the biopharmaceutical and life sciences sector. In June, it opened a new 42,000-s.f. facility in Louisville.
Appriss – Founded in 1994 as the VINE company, Appriss provides proprietary data and analytics solutions to effectively and efficiently address safety, fraud, risk and compliance issues for government and commercial enterprises worldwide. Appriss monitors nearly 2,500 data sources and captures information on 80% of the incarcerations in the country. Its MethCheck and NPLEx programs analyze over 112 million cold-medicine purchase requests each year.
Waystar – The computer software company provides technology that simplifies and unifies the revenue cycle, using a cloud-based platform that streamlines workflows, improves financials for health care providers and brings more transparency to the patient financial experience. Waystar's platform is used by more than 450,000 providers, 750 health systems and 5,000 health plans. It has about 800 employees.
---
What is artificial intelligence?
"Artificial intelligence is changing how businesses work." More than 1,000 regional business leaders explored that idea in February at the "Tomorrow's Talent: AI & The Future of Work" conference, a one-day summit hosted by KentuckianaWorks, the region's workforce development board. The summit put a spotlight on the importance of offering tech opportunities in areas where people had less access, the ways companies are transforming their operations with advanced technologies, and how to prepare students for the future of work.
AI is often poorly misunderstood. Even top business leaders often lack a detailed sense of AI, according to a report from the Brookings Institution. Many people confuse AI with super-powered robots or hyper-intelligent devices we see in the movies. You know, the ones who often become sentient, go rogue and try to take over the world?
But artificial intelligence, in the simplest terms, is technology that can perform and/or augment tasks, help inform decisions and create interactions that have traditionally required human intelligence, such as planning, reasoning from partial or uncertain information, and learning. (That's how Deloitte defines it in its 2017 State of Cognitive Survey.)
Here are a few everyday AI examples:
• Spam filters.
• Artificial intelligence autopilots used by commercial airlines.
• Google Maps.
• Google Assistant, Alexa and other smart personal assistants.
• Mobile check deposits.
• Voice-to-text messaging on your phone.
• But AI can also be used to help solve complex issues.
As the world grapples with COVID-19, AI and machine learning are playing a key role in addressing the crisis. Scaling customer communications, understanding COVID-19's spread, and speeding up research and treatment are just a few of the ways organizations have been applying their machine learning expertise, according to a May 2020 World Economic Forum article.
For example, health care and government institutions have been able to use machine-learning enabled chatbots to conduct contactless screening of COVID-19 symptoms and to answer questions from the public.
Researchers and doctors trying to learn how to treat COVID-19 have been inundated with information. Artificial intelligence can help them sift through the information to help make better – and faster – decisions.
Three-quarters of commercial enterprise applications will use AI by 2020, according to International Data Corp. (IDC), a global provider of market intelligence for the IT sector. In 2021, IDC predicts $57.6 billion will be spent globally on cognitive and AI systems.
Thanks to its collaborative effort to build a tech talent pipeline, Louisville is poised to get a nice slice of that pie.
---
Supporting health innovators
The city boasts a robust health innovation startup scene that provides a multidisciplinary ecosystem of support for enterprises of all shapes and sizes in aging care. Groups like LEAP (the Louisville Entrepreneurial Acceleration Partnership), The Hive, Humana's Innovation Center and The Thrive Center continue to accelerate, incubate and showcase solutions for health and aging technology.
The Louisville Healthcare CEO Council is a unique consortium of leading CEOs from health care companies that collectively represent more than 60 million lives touched and $90 billion in revenue. This organization drives economic opportunity for small- and mid-market companies while encouraging an "innovation through startups" culture, and the Health Enterprise Network convenes regular networking, information sharing and thought-leading events. 
Greater Louisville Inc. supports entrepreneurs through Mentor Louisville, which connects startup founders and management with subject matter experts, and the Vogt Awards, which provides funding, resources and recognition to entrepreneurs in the early growth stage.