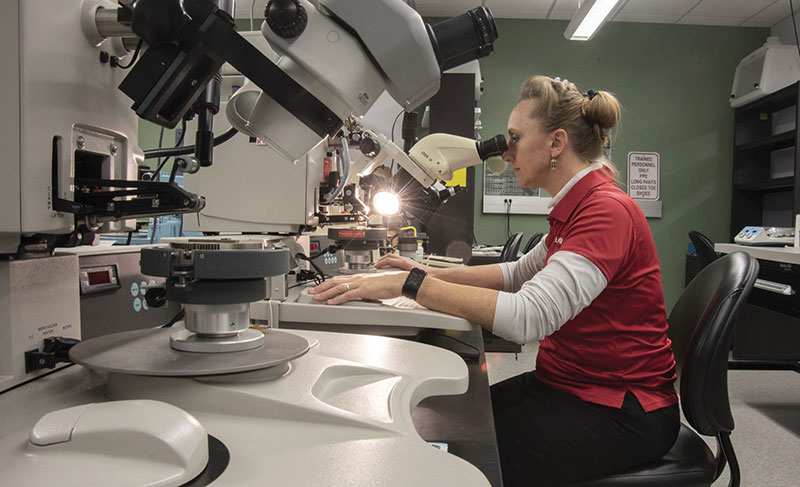 Multiple organizations across the Greater Louisville region are working closely to create an ecosystem of innovation and tech training for growth in key areas, including artificial intelligence (AI), digital services and software, advanced manufacturing, and other information technology, especially health care IT.
Among those teaming up help train for tomorrow's tech workforce are Louisville Metro government, Greater Louisville Inc., KentuckianaWorks, the Technology Association of Louisville Kentucky (TALK) and several regional academic institutions.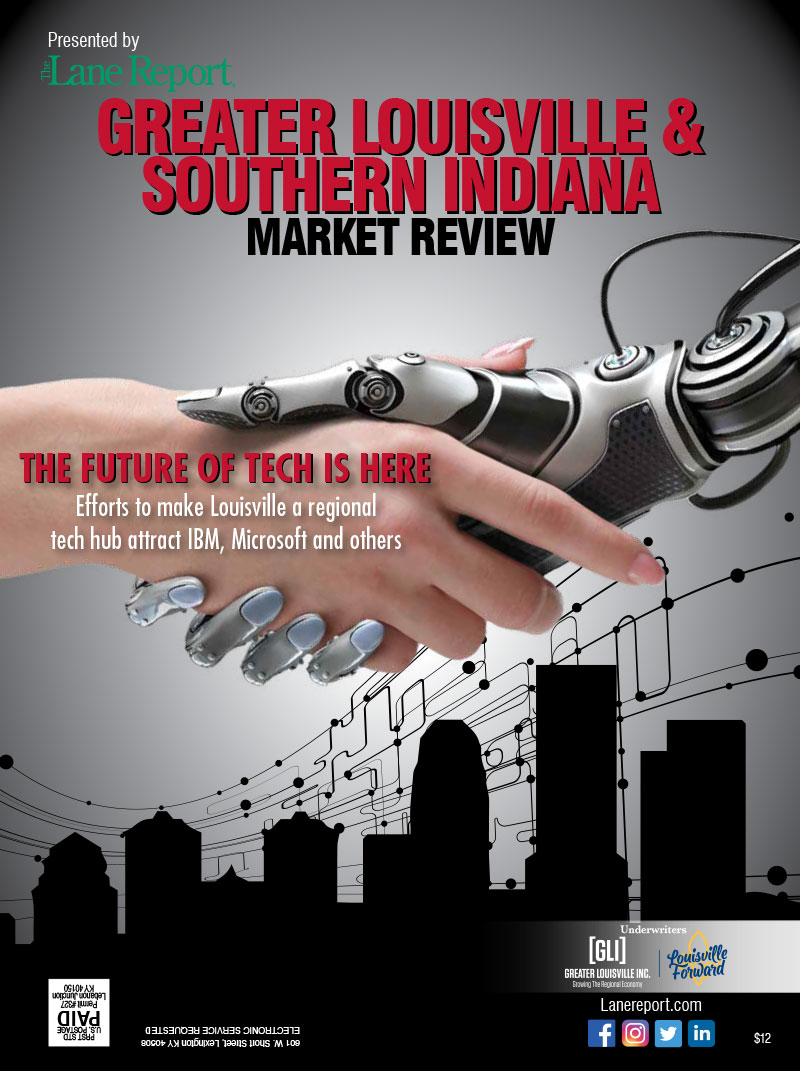 Information technology jobs in the region are predicted to grow over the next 10 years, according to KentuckianaWorks' Career Calculator. Software developer jobs – specifically applications development and information security analyst positions – are projected to increase by 23% by 2029. Engineering and technology jobs are also predicted to rise. Electronics engineer jobs are predicted to see a 21% increase by 2029, and aerospace engineer jobs will rise by 15%, according to the Career Calculator.
Louisville Mayor Greg Fischer in 2019 announced his plan to radically scale the city's tech job growth. Called LouTechWorks, the plan aims to rapidly expand Louisville's tech talent pipeline in collaboration with education, nonprofit and employer partners. It works with schools from across the region to offer more career pathways and courses that emphasize technology and IT, starting as early as kindergarten.
"A thriving tech sector is critical to a city's overall economic health," reads loutechworks.org. "Tech jobs are less exposed to automation than jobs in most other sectors (and) they have the second highest wages of any local job group."
Fischer has stated that growing tech jobs is one of the top priorities of his final mayoral term, noting that Louisville has approximately 79% of the tech jobs that it should have for a city of its size. In order for Louisville to get to 100% of the jobs it should have, Fischer said, the city needs to grow nearly 1,500 tech jobs a year for four years – five times the growth it is projected to receive.
---
IT'S FREE | Sign up for The Lane Report email business newsletter. Receive breaking Kentucky business news and updates daily. Click here to sign up
---
"If we reach this goal, Louisville will be well-positioned to compete for the top companies and talent. It will also be on track to becoming a regional hub of innovation in the near future," he said.
IBM, Microsoft, others partner to grow tech pipeline
National players IBM and Microsoft have taken notice of Louisville's potential and are supporting efforts to grow the region's tech-talent pipeline.
IBM's partnership with the University of Louisville (UofL), announced in April 2019, includes the establishment of an IBM Skills Academy focused on digital learning and technology skills. The academy, the first of its kind that IBM has developed with an institute of higher education, is housed in the newly created Center for Digital Transformation in the Miller Information Technology Center on the Belknap Campus.
The IBM Skills Academy provides curriculum and educational tools concentrated on eight fast-growing technology areas: AI, blockchain technology, cybersecurity, cloud computing, the Internet of Things (IoT), quantum computing, data science and design thinking.
Microsoft's Future of Work Initiative, a collaboration with Louisville Metro government, is focused on increasing economic opportunity and equity by enabling Louisville to become a regional hub and center for excellence in AI, IoT and data science. The program is training and preparing Louisville's workforce for the next tech revolution, and it specifically targets historically marginalized populations for upskilling and training in AI.
The Future of Work Initiative also is working with the region's health care and manufacturing clusters by driving innovation and supporting the application of AI, IoT and data science in those companies. It has been recruiting participants to take classes to obtain free IT certifications and microcredentials through its portal, futurelou.com. The classes help students build valuable skills and obtain specific, industry-recognized credentials.
The goal is to expand the pipeline of workers qualified to fill jobs in data-focused career tracks, including data analytics, digital marketing, software engineering and user experience design. More than 1,000 participants have enrolled since the program's inception in 2019.
Because of Microsoft's interest in tech talent in Louisville, General Assembly (GA), one of the largest bootcamp training organizations in the United States and a Microsoft partner, has begun to expand its relationships in the region. GA will play a role in creating a hub for data analytics and health sciences in Louisville in the months ahead. The company also offers training to reskill and upskill employees at the Humana headquarters in Louisville.
"Efforts in training in Louisville are particularly focused on the 25- to 34-year-old set—working professionals looking to upskill into tech careers," said Ryan Fennerty, account director. He's in charge of partnerships and growth strategies regarding the future of work at General Assembly.
GA announced a partnership in 2019 with tech development company Interapt to help train next-generation tech talent in secondary U.S. markets. Interapt trains the next wave of software developers, focusing on diversity and inclusion to provide "traditionally overlooked individuals" the opportunity to develop foundational coding and programming skills. Interapt will work with GA to expand its curriculum and registered apprenticeships to encompass today's most in-demand practice areas.
Schools, other agencies prepare students for 'jobs of tomorrow'
As part of the LouTechWorks initiative, six regional institutions of higher education have committed to expand their technology education offerings and grow the number of students participating in various technology degree programs and certifications. Those schools include Bellarmine University, Jefferson Community and Technical College (JCTC), Indiana University Southeast, Ivy Tech Community College, the University of Kentucky and UofL.
UofL was awarded nearly $4 million from the U.S. Department of Labor in February 2020 to build a program to prepare students for the ever-evolving, tech-enabled "jobs of tomorrow." The UofL Modern Apprenticeship Pathways to Success (MAPS) program, funded through the labor department's "Apprenticeships: Closing the Skills Gap" initiative, could be a bellwether for further partnerships between JCTC and UofL in this area, said Telly Sellars, JCTC's associate vice president of technical education.
Through MAPS, UofL will create apprenticeships that connect what students learn in class with their eventual careers. It will also give students field experience with disruptive, cutting-edge technologies that can change how work is done. The program will match students with organizations in manufacturing, health care and information technology companies.
"The apprenticeships created by the university and its private-sector partners through this grant program will help to form the workforce of the future," said UofL President Neeli Bendapudi.
Fall 2020 will see the opening of the new $28 million Advanced Manufacturing and Information Technology Center (known as the AMIT Center) on the JCTC campus located at First and College Streets. The 50,000-s.f. center will provide learning space for a number of technical programs that previously have been located on the college's Technical Campus, which will later be renovated to expand JCTC's popular automotive programs.
An apprentice-style program called bit502 is partnering with JCTC, local employers, the Louisville Tech Alliance and Code Louisville. The bit502 program allows participants to study computer and information technologies while working and learning on the job. Participants go to work four days a week and to school one day, earning a debt-free associate's degree. Classes include high-demand skills like Java, Python, HTML, CSS, security, networking and databases.
Code Louisville, a KentuckianaWorks software development training program, started a new cohort this May, as it does every 12 weeks. Coursework is offered in front-end web development, user experiences, data analytics with Tableau, Python, and C# and more. Since it began in May 2015, Code Louisville has helped more than 400 residents launch new careers in technology – in roles like programmer, developer, designer, quality assurance analyst, project manager, digital marketer and business analyst.
A new training program called Tech Louisville, based on the Code Louisville model, offers free classroom and online learning as well as mentorship while participants earn a Google IT Support Professional Certificate. Tech Louisville is a partnership between KentuckianaWorks and Metro United Way and is funded by a $3 million AdvancingCities grant from JPMorgan Chase. Approximately 300 people will be trained over the next three years, with special emphasis placed on recruitment and training of low-income workers in West Louisville.
Approximately 60 people have completed the Tech Louisville training so far, with eight to 10 dedicated mentors, said Rider Rodriguez, director of sector strategies for KentuckianaWorks. Interested employers have been Curvature IT Solutions, Compucom Systems Inc. and Louisville Geek, he said.
KentuckianaWorks and the Indiana Region 10 Workforce board are working together to carry out their Bi-State Plan for Advancing the Regional Workforce. The plan, one of the first of its kind in the nation, lays the framework for the two entities to share data and collaborate across the 13 counties that make up the Louisville Metropolitan Statistical Area (MSA). It is designed to improve responsiveness to the needs of the region's employers, job seekers and students.
Among its goals are helping schools align the student pipeline to the current and projected skill needs of regional employers; increasing the skills, credentials and wages of current workers; expanding the size of the labor force; and increasing the efficiency of employer engagement and core services to employers.
GLI, others emphasize workforce development
GLI, the area's chamber of commerce, has also heightened its workforce development focus for the manufacturing and tech sectors. Jessica Schook, director of education and workforce connectivity for GLI, said there is strong support for The Academies of Louisville model at Jefferson County Public Schools, which introduces young people to technology careers and other vocations.
In response to the global pandemic and its subsequent economic ramifications, GLI and KentuckianaWorks teamed up to launch a Job Seeker Connection program, which supports workers who have lost their jobs or experienced a pay reduction because of COVID-19. Job seekers can share their contact information and skillsets, desired industries and willingness to participate in training. The Job Seeker Connection team filters the information and connects potential employers to interested candidates.
GLI also is developing a tech network to grow the region's technology ecosystem through the development of talent pipelines, a strong innovation culture and accessible resources, said Christine Tarquinio, GLI's director of marketing. The chamber plans to team up with Technology Association of Louisville Kentucky (TALK) to launch the network.
"TALK has run a myriad of programs for working professionals and youth over the years, including its skateboard build program in partnership with Marwood Veneer, and TEchGirlz training, as well as its annual June Cybersecurity Summit for tech professionals and Techfest Louisville," said Ben Loetz, TALK board member and solutions architect manager at Verizon Wireless.
Kentucky Cabinet for Economic Development
Old Capitol Annex
300 West Broadway
Frankfort, Kentucky 40601
(502)564-7670
(800) 626-2930
From single-employee startups to century-old brands, Team Kentucky helps businesses of all sizes select, grow and succeed in Kentucky. Offering low business costs, strong quality of life and expertise across a range of key industries, the commonwealth is prepared to support any company's needs.
With experts in Europe, Asia and throughout the Bluegrass, Team Kentucky responds quickly, builds long-term relationships, assists with workforce training and assures companies get the resources they need for success.