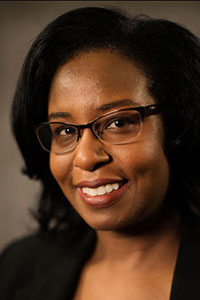 LEXINGTON, Ky. — Lisa Higgins-Hord, assistant vice president for community engagement at the University of Kentucky, has been elected chair of Lexington's Carnegie Center Board of Trustees. Higgins-Hord becomes the first black woman to lead the board of the 28-year-old literacy and learning center.
Higgins-Hord, who heads UK's Office of Community Engagement, took her first writing class at the Carnegie Center in 1996. She returned in 2013 for more classes, and soon after, joined the center's Kentucky Writers Hall of Fame Committee. In 2015, she was appointed to the 12-member board of trustees, and in June, she was elected chair by her fellow board members.
"From the first time I saw the building nestled in Gratz Park, I immediately felt drawn to this literary community brimming with energy," Higgins-Hord said. "Through the years, I've enjoyed its diverse and wide-ranging activities that support our children and adults throughout Lexington. It's a wonderful place and staff. I look forward to the chair-ship and all the opportunities to advance the Carnegie Center's vision and goals."
In addition to serving on the staff at UK, Higgins-Hord currently is co-chair of the Equity Fund at the Bluegrass Community Foundation, executive producer of mini-documentaries for the Kentucky Civil Rights Hall of Fame, and a committed member of Breaking the Bronze Ceiling Committee, which is recognizing the 100th anniversary of Women's Suffrage. She holds a master's degree in early childhood education from UK's former College of Human Environmental Sciences (now School of Environmental Sciences in the College of Agriculture, Food and Environment).
Higgins-Hord has an adult daughter and spends most of her weekends writing, discovering something new at the Lexington Farmers Market, and identifying ways to connect with people in a socially distanced environment.
The Carnegie Center was created in 1992 by the Lexington city government to address the city's literacy problems. Ever since, the organization has occupied the historic former Lexington Public Library building in Gratz Park. Its 15 employees carry out the mission of "empowering people to explore and express their voices" through after-school tutoring, writing classes for every age, literary performance and more.