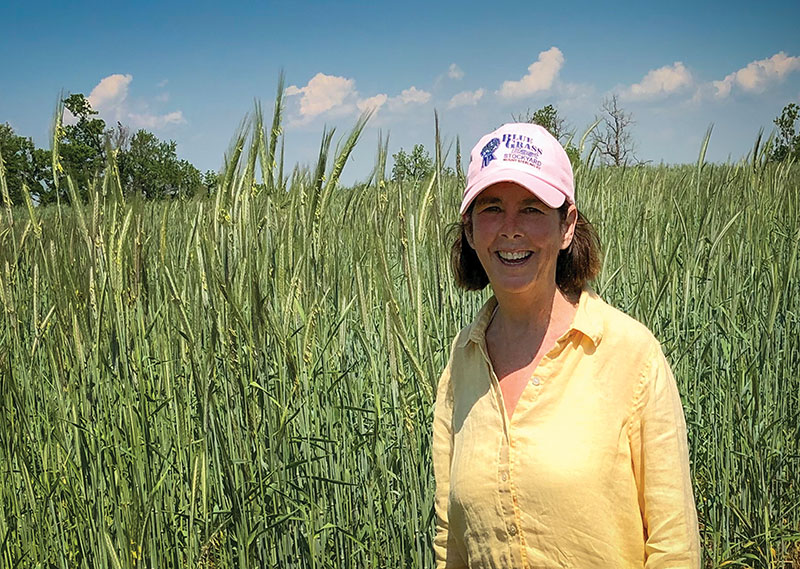 Laura Ann Freeman sets the bar high for her seventh-generation, 1,500-acre family farm near Winchester: Make it the linchpin of a new, self-supporting hyperlocal agriculture economy that creates jobs and wealth, while also showing that regenerative land management practice sequesters carbon to reverse climate change.
Upon proving the model in Clark County, she aims to seed it across Kentucky, and then the nation, before scaling up worldwide to solve the global warming problem.
Yes, to recap, the goal is to create jobs and wealth in rural Kentucky, build an alternative to the industrial agribusiness economic system, and remove the existential threat posed by greenhouse gases.
"I was late to the climate discussion," said Freeman. "But if the models are correct, we are in for a catastrophe—soon."
To prevent that and to help the county where her family has lived and farmed since the late 1700s, Freeman dreamt up and is now executing a self-supporting cyclic agribusiness plan to: sustain local farming; create local businesses to buy the livestock and crops from the farm; create local jobs; create local wealth via a parent company that awards stock to employees; and use organic farming techniques that improve the soil by sequestering atmospheric carbon there.
This plan came about after she caught up on the climate discussion a decade or so ago at the Massachusetts Institute of Technology via a Donella Meadows Fellowship focused on environmental systems. Her takeaway from that time at MIT was considering what she might be able to do to make a difference.
Again.
Freeman is better known as the founder of Laura's Lean Beef, which was based on the then-groundbreaking idea that hormone- and antibiotic-free beef could compete with the cheaper product that the agribusiness food supply network fed to U.S. supermarkets in the early 1980s. By the time she sold the business in 2007, it had grown to a network of 600 organic beef farms across the nation and was doing $135 million in annual wholesale business.
Consumers will pay for quality
Freeman and Laura's Lean Beef was "an early example of doing something different in the beef industry. I've followed her," said Mary Shelman, former director of the agribusiness program at Harvard Business School and today a thought leader in the food and agribusiness sectors. "And this was at a time when the experts were saying you could not differentiate beef."
A Kentucky native who still owns a farm in Hardin County where her father was a farm equipment dealer, Shelman is a Boston-based consultant who works nationally and internationally with firms, governments and investors.
Laura's Lean Beef was completely counter to conventional thinking when it came into the marketplace. Ground beef in the early 1980s was a commodity sold by price, and no one thought the consumer would pay more for a product branded as higher in quality, Shelman said. Grocery chains controlled the market and had no interest in placing a branded beef if it wasn't their own.
"But this was successful. I have held her up as an example," said Shelman, who authored 70 to 80 Harvard case studies. "I would hold her (Freeman) up as an example of the idea that you can actually create a brand in beef."
---
IT'S FREE | Sign up for The Lane Report email business newsletter. Receive breaking Kentucky business news and updates daily. Click here to sign up
---
Shelman said she is intrigued by the current mission Freeman and her Mt. Folly Enterprises is taking on and will be watching. Both the hyperlocal elements and the global climate impacts of the plan are themes being explored at the entrepreneurial edges of agribusiness today.
And the current COVID-19 pandemic is prompting an increase in agribusiness experimentation, she said.
Some folks are doubling down on the existing system that is increasingly industrial in organization, she said, pushing further efficiencies of scale through ever larger operations, genetically groomed seeds and feeds, fine-tuned application of chemicals, scientific monitoring and high-efficiency farm machines that cost a quarter million dollars and up apiece. The approach also drives consolidation of operations, which means fewer and fewer traditional family farms.
That's one end of the spectrum.
Others, Shelman said, are trying to respond to what the environmental- and nutrition-conscious younger consumers of today and tomorrow want. They are making their agribusiness operations sustainable ecologically. There is a focus on how food is produced, and they have a more local approach. When they can, these farm operators sell direct to consumers, she said.
An early adopter of organic techniques
They prefer diversified rather than consolidated resources, and supplement their farm gate receipts with a variety of agritourism operations; the latter helps market the value their target customers find in how they approach their agribusiness.
"I do think what she's doing is a new model of farming in the future," Shelman said of Freeman's self-supporting economic structure.
Freeman was pushing to implement her plan long before COVID-19 showed up, however. The MIT fellowship provided the prime spark.
She has a history of achieving success unconventionally. Freeman began raising locally pastured, antibiotic-free beef about 35 years ago after attending the 1983 National Cattlemen's Association convention in Colorado with her parents and husband, where she was appalled at the conditions she saw during a tour of a model modern feedlot. To achieve low-cost protein production and maximize financial returns, around 100,000 beef cattle were packed tightly into lots that went on for mile after mile. Feed was supplemented with growth hormone to speed weight gain and with antibiotics to control the spread of infectious disease among stressed animals in close quarters with insufficient waste removal.
It didn't look healthy to the then-pregnant Freeman, who came back home and decided to develop and promote an alternative to the industrial beef feedlot product.
She thought there would be a market for beef raised less efficiently but more humanely and that not did put growth hormone, antibiotics and other additives into the food chain for human consumption. The Laura's Lean Beef operation employed Kentucky cattle techniques but aimed for little to no artificial inputs, opting to raise animals grass-fed on organic pastures, and then process only the muscle and fat, leaving reprocessed animal tissue and nonanimal filler out of the product stream.
"I was an early adopter of organic techniques," Freeman said, "before organic farming regulations existed."
The healthy food movement was very young, but there was a market and it steadily grew. Freeman worked to develop more supermarket customers to sell her product to consumers, and more distributors and hundreds more operators to supply beef for the brand. Laura's Lean was a $135 million national company when she sold it 20-plus years later.
She opted to sell in part because she had a horse-riding accident in 2005 that first immobilized her then left her with chronic pain. Afterward, she learned about and successfully applied to the environmental systems fellowship program at MIT's Sloan School of Business.
MIT fellowship on sustainability
The program is named for Donella Meadows, one of the inspirational leaders of modern large-scale environmental science, who had been one of the first systems dynamics analysts and became one of the leading environmental thinkers of the 20th century. She examined economic growth limitations: population, environmental issues, GDP growth, pollution. Most computer models showed that the ecosystem would crash.
Her 1972 book "The Limits Of Growth" sold 9 million copies in 26 languages. In 1996, Meadows founded the Sustainability Institute with the mission of fostering transitions to sustainable systems at all levels of society, from local to global. The Institute adopted the name of its founder in 2011.
The Donella Meadows Leadership Fellows Program launched in 2003 to support sustainability by increasing the effectiveness of well-positioned, mid-career sustainability leaders. It trained 74 fellows in 16 different countries in the tools of systems thinking, visioning and reflective conversation. In addition to four weeklong retreats, fellows develop their skills through monthly coaching calls, homework and meetings with small peer groups.
And Meadows likes to leave her fellowship with a charge: "Go back where you're from and do something," is the way Freeman remembers it.
Filled now with the knowledge that climate is a big problem, she said she began to consider, "So, what can I do?"
She had time. Freeman was retired, recently remarried and living on New England's iconic Martha's Vineyard island, just south of Cape Cod on Massachusetts' southernmost Atlantic Coast. She was still trying to recuperate from the horse-riding accident, which had nearly left her a quadriplegic. And although living 800 miles away, she continued to regularly visit Mt. Folly Farm, which her daughter, Alice Melinda Johnston, was running.
"The farm always came first," Freeman said. And as she pondered "what can I do?" the land in Clark County inevitably became part of the mix.
CBD opens a door
Under Johnston's management, Mt. Folly received state certification as an organic operation and then was an early participant in Kentucky's innovative exploration of hemp as a new cash crop. The certification was a continuation of efforts since the mid-1980s at Mt. Folly to adopt and champion organic farming practices first developed more than 70 years ago by the Rodale Institute.
Freeman's ideas really started to take shape after a long-running hurdle, chronic full-body pain, was relieved by CBD oil, which she learned about from attending hemp meetings in Kentucky with her daughter. Another hemp producer advised her about adequate dosage and said the CBD should be full-spectrum. It worked.
"Dealing with the injury was very difficult," Freeman said. She had gone from being "a smarty pants" who took on anything, she said, to someone nagged by ongoing pain who couldn't even speak well and clearly.
Finally, with respite from the stress of pain—her arthritis issues also lessened tremendously—a plan began to take shape that could "do something," as Meadows had urged. To fulfill the plan, she ended retirement life and sold her Martha's Vineyard house in 2016 to return to the farm full-time and take on some of today's most intractable problems. Back in Clark County, she began growing a new agribusiness strategy that is both hyperlocal and global.
"I dreamt up the circular ag system," Freeman said. "All I'm doing is making a market for what the farm raises."
Regenerative ag and downtown renovation
Beyond the fields and barns, there is now Wildcat Willy's Distillery and Farm-To-Table Restaurant, and Laura's Mercantile.
The distillery retails moonshine made from sweet potatoes, but in mid-July took delivery of a custom-made copper still that is about to produce what will be bourbon in four-plus years. The farm-to-table restaurant menu varies seasonally but can include appetizers, entrees and side dishes of beef, chicken or goat; cornmeal, wheat and buckwheat grain-based dishes, and a wide range of vegetables.
Located in a renovated 140-year-old building in downtown Winchester, the distillery-restaurant retails a line of full-spectrum CBD extracts and products. Sold under the Laura's Homestead Alternatives brand, the line includes lotion and creams, caramels and chocolate, infused honey and pet treats in addition to CBD oil. It also sells Mt. Folly Specialty Grains cornmeal, grits and flour products.
Less than a block away, the latest addition to Freeman's circular system is another older building in downtown Winchester she purchased with a partner. Still undergoing a top-to-bottom renovation, it will serve as a multifunction headquarters and office space for Mt. Folly Enterprises and a retail store for Laura's Mercantile. It will house the mercantile's warehouse and pick-and-ship operations in the basement. There will also be several apartments on its upper floors.
Creating markets for farm products that are local rather that connecting to national or international supply chains is an intentional step that supports the climate change mission. There is less transport, which means a smaller carbon footprint. The work and jobs involved at the mercantile, distillery and restaurant are (or will be) local.
The farm raises cattle, chicken and goats. It grows corn, wheat, rye, buckwheat and hemp, along with a variety of vegetables. It manages its land using regenerative agriculture rotation strategies. The Rodale organic approach rebuilds soil fertility and the nutritional value of harvests, in large part, by not tilling the land and by keeping various cover crops in place.
The photosynthesis process improves soil by leaving some of the carbon allocated to plant roots during metabolism and interaction with microbes in the ground, where it will largely stay sequestered terrestrially if the land is not disturbed by tilling, fire and other stresses. According to BioScience, a publication of the American Institute of Biological Sciences, about 79% of the total carbon in terrestrial systems, including the atmosphere, is in the soil, having been deposited by plant roots.
At laurasmercantile.com, a "Learn" dropdown menu has links to many articles, reports and research databases on CBD uses and the growing science that supports the use of organic farming to improve soil quality and reverse climate change through returning carbon to the soil.
Freeman has friends who have studied carbon sequestration and followed up with them as well as intensifying her interaction with the Rodale Institute, "hounding them," she says, for information about organic farming. Mt. Folly Farm is an active member of OAK, the Organic Association of Kentucky.
Which way will ag go?
Freeman has filed paperwork to create a federal Opportunity Zone in Winchester, which offers financial incentives for economic investment such as buying and renovating unused buildings.
Susan Shore, a former schoolmate from her prep school years at the Madeira School near Washington, D.C., is her partner for Mt. Folly Enterprises' second building. Long out of touch, Shore had called Freeman a couple of years ago and asked if the woman's face she saw on a package of ground beef during a supermarket visit in New Mexico was her old high school friend.
After hearing about Freeman's plans to "do something" to address global ecological issues by creating a scalable model for successful regenerative agriculture in Clark County, Shore, a Ph.D. scientific researcher investigating nanotechnology and quantum computing for Microsoft, decided to relocate from Seattle to Winchester.
"Laura is certainly the entrepreneur whose model has the framework to be successful," said Will Snell, a professor in the Department of Agricultural Economics with the University of Kentucky College of Agriculture, Food and Environment.
"I see future ag going into two directions," Snell said. The first is "large scale commodity producers who can succeed in a growing global market if they are efficient (i.e., low cost of production). Some of these guys have also experimented with value added, niche markets such as providing non-GMO (genetically modified organism) corn to distillers, but they use scale economies to survive, despite being a price taker.
"The other group is a small scale (operator) who captures the local market, value-added marketing, which may allow them to be a price maker," Snell said. This route "addresses environmental concerns, connects with consumers, is always looking for new crops/enterprises, etc.
"There is lots of potential on the latter, but it also comes with a lot of risks and need for capital and marketing savvy, which challenges many of our 'traditional' ag producers. Obviously, Laura fits the bill on the latter."
Real impact will require scalability
Shelman, who wrote case studies on the world's leading agribusinesses when she was with Harvard Business School, is intrigued about the potential in Freeman's circular, self-supporting agribusiness system. But making Mt. Folly Enterprises a success will only be a first step toward the true goal of replicating similar systems.
"The question is then scalability," Shelman said. "To have impact, you have to have scalability."
Regenerative agriculture operations cost more up front, she said, and farmers are skeptical about adopting new approaches. They operate on tight margins and usually have one opportunity a year to consider what to do for the coming season. Farmers and their financial partners require proof in order to invest in a new approach.
However, a growing number of agribusiness-sector members believe a paradigm shift is needed.
"The industrial (agriculture) model needs to improve and evolve," Shelman said.
The COVID-19 pandemic "has opened our eyes to the fragility of the food system we have developed since World War II," she said. "It is efficient but not resilient."
According to Shelman, who had just presented a webinar on post-COVID innovation before being interviewed for this article, there is potential to diversify options for farmers and agribusiness in the circular local ag system Freeman is still in the early stages of building.
The pandemic caused fledgling Mt. Folly Enterprises to innovate, Freeman said. The farm-to-table restaurant became a farm produce outlet for a time. A Mercantile salesman became a delivery truck driver.
But the employees stayed. Mt. Folly Enterprises awards stock annually to workers who have been with the farm, distillery-restaurant or mercantile for the preceding year, and they have a piece of the company. They are creating local wealth. ■
---
Mark Green is editorial director of The Lane Report. He can be reached at [email protected].