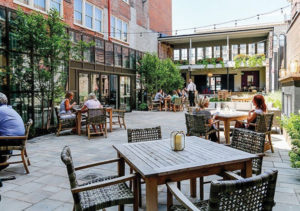 If you're itching to get out of the house, head up to Northern Kentucky (NKY), where new attractions, experiences and eateries are popping up across the region to enhance the area's tried-and-true visitor favorites.
"You can go far in our destination," says Julie Kirkpatrick, interim president and CEO of meetNKY, the area's new brand for the former Northern Kentucky Convention and Visitors Bureau. "You can visit Germany in Mainstrasse Village, take a historic walking tour of Newport's gangster history, or get outside on one of Devou Park's great bike trails."
Not to mention ogling octopi at the Newport Aquarium, strolling through Covington's history via the beautifully rendered art of the Roebling Murals on the Floodwall and the Behringer-Crawford Museum, and meandering down the Ohio River on a private, three-hour Grillout Cruise.
After you've "touristed," where do you head to wet your whistle and satisfy your hunger? Easy answer: the B-Line, Braxton Brewing Co., and any of the area's fabulous al fresco eating spots.
According to The Bourbon Review, NKY is home to some of the best bourbon bars in the country. The B-Line is the Bourbon Line, where you can learn all about bourbon making and can enjoy tastings at four Kentucky Bourbon Craft Tour Distilleries: New Riff Distilling, Boone County Distilling Co., Neeley Family Distillery, and the Old Pogue Distillery. The B-Line also features six bourbon-centric bars, and five restaurants with a remarkable selection of bourbons and bourbon-infused culinary delights. Learn more at findyoursippingpoint.com.
Braxton Brewing in Covington has a diehard local following of its handcrafted beers and an outdoor space, The Rooftop, to sip the suds. Offerings include year-round and seasonal faves, limited releases, specialty beers, and Braxton Labs exclusives, plus hard seltzers and hard ciders.
As for NKY's outdoor dining scene, the choices are abundant.
Occupying a kitschy building that was once a 1930s garage and filling station in Covington, The Standard opened in July. And while it may be fresh on the scene, dynamic owners and MainStrasse Village residents Paul Weckman and Emily Wolff already have three winners in their stable of successful restaurants.
In Mainstrasse, Otto's has been serving American and Southern-inspired fare since 2003—think fried green tomatoes and shrimp and grits—and Frida 602 is a tequila and mezcal bar that offers scrumptious Latin street cuisine. Completing the trio is Larry's, a homey dive bar that opened last year on Covington's Ninth Street, serving up hot dogs and tater tots, pinball and pool.
All of the culinary couple's properties serve luscious creations in outdoor spaces and the Standard is no exception. Patron favorites include Banh mi, a short baguette with a thin, crisp crust and soft, airy innards, split lengthwise and stuffed with a savory filling, such as Vietnamese meats and vegetables. Murals here depict stories of the former auto shop.
Mentioning goetta is required in a story about food in the vicinity of Mainstrasse, and Covington's The Gruff—as in the fairy tale Three Billy Goats Gruff—features a Goetta Cubano on its brunch menu. The German meat-and-grain sausage was originally used to stretch a family budget, but has become popular on plenty of Cincinnati and NKY menus.
Coppin's Restaurant & Bar at Hotel Covington, transformed from the original Coppin's Department Store, is a pet-friendly stop with an outdoor patio on the B-Line that features curated cocktails and locally sourced food. Arrive on "Thrifty Thirsty Thursday" and score a $5 craft cocktail or a $3 pour. Call ahead for movie nights and a live music schedule.
The Knotty Pine on the Bayou has been cooking Cajun for 25 years on the Licking River, just 12 miles southeast of Covington. Oysters, shrimp, frog legs, catfish, red beans and rice, gumbo, etouffee…even alligator. Landlubbers can stick to filet mignon or chicken. Whatever you order, the outside river views are lovely.
Learn more about NKY at meetNKY.com or call (877) 659-8474. By all means, call before you go anywhere, as COVID may have changed a few schedules. n