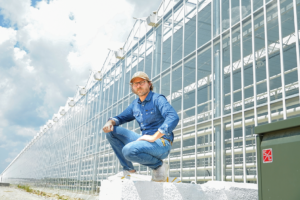 This article is about AppHarvest, Eastern Kentucky's newest high-tech agriculture company and the first big step toward Gov. Andy Beshear's ambitious larger goal of turning the region into the country's agricultural technology capital.
But AppHarvest is also about much more—significant water conservation, the ability to grow healthy food in any season and on relatively small amounts of land.
It is about creating jobs in an economically starved area of the United States and teaching local young people the skills they need to get those jobs.
AppHarvest is even about international collaboration and cooperation as well as creating a model others can follow.
First you must plant a seed
AppHarvest started as do most companies, with lofty dreams and searches for financing. Months or years later, there's a groundbreaking, facility construction or retrofitting, a ribbon cutting, and (cross your fingers) an economically profitable product. And jobs.
This time it was Jonathan Webb's dream.
Before starting AppHarvest, Webb worked in renewable energy with the Department of Defense on one of the largest solar projects in the United States. He focused on implementing installations at bases to meet a White House goal that the military's hundreds of facilities develop resilient on-site power generation and obtain 20% of their electricity from renewable sources by 2025.
While working in renewable energy, Webb came across an article on the high-tech indoor farms in the Netherlands, which happens to be an ag powerhouse. As he learned more about the technology and agricultural practices, Webb was stunned to find a single acre of indoor farm yields as much as 30 traditionally farmed outdoor acres—while dramatically reducing water usage.
Thoroughly intrigued, Webb moved back to his home state of Kentucky in early 2018. After meeting and working with investors, advisers and politicians of both parties, he founded AppHarvest and set about the complex pursuit of defining, locating, designing, financing and building a project in Eastern Kentucky.
Sometime in the next several weeks, a massive high-tech greenhouse will begin production of tomatoes and cucumbers.
"Continuous innovation and cutting-edge technology will enable AppHarvest to generate 30 times the yield of open-field agriculture," said Webb, who now serves as CEO of AppHarvest. "At our flagship facility in Morehead, we'll do it all with no agricultural runoff, no chemical pesticides, zero soil usage and 90% less water."
Founded as a benefit corporation—committing to creating public benefit and sustainable value in addition to profit—AppHarvest is also a Certified B Corporation as assessed by the nonprofit B Lab, a further commitment to balance purpose and profit that includes a legal obligation to consider the impact of decisions on its workers, customers, suppliers, community and the environment.
"We have a vision to create America's ag-tech capital from within Appalachia," Webb said, "and that includes providing better produce, better farming practices and better jobs."
It's a model that already exists actually.
Importing smarts
"We promote permanent sustainability advances in American agriculture by using proven technology, perfected by the Netherlands," Webb said. "The country is the world's second-largest agricultural exporter ($96 billion in 2017), second only to the United States, despite being roughly equivalent in land mass to Eastern Kentucky."
With Dutch experts' input, AppHarvest has developed a unique system to dramatically reduce water usage compared to typical greenhouses and open-field agriculture.
"When paired with a sophisticated closed-loop irrigation system, our 10-acre rainwater retention pond allows us to harvest large quantities of high-quality rainwater that can be used—and reused—for plant irrigation," Webb said.
The company's goals caught the attention of the right people and financing options came—Equilibrium Capital of San Francisco took the largest piece, $82 million, and this August AppHarvest closed $28 million in Series C funding that included big investment brand names and brought Martha Stewart to its board.
They have literally bought into the idea of incorporating knowledge from the Netherlands to build a 60-acre greenhouse in Morehead to grow non-GMO (genetically modified organisms), chemical-free produce.
That's one of the largest greenhouses in America if you're counting.
AppHarvest's first controlled-environment agriculture facility will create 285 permanent full-time jobs as well as 100 construction jobs. Distribution partner Mastronardi Produce will deliver the completed facility's tomatoes and cucumbers to America's top grocers.
Based in Kingsville, Ontario, Canada, Mastronardi is North America's largest producer and distributor of greenhouse-grown produce. The fourth-generation, family-owned company provides tomatoes, peppers, cucumbers, lettuce and eggplant under the Sunset brand as well as WOW berries. Mastronardi opened its own sixth greenhouse in 2018 in northeast Ohio.
U.S. supermarkets compete directly on produce, the quality of which is known to drive decisions on which stores shoppers choose. The chains have widened aisles, improved lighting and made other upgrades to their produce sections, which are right inside the front door.
"Our first tomatoes will be on store shelves by the end of this year," Webb said. "Because our tomatoes won't travel as far to get to your plate as the typical tomato grown in the southwestern U.S. or Mexico, we can pick them when they're ripe. By contrast, others pick tomatoes around a week before they're ready. Shoppers can visibly see they're not ideal tomatoes and won't taste fresh."
It is a goal that some AppHarvest product will be in stores the day it is picked. The same geographic advantage that has made Kentucky a logistics powerhouse is about to start benefiting its agritech aspirations.
International agreement
On June 24, Gov. Beshear signed an agritech agreement with 16 other partner organizations, including the Dutch government. The governor, who made reference to the state's agritech potential during the 2019 campaign, also established an AgriTech Advisory Council to guide the commonwealth's increased focus on this industry, which is laid out in detail at agritech.ky.gov.
AppHarvest led the signing of the partnership, which includes six Dutch ag-tech companies, the Dutch Ministry of Agriculture, two Dutch universities and the Netherlands' public-private network organization NLWorks.
"This partnership represents the culmination of more than two years of work that saw multiple delegations of Kentucky representatives visit the Netherlands," Webb said.
The Kentuckians met leaders at Dutch companies that are redefining agriculture and the Netherlands also sent top officials to Kentucky to meet with Beshear, university leaders and economic development officials.
"Universities and private companies were also instrumental in this success," Webb said. "Each of these organizations share our vision to create America's ag-tech capital from within Appalachia."
The timing could be right.
"In Kentucky, we're going to reopen and rebuild our economy even stronger than it was before COVID-19," Beshear said during the June announcement event. "Partnerships like this one highlight our state's 21st-century leadership and limitless potential. I can't wait to see the agritech industry continue to grow in Eastern Kentucky, led by AppHarvest and other companies that are reimagining the future of farming."
The Netherlands is a global center of precision farming expertise, having persistently pursued food independence since a late World War II famine killed 10,000 to 20,000 of its residents. Today it has 5,300 agri/food companies as well as major research and development or production operations by 12 of the world's largest corporations in the sector.
"This long-term partnership will add jobs and create a new signature industry for our Appalachian region," Webb said. "It also demonstrates the kind of international cooperation that we need more of on the national level."
The guiding agreement calls for a series of research programs, construction of a center of excellence, and building additional private infrastructure similar to AppHarvest's 2.76 million-s.f. indoor farm, which it plans to open this fall in Morehead.
The agreement also calls for the partners to open a Dutch representative office in Kentucky to spur investment in the state by Dutch companies.
$150 million in financing
To date, AppHarvest has attracted more than $150 million in investment into Appalachia in just two years. Investors include hedge fund ValueAct Capital's ValueAct Spring Fund, Revolution's Rise of the Rest Seed Funds, and Equilibrium.
The $82 million all-cash infusion last year by Equilibrium Capital's Controlled Environment Foods Fund paid for the construction of the greenhouse in Morehead.
In addition to food icon Stewart, the expanded AppHarvest board includes David Lee, chief financial officer of Impossible Foods, the maker of plant-based meat substitutes. ValueAct Capital Founder and CEO Jeffrey W. Ubben also has a seat on AppHarvest's board of directors and a track record of finding companies with strong growth potential; ValueAct ran a Series A round of funding for AppHarvest.
Revolution's Rise of the Rest Seed Fund, led by AOL co-founder Steve Case and best-selling author J.D. Vance, made a follow-up investment in AppHarvest as part of the Series A, adding to its initial seed funding. The Rise of the Rest Seed Fund invested in AppHarvest as part of its focus on working with entrepreneurs outside of Silicon Valley and other coastal tech hubs.
Ag-tech education and certifications
In addition to taking care of business, AppHarvest also is collaborating with Eastern Kentucky high schools to introduce and incorporate ag-tech curriculum.
At Shelby Valley High School in Pike County, AppHarvest is working alongside public school officials to build ag-tech curriculum and educate students about local career paths in this field. At this pilot location, a shipping container retrofitted with cutting-edge technology provides students hands-on experience in a hydroponic learning laboratory. Their certified Kentucky Proud harvests are providing a local source of fresh food.
AppHarvest is working with the University of Pikeville to create a high-tech agriculture certificate program to prepare students for careers in the region's burgeoning industry. UPIKE President Burton Webb has met with top political, agricultural and educational leaders in the Netherlands.
"With each step forward, AppHarvest is working to build an ecosystem that will sustain the future of the region," Webb said. "As a university, we are committed to providing the skilled workforce necessary to maintain that momentum."
Right now, AppHarvest is focused on two goals, according to its CEO: opening its controlled-environment agriculture facility in Morehead and developing the infrastructure to build future projects.
"Agriculture's needs are daunting in the coming decades," he said, "so we want to make as big an impact as possible from the start. We look forward to continuing construction of facilities throughout central Appalachia to help meet America's growing food needs. We're also expanding our educational programs in high schools and colleges across Eastern Kentucky. Our goal is to increase interest in ag-tech in the region to help build an inclusive, resilient Appalachian economy for the future."