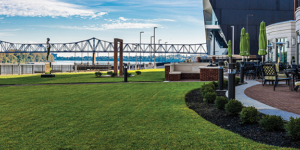 Owensboro made national headlines in July as the country looked to restabilize from a deep and unexpected recession created by shutdowns to slow COVID-19 coronavirus spread: The Ohio River city's employment rate was lower in June 2020 than June 2019, the only metro area among 389 in the nation that was on the upside.
Pandemic social distancing measures imposed in March sent what had been a bustling early 2020 U.S. economy into a historic tumble. GDP plunged the second quarter at a 33% rate, the worst on record, and unemployment shot from a record low 3.5% in February to 14.5% in April, a rate last seen in the Great Depression.
The federal Bureau of Labor Statistics reported average U.S. unemployment at 11.1% for June, but Owensboro's joblessness measured 4.2%, down a few tenths of a percentage point from a year earlier, and far, far below national norm.
The Wall Street Journal and National Public Radio, along with area and regional media, reported to their audiences about Owensboro's feat.
"The small city of Owensboro, Kentucky," a widely viewed CNN piece said, "has been extremely lucky in this recession. While the rest of America grapples with historically high unemployment, Owensboro's job market has emerged relatively unscathed."
CNN cited Owensboro's heavy presence of essential health care, personal protective equipment manufacturers and the production of alcoholic and tobacco products that stressed-out Americans wanted more of.
In the business community, though, it is a truism that the harder one works the luckier they get. Owensboro leaders have spent years diversifying their economy and when the shutdowns began, its largest employer, Owensboro Health, decided its best strategy was to keep all 4,000-plus employees during what became a six-week halt to most Kentucky surgery, a major revenue-producer.
"I spoke to Governing magazine about it," said Greg Strahan, president/CEO of Owensboro Health. "They asked, 'How did you do that?' I said, 'We made a decision early on that this is a market in which hiring a nurse is not the easiest thing to do. And even when you do, there's six weeks of training to get them up to speed for what they'll need to know how to do. If I furloughed our people, when it was time to come back many wouldn't be there. They'd pursue steady income elsewhere because unemployment would be far less than their household budget expected, and perhaps a spouse lost income too. I felt we had to keep them employed.'"
Meanwhile, one of Strahan's key management practices is to keep strong cash reserves, and Owensboro Health's financial position made keeping employees an option.
"I always look at days cash-on-hand. I built this up," he said.
Since becoming CEO in 2016 he'd aimed at having 200 days cash-on-hand, he said, "because at 200 days you can essentially overcome most anything that might happen; you don't have to worry about collections or developing business. We're at about 242."
Owensboro Health management decided to continue paying everybody regardless of their job function and even if they didn't have patients. They were repositioned.
"We had them driving golf carts, greeting people at the door, taking temperatures, and we still do today," Strahan said. "We knew coming back to work and getting the staff back to speed would be more difficult and more costly. It turned out perfectly because we never lost a step."
When the ban on general surgery was lifted, their major revenue stream resumed immediately.
"It shows how dedicated our employers are to their employees and getting them back to work," said Brittaney Johnson, president/CEO of Owensboro Economic Development (OED). "We had several other employers who did the same thing," she said of Owensboro Health's choice.
Some of Owensboro's best-in-the-country metric can indeed be credited to luck, she said, but other elements played a significant role.
"It's our community pulling together. That's what they're all about," said Johnson, who came to OED 18 months ago. "It's the groundwork that's been laid in the past. It's economic diversification. (Employers') commitment to the community, and to their employees."
Owensboro's No. 2 employer is US Bank Home Mortgage, which has 1,200 people serving a hot national market for sales and refinancing alike due to the lowest residential real estate interest rates ever: under 3% for 30-year financing and less than 2.5% for 15-year loans.
Specialty Food Group, a meat processor for major brands, and Toyotetsu Mid-America, a parts supplier to several Japanese vehicle manufacturers, each employ 700 in Owensboro. The UniFirst customized work uniform distribution center has 445. Titan Contracting and Leasing, a metal fabrication and construction operation, employs 400.
Sazerac's Glenmore Distilleries, which has 425 employees, drew special attention in national news reports. Its operations include bottling the world's top-selling liqueur, Fireball Cinnamon Whiskey, thought to have become even more popular since shutdowns sent Americans home from the workplace.
Paper products producer Kimberly-Clark's 400-employee operation sped up when the pandemic hit because it makes toilet paper, which became a target of panic buying and whose supermarket shelf space still remains only half full.
The 382 employees of Mizkan America in Owensboro produce Ragu spaghetti sauce, another product that has seen increased demand during the pandemic because with more people eating at home, it is an easy, satisfying comfort food. In fact, Mizkan is now expanding its Owensboro operations, Johnson said, and hiring another 30 workers.
"We are a very diverse community," she said. "Our top 20 employers represent nine different market sectors," and this helped Owensboro rebound rapidly when business was allowed to reopen.
Johnson credits Owensboro's long, steady hard work and community spirit for the good numbers rather than any recent win by local economic development operations – and welcomes the national, regional and local news coverage.
"It helps put us on the map even more," she said.