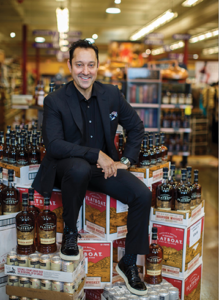 Jonathan Blue is the chairman and managing director of Blue Equity LLC, a Louisville-based private equity firm that has a diverse, global portfolio. Blue Equity's current holdings range from distribution, oil and gas, and defense to media, talent representation, celebrity chefs, and wine and spirits distillation and retailing.
Blue, who founded the firm in 2004, is in frequent demand as a public speaker and has served on numerous professional panels, offering his experience and expertise as it relates to private equity, sports and entertainment, family-owned companies and other business topics. He recently sat down The Lane Report Publisher Kevin Stinnett to talk about what has made his company successful and share his thoughts on Kentucky's current business environment.
Kevin Stinnett: What are Blue Equity's current investment interests and focus, and why?
Jonathan Blue: We have done many things over the years and had many holdings. We are now in several large focused industries and distribution: retail liquor, wine, beer, and spirits. We also have a talent business that represents talent.
KS: Do you have an individual manager for each of those sectors?
JB: There is a president for each division. At Liquor Barn, Blue Equity oversees all of those operations extensively. The other businesses each have a president that handles day-to -day operations. We are heavily involved, and we get very involved in investments in which we participate.
KS: On your website, you have yourself and four others. Do they also have a majority stake in the businesses that you invest in and acquire?
JB: Yes, Blue Equity does, but again, those four or five people on the website are part of Blue Equity; if you add up the entire employee base for all the portfolio companies, we are pushing about 900 people.
KS: Are all of the businesses in Kentucky or this general region?
JB: Most of the businesses are based in Kentucky, yes. The talent business is based in Beverly Hills, Calif., because of the nature of that business. The distribution of the liquor business is in the Kentuckiana region.
KS: Shifting gears a little bit, you also have many businesses in live sports or centered around live sports, which has seen a considerable increase in value, especially from the broadcast marketing platforms. Why invest in live sports? Also, what are your thoughts on Louisville acquiring an NBA team?
JB: We had one business that we sold back in 2010 that represented talent, so we had a five-year non-compete. Once that non-compete expired, we got back into the business. It is not live sports; it's representing talent that you see on television. So, it's celebrity chefs; that business is based in Manhattan but run out of Kentucky. We have a company that represents broadcasters on the news, one of the most prominent firms in the industry. We have a firm that represents sports broadcasters–Fox Sports, ESPN, etc. We have a couple of sports agency interests, although those are much smaller. The focus now is representing talent that's on television, and we serve as their managers and/or agents depending on the business.
To answer your second question, we would do anything to support the NBA coming to Louisville. I think it is going to be an uphill battle now with COVID obviously being an issue as far as attendance and revenue being off for the league. There are going to be many people that have to overcome some struggles, but anything it takes to be supportive of our contacts and our relationships, we are happy to help.
KS: In your portfolio, most everything centers on entertainment and hospitality but then you have Gilford Johnson Flooring. How did you make the decision to invest in that, and how is that going?
JB: That was a company based in the Kentuckiana area, and we invested in that in a control position around six or seven years ago. We then bought a company out of Atlanta and added (another) company out of Miami. So, we have made three acquisitions in that sector. That company is based in Jeffersonville, Ind. It fits with the theme of distribution and investing in regionally owned businesses, helping them grow in size once we invest.
KS: What type of flooring does the company handle? Do they produce it or sell it or both?
JB: Just distribution. Vinyl, LVP (luxury vinyl plank), hardwood, tile, laminate, etc.
KS: How long do you typically try to keep investments in your portfolio? Is there a start or end point established at the beginning once you start the investment, and do you have a dedicated end date to sell? How does that work?
JB: We have pivoted on that. We have never taken a company to market unless asked to by our co-investors or by someone who has wanted to buy the business. We have pivoted on that lately with COVID in that good companies are hard to find, so we are holding businesses much longer if we don't have an absolute mandate to sell. If it is going to be a great business over the next 25-30 years, we are going to keep it.
KS: How do you solicit co-investors?
JB: We have a very selective go-to group that we have a history with over the course of several investments. We have had people join up with us on new things. We have also had investors that come in for the first time on deals because they either like us or they have an intrigue with a sector. It is just situational.
KS: Do you ever have any vision of going public with any of your investments?
JB: We would; they need to be a lot larger today. We would love to have a much larger footprint in the retail side, the wine, beer and spirits. We love the Liquor Barn brand, people know it nationally, but it would have to be a lot bigger to do so.
KS: Are there any sectors that are poised to explode in the next 10-15 years that are underperforming now?
JB: The easy answer is bourbon, obviously.  Kentucky needs to focus on its signature industries, be it spirits and bourbon (or) be it logistics, which is why we are excited about the distribution business. I think we need to be a hub for the things we are good at and not try to do something we are not. (We should) exploit our natural resources as well as our location on the map of the United States.
KS: Talk a little bit about Blue Equity's interest in Louisville's commercial real estate market over the past 10 or 15 years. Are you still invested heavily in that? How do you see the real estate market today in Louisville?
JB: We de-emphasized that part of the portfolio. We are better off, in our opinion, investing in operating businesses. So that is not as much of a focus as it was in the past. I am discouraged about what's happening in downtown Louisville overall, especially with the office market. Louisville has always had challenges catching up to its peer group cities like Indianapolis, Nashville and Cincinnati. We were just getting ready to get over the cuts before COVID hit. COVID, coupled with a lot of these challenges we have had downtown, have not helped. Just this week, we had two massive businesses exit from downtown, literally in the last seven days. It will be tough to replace those and others.
KS: What do you think is going to happen to the commercial real estate market as it relates to COVID-19? Moving forward, as people are working from home more, do you think businesses will adapt and downsize their actual footprints in the commercial office space? Do you think it will have a lasting impact on what we have seen in the past six months?
JB: I think we will see a complete mind shift in people working away from the office, how they work, the hours they work. It is exciting because, in some ways, people can be more effective. I start my day very early in the morning, and once I get on Zoom calls and other things, it seems like it is 7:00 before you know it. I try to have a family dinner if I am not traveling and doing other things, then we are right back on for late-night stuff with international and other aspects. To answer your question, we are going to learn to work in a completely different way. I think another thing that didn't exist before is technology. You can video from your phone, and you can sign documents from your phone now, which you were never able to do before. You can see a person on the other side of the world and hear them correctly and clearly for as long and as inexpensively as possible. Broadband has changed things; the technology has finally caught up with the need, essentially. It is almost like you are sitting in the same room with people even though they are halfway around the world or on a different coast.
KS: Do you think it is vital for entrepreneurs, such as yourself and others, to have formal, advanced business education such as an MBA?
JB: I think the more education, the better. I believe that you will start to see more people enroll in that type of program now that the job market is suppressed due to COVID. I think it is all positive. The more training, the better. However, there is nothing that beats hands-on; that's No. 1. People still have to go through experiential things to know how to react in certain situations, and an MBA does not always give you that. 
KS: Do you actively participate in public policy discussions throughout the state or local politics or seek to provide input in some of the policy decisions being made by our leaders?
JB: If asked, I will. I have a lot of close friends in the Kentucky legislature. We don't always agree, but they are lifelong friends, and that is what they do. They are there to do their job. I don't overreach unless asked. I let the process play out.
KS: Are there tax policy changes you would suggest to your friends in the legislature here in Kentucky that would attract more development and make it easier for businesses to do business or invest in the growth of new businesses?
JB: We are a very highly taxed state. It is always easier to say lower taxes, but I know we are a very under-resourced state. You can't just say that and then not have the resources to survive as a state. It's an enormous challenge. In the liquor business, we have the highest taxes in the nation. We have an 11% wholesale surcharge tax, which has never made sense to me. The fact that we are higher than any state in the United States, and yet we try to be the leaders in liquor is something that really ought to be looked at and really ought to be changed if we want to be competitive around the country.
KS: What about the local sales tax option? Do you think cites like Louisville and Lexington should have the ability to do a local option sales tax on some of the significant capital investments in the communities?
JB: I do. I think the message sometimes is more important than the cause, and I think the message has been very confusing to most of the public. I think the messaging is where those things have failed, but the answer is yes.
KS: Anything else you think folks should know about Blue Equity?
JB: If there is anything out there that is a profitable family business or otherwise makes money and has revenue of a pretty good size, we are very interested in it having a home in Kentucky, for us to buy before it gets sold to someone out of state. That's our mantra: We want to make sure we see every deal and have the opportunity to either buy or fund any business in our region that we would invest in before it is sold to somebody else out of the state. We want to make sure we don't miss those phone calls from investment bankers if someone has an investment bank, that we have a shot of at least partnering with a former owner or an ongoing owner that wants to sell control before something happens with someone outside of the state of Kentucky.