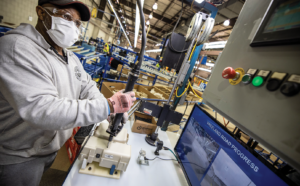 Carl Swope said the COVID-19 pandemic has had an impact on the automotive sales industry that he and likely past generations never experienced.
Working in his family's auto dealerships since 1979, he's now president/CEO of Swope Family of Dealerships' seven Elizabethtown and Radcliff locations and is chairman of the Kentucky Automobile Dealers Association (KADA).
Swope dealerships offer new Chrysler, Dodge, Ford, Genesis, Hyundai, Jeep, Mitsubishi, Nissan, Ram and Toyota vehicles, as well as a variety of pre-owned models.
"I don't think there has been anything like this, certainly in my career and possibly in the history of our family in the automobile business, and that dates back to 1952, before I was born," he said.
Swope was involved with state government officials on a plan to reopen car dealerships safely. And one thing that became clear early on, he said, was "We really can do what we do socially distanced."
That point was proven in early May with "absolutely phenomenal" sales upon reopening, he said. As some lots still look sparse today, people may assume times are tough and dealerships are teetering on the edge of disaster, when actually they're selling vehicles as quickly as they're received, Swope said.
While there's no way for the industry to recover all production this year, "At this point you sell one and one comes in, you sell one and one comes in," he said. "So we're doing OK, but we don't have cars parked everywhere like you normally do."
Cox Automotive reported national vehicle sales for August were 19% below those of August 2019, due to the lowest new vehicle inventory levels for dealers since 2011 and the fact that this August had two fewer selling days.
Kentucky's role in the automotive industry is strong. Toyota Motor Manufacturing Kentucky and its 8,000 team members in Georgetown assemble and build the Camry, Camry Hybrid, RAV4 Hybrid, Avalon, Avalon Hybrid, Lexus ES 350, and four-cylinder and V-6 engines. More than 11 million vehicles total have rolled off the production line at its 1,300-acre site since 1988.
Ford Motor Co.'s Louisville Assembly Plant and its 4,100 employees produce the Ford Escape and the Lincoln Corsair. Ford's second Louisville operation, the Kentucky Truck Plant with 8,900-plus employees, produces Ford F-250 through F-550 Super Duty Trucks, the Ford Expedition and the Lincoln Navigator.
And 100 miles south, Bowling Green is home to the only Corvette manufacturing plant in the world. On August 31, General Motors brought on a second shift with more than 400 hourly jobs at the Bowling Green plant, increasing the workforce there to 1,300 to meet demand for Corvettes and 495-horsepower 6.2-liter V8 engines.
Since 2011, GM has invested more than $900 million in the Bowling Green plant, according to the company's website. That figure includes "a new body shop, increased engine capacity, new paint shop, a new Performance Build Center and additional plant upgrades," the site says.
So what's the big picture now, with a pandemic afoot? The news is mixed.
U.S. automakers reported a 30% drop in domestic sales in the second quarter this year, the worst showing since the Great Recession, a July CNN report showed. The same report revealed that GM weathered a 34% sales drop, and Toyota a 35% drop, before rebounding in May.
But according to an early September report from market and consumer data portal Statista, there were nearly 1.36 million vehicles sold in the U.S. in August 2020, following a gloomy spring rife with shutdowns and uncertainty as the pandemic took hold.
Building upon the May rebound, light truck sales topped 1 million units in August for the first time since February this year, though compared to last year's figures, motor vehicle sales are still down about 20%. Statista predicted in late summer that light vehicle sales would range between 14.5 and 16.4 million units this year—the larger figure contingent upon COVID-19 being contained quickly, and the lesser forecast if the crisis continues.
That compares to around 17 million new light vehicles sold in 2019.
But even now, some hopeful signs have emerged. An August Axios report cited U.S. Commerce Department figures that showed in June, orders for motor vehicles and parts were up 86.2%. The report also noted Volvo (+10.3%), Mazda (+3.4%) and Hyundai (+.6%) sales doing even better than last year's sales figures this past July.
Sales process shifts online
Along with masked employees and copious amounts of sanitizer on the sales floor, other changes have come to auto dealerships like Swope's, such as moving the bulk of the sales process online. In the past, Swope said, customers researched potential purchases online, saving face-to-face dealings with sales reps for the final confirmations and transactions.
The pandemic hastened the industry's move to a more digital way of doing business, Swope said, with about 90% of transactions now online-capable. The real sticking point, he said, is that Kentucky's vehicle titling system requires in-person signing for titles and transfers. Through an executive order, some digital document signing is now allowed, he said, but it can be cumbersome.
Fred Tolsdorf is president of Champion Chevrolet Buick GMC – Louisville. He's owned the dealership for 16 years and entered the automotive sales business in the 1980s.
Tolsdorf said his dealership never fully shut down this past spring, but the showroom was temporarily off limits, replaced by online transactions and remote delivery.
"We're still doing more of the transactions online," Tolsdorf said, "but the customers ultimately want to see and drive the vehicles before they commit to it, so we've been back to doing in-person deliveries."
Lexington-based Paul Miller Motor Co. CEO JP Miller, who's also past chairman of KADA, has over 20 years under his belt in automotive sales. His dealerships weren't shut down entirely, but there were reduced hours companywide in mid-March as mobile customer sales and service launched as an alternative.
"We turned our systems into a more customer-facing digital experience and built out a delivery process basically where it allowed you to do your paperwork all online," he said.
Vehicles are sanitized and brought to customers for test drives and paperwork is processed in customers' front yards. A mobile service division now performs delivery and pickup and can conduct oil changes at customers' homes. Additional hours were allotted to prioritize first responders' service needs, and health screenings, barriers and distance markings on the floor were implemented.
"That is all going really well," Miller said.
Trucks, SUVs still in high demand
New vehicle inventory supplies decreased when manufacturers were shut down for a time in the spring as the nation grappled with the emerging virus.
John Savona is vice president of North American Manufacturing at Ford, and previously served as plant manager of the Louisville Assembly Plant in 2011. After that, he became director of manufacturing for that facility as well as the Kentucky Truck Plant and another Michigan-based plant, and now his role extends to plants throughout the U.S., Canada and Mexico.
He said the two Louisville plants together employ about 13,000 people and production resumed to normal levels in late June after a two-month spring shutdown.
"Both plants are producing high volume with high quality and do it safely," he said.
Savona said being a global company, Ford worked on a global safety plan that began in China, where the virus originated, on to other affected regions, and then to the U.S., engaging experts like epidemiologists and others outside the auto industry and learning along the way.
"Our vehicles are flowing out of our assembly plants on a normal basis right now and demand is really strong for our products across our Ford system, particularly for our plants there in Louisville," he said.
Though no one can predict when the virus will be eradicated, Savona said he's proud of his team and its good track record of keeping COVID-19 at bay in facilities by engaging with safety protocols.
Manufacturers are working diligently to get their feet back under them and ramp up production to get vehicles to dealerships that consumers want to buy, Swope said. Trucks and SUVs are in greatest demand, unseating sedans over the past few years, he said.
Fluctuating inventories pose occasional challenges. Typically dealerships maintained 60 to 90 days' worth of vehicles on their lots, Swope said. During the spring shutdown, inventories held steady, where they stayed until reopening in early May. But since that time, new car inventories have dropped to around a 40-day supply, sometimes 30, he said.
"It's just a game every day of protecting people, protecting each other from spreading COVID-19, protecting customers, protecting the community but also satisfying customers with the vehicles they want to purchase," Swope said.
Tolsdorf said Corvette sales have been unaffected by COVID-19, with his three-year waiting list intact. He said Silverado and Sierra pickup trucks are hot sellers, as well as new Tahoes and Yukons. Manufacturing is still not back to normal levels with many vehicles in transit, but he expects by early October that inventories will have normalized.
All told, he said, the road ahead looks bright.
"I think business is going to be good for the next couple of years," he said. "I think there's definitely demand—I really don't see anything that's negative."
Miller said he's excited about the Kentucky-built Ford Escape selling well, as well as the rebirth of the Ford Expedition.
"It's been pretty exciting to see a lot of our repeat customers coming back in and buying the Escape and buying the Expedition because they've been remodeled and they have a lot of great safety tech and benefits," he said.
Ford F-series trucks have seen a boost in sales with increased activity in area construction and horse farm industries, he added. And rebates, tempting interest rates and the value of used cars have combined for a great opportunity for some consumers to make a trade in and have similar payments for a brand new vehicle, Miller said.
Sales forecast is strong
Some trends that took root in a changing world this spring may become long-term. An August Wall Street Journal article reports that Arizona-based Carvana, an online company that recently opened one of its eye-popping, eight-story car vending machines in Louisville, experienced a 25% increase in second-quarter vehicle sales. Its total revenue was up 13% to $1.12 billion between April and June 2020.
A New York Times article earlier this year said GM reported 750 of its dealerships opted into its "Shop Click Drive" e-commerce system in the first few months of the pandemic, with more than 85% of its domestic dealers using the system.
Meanwhile, Kentucky's auto manufacturing plants are up and running again with new safety protocols in full force, and the fourth generation of the Ford Expedition will start production later this year in Louisville.
Swope said "as long as there's not another major flare-up" of COVID-19, manufacturers will continue to catch up with demand.
In Louisville, Byerly Ford and Byerly Nissan Vice President David Daunhauer said his family has been in the automotive business since 1944, and he has been involved for the past 25 years.
Daunhauer said parts, service and body service departments remained open as they were deemed essential, but customer traffic still dropped 35 to 40% temporarily. In sales, phone and virtual meetings with customers are now the norm, along with meeting customers off-site at their house or a neutral location.
Despite the changes and challenges, Daunhauer said sales are comparable to what 2019 summer sales were and the service department is back to normal levels–if not busier. The body shop is still not as busy, but he said that may be because fewer people have been on the roads, and thus fewer accidents requiring body work.
Ford F150s, Escapes and Rangers are all popular Kentucky-made models with strong sales, he said.
Consumers can pick out, pay online and schedule a time and place for delivery, he said.
But now, Daunhauer says, some are returning to in-person transactions.
"I think they really wanted the chance to kick the tires, test drive it and all that sort of stuff," he said.