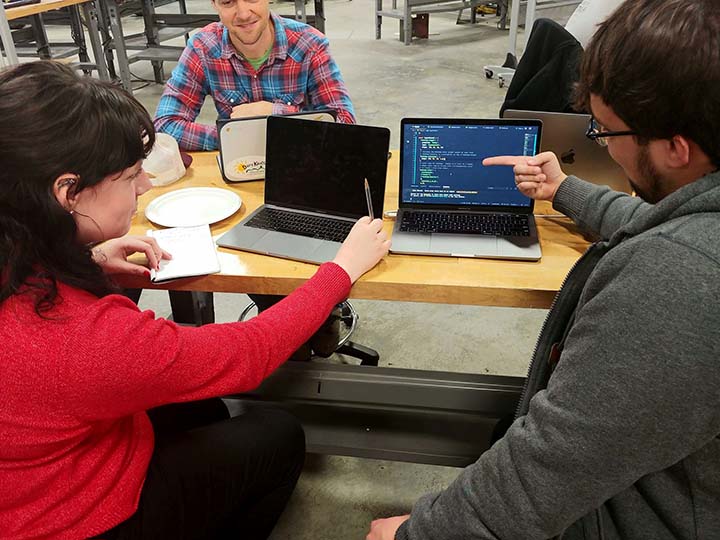 Last year, Louisville resident LoLa Randall was working various shifts at Churchill Downs to provide for her family. Now she is an IT support analyst working on a project with a national health care provider. 
Her story, while remarkable, is not unique, thanks to Interapt, a Louisville tech company that is "changing lives one line of code at a time."
"Because of Interapt, I have access to a completely new world," Randall said.
Ankur Gopal started Interapt as a mobile and web application development firm in 2011. His vision was to create a high-tech company and create jobs for Kentucky residents. As the firm grew, however, Interapt found it increasingly difficult to find and keep talented employees in Kentucky, Gopal said. 
In 2015, he decided to do something about it.
"We decided to start a training program for non-traditional majors and displaced workers that wanted to live/work in Kentucky to learn tech," Gopal said. 
As the program developed, he witnessed segments within the Louisville community "that needed an opportunity to redefine themselves," he said. 
Gopal decided to offer his workforce training program tuition-free to "those traditionally marginalized by society." The program combines paid immersive technical training with on-the-job apprenticeships to provide underemployed and unemployed individuals an opportunity to launch promising careers in tech. It also helps businesses develop a more robust and diverse talent pipeline.
The training is offered through partnerships with local philanthropic organizations and companies. Students gain experience with different programming languages such as HTML, CSS and JavaScript, then participate in customized training modules with partner companies. Interapt also helps participants develop problem-solving skills. They teach them how to quickly learn and retain information, important skills in the ever-changing technology landscape. 
"The first stage of bringing transformational change is to provide a vision and then a path to get there," Gopal said. "Hope quickly replaces despair and people bring about change to their family and then their community."
Interapt has trained people from all walks of life, Gopal said, "from the self-taught coder who just needed some refinement to the person working at the drive-thru at a local fast food restaurant." Some participants have had very little computer experience, but they had the aptitude for the work.
"We believe the person with the aptitude to be in the tech sector can come from any kind of past or career," he said. "We have seen our program work in rural and urban settings, with participants with very diverse backgrounds. If someone likes to learn and challenge themselves while retaining information to apply to problem-solving opportunities, then they will flourish in our training programs."
Helping traditionally marginalized individuals—often those with low-income jobs and minorities—became a personal mission. As the creator of a successful high-tech company, Gopal has been asked to speak at several prominent technology conferences. He has encountered many people at those events who were amazed he chose to operate his tech company in Kentucky. 
"Some even felt sorry for me and offered to use their networks to 'help me relocate back to Silicon Valley.' Some had a very deep bias against non-traditional tech states and believed finding talent in Kentucky was a fool's errand," Gopal said. "This reminded me of my own upbringing when others marginalized me and prevented me from opportunities for having brown skin … But this time, it wasn't racial bias, but geographical bias, which I wanted to do something about."
Interapt partners with like-minded companies who are interested in transforming their social impact while increasing their bottom lines, such as Humana, Kindred, Accenture, Chase and Netsmart. 
In 2019, Interapt teamed up with General Assembly (GA), a pioneer in education and career transformation with more than 30 campuses and over 19,000 hiring partners, to expand its business model and "play a bigger role in fostering a more diverse and inclusive technology ecosystem throughout America," Gopal said. Interapt also helped develop one of the first IT Registered Apprenticeship Program models with the U.S. Department of Labor and has partnered with local universities such as the University of Louisville to provide additional stackable credentials for students who are interested in filling today's IT skills gap.
"There are over 700,000 open tech jobs in the U.S, but many of them are left unfilled because workers are unable to receive the kind of tech training or career services that are required to be successful in today's digitally driven workforce," said Jake Schwartz, GA's cofounder and CEO. "Interapt has done a fantastic job at addressing this, creating an innovative model for training that has worked far beyond Silicon Valley, first in Louisville and now throughout the region."
In May 2020, the Kentucky Economic Development Finance Authority approved Interapt for economic incentives to establish its national headquarters in downtown Louisville with satellite operations around the country. 
"We now have around 200 employees across 25 states and we expect to hire an additional 40-50 by end of the year," Gopal said. "COVID-19 has made U.S. firms rethink their technology strategies, and as a result has created opportunities for us to leverage our training programs to reshore our partners' technology workforce from around the globe. We are mitigating our partner's risks while creating opportunities for tech workers that begins right here in Kentucky." n
Lorie Hailey is special publications editor for The Lane Report.  Send recommendations for Small Business Snapshot to [email protected].