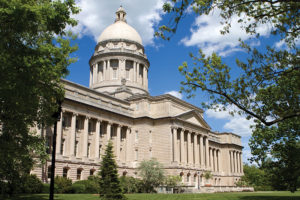 FRANKFORT, Ky. — Kentucky House Democrats announced Thursday that they have kept their leadership team elected last year intact, giving all three their first full two-year term together.
Rep. Joni Jenkins of Shively will continue as caucus floor leader, a role she assumed last December when she became the first woman in the General Assembly to lead a legislative caucus.
Rep. Derrick Graham of Frankfort will serve his second full term as caucus chair, extending his tenure as the first Black legislator to serve in House leadership.
Rep. Angie Hatton of Whitesburg will keep her title as caucus whip, which she was elected to last December. She and Jenkins are the first two women caucus leaders to serve simultaneously in the Kentucky House.
Republicans will outnumber Democrats 75-25 in the House when lawmakers convene on Jan. 5 for the 30-day legislative session.