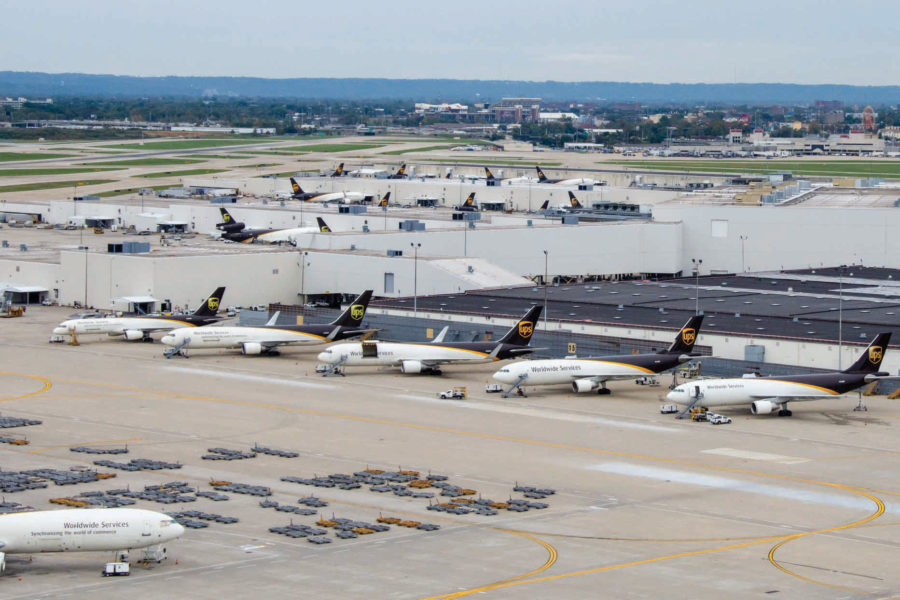 Louisville may be best known for first-rate bourbon and super-swift horses. But it's also one of the country's most important cities for getting products from point A to point B whether by plane, train, truck or boat.

In May, Airports Council International ranked Louisville Muhammad Ali International Airport (SDF) as the fifth busiest air cargo hub in the world and third in the U.S. for 2020. The airport handled more than 2.9 million metric tons of cargo, the trade association said.
A huge percentage of that is directly attributable to Louisville's largest employer, UPS, which has about 24,000 employees in the city. Most of those jobs are at the UPS Worldport global air hub. At 5.2 million s.f. under roof–equivalent to about 90 football fields – it may be the largest facility of its kind on the planet.
"The logistics industry is very important to the Louisville region. It's really become one of our core industries in the region and one of our core economic drivers," said Sarah Davasher-Wisdom, president/CEO of Greater Louisville Inc., the region's chamber of commerce. "We've got about 1,300 companies in the region, and manufacturing and logistics represent about 18% of the employment within our economy."
There are about 84,000 jobs in logistics and transportation in the Louisville region, which is attractive to logistics companies primarily because of its location at the center of 70% of the U.S. market and its intersections of I-65, I-64 and I-71, GLI said.
Worldport is responsible for some 62,000 direct and indirect jobs, with an annual payroll of $2.5 billion, said Jim Mayer, public relations manager for UPS Airlines.
Worldport "is a significant driver for the growth of logistics in Louisville. We operate daily nonstop flights to international destinations as far away as Dubai, UAE, so the city is truly a global crossroad," Mayer said. "Several hundred companies have located in Louisville specifically to be close to Worldport, which you can see by the number of distribution centers up and down I-65 in the area. We call it 'end of runway' proximity, which allows companies to ship as late as 11 p.m. or midnight for delivery the following day."
The volume of packages companywide grew by a little more than 14% early in the pandemic and "…we have been operating at near peak-season levels since," Mayer said.
Although the spread of COVID-19 appears to be slowing globally, e-commerce continues to thrive, said Mayer, whose company can handle more than 400,000 packages per hour at Worldport.
"I do think that the logistics industry is in growth mode, and I believe we're really going to see an even bigger boom in this next year. In the past year e-commerce really boomed. I don't see that changing a lot," Davasher-Wisdom said.
In a report she released in April, four of 11 local economic development projects where substantial progress was made this year are in the logistics industry. Preliminary estimates by three of the companies projected that a total of 1,550 new jobs would be created, she said.
Growth among logistics companies has only been tempered by labor shortage issues that are affecting businesses across the nation.
"With the growth we had last year and are continuing to have this year, we are in dire need of labor. The biggest hurdle is finding people to work," said Mary McDonald, sales and marketing manager for Advance Distribution Services, a 52-year-old distribution and logistics firm that operates two massive warehouses in the Louisville area.
"We could easily add 100 people," said Paul Verst, chairman/CEO of Verst Logistics, which is based in Walton and has 1,900 employees companywide and about 850 in a Louisville warehouse that delivers hundreds of products to Kroger stores.
Location, airport, UPS critically important to logistics companies
The Louisville airport also is searching for good candidates to fill a number of positions as passenger traffic rebounds from the pandemic flattening in 2020.
"Since 2019, our best year ever, we've added eight new routes and grown our nonstops from 30 to 35," said Dan Mann, executive director of the airport authority.
The airport has also added two new airlines: Spirit Airlines and Breeze Airways. Louisville will be one of the first launch cities for Breeze, which is the fifth airway founded by David Neeleman, the veteran airline executive who also launched JetBlue.
SDF now offers 35 nonstop destinations on eight airlines. The airport continues to outpace the national average for returning to capacity.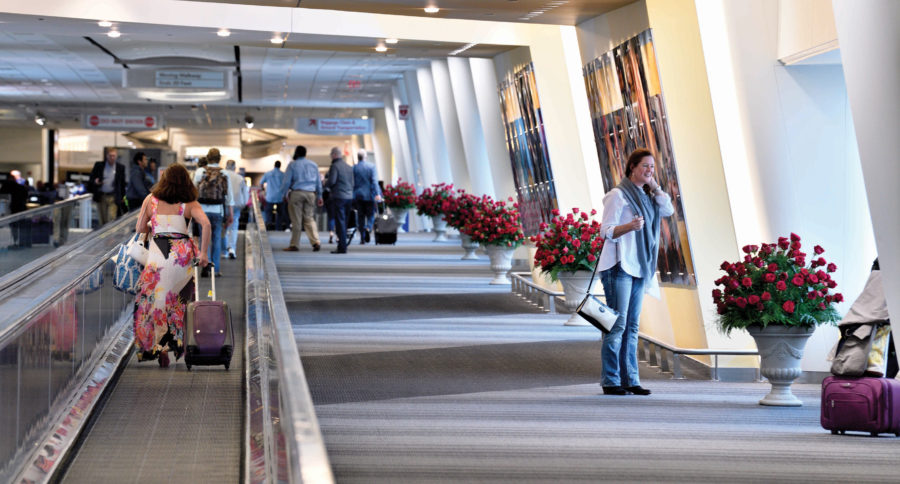 In June, the airport was nearly at 100% of pre-pandemic travel levels, while national capacity was still down 20%, Mann said.
Although business and international travel have been below pre-pandemic levels, Mann said the additional service – and tourist travel – should bump up passenger numbers to the "general ballpark" where they had been a few years back.
"In 2020, air cargo was up almost 5% and e-commerce is not showing any softness at all. I think demand is going to continue to grow. We're bullish on cargo and passenger traffic," he said.
Mann said the airport's commitment to the cargo business is illustrated by one of its latest investments–a $15 million, 324,000-s.f. warehouse that will be built on Renaissance Zone property near the airport, said Mann, who also serves as president of the development zone.
McDonald of Advance Distribution made it clear that UPS and the airport are critically important to her company and other shippers in the region.
"Location is everything for Louisville. Because of UPS you can hit shipping points across the U.S. in two days – 75% of the U.S. in two days and the whole country in two to four days. You can offer quicker shipping times to your customers," McDonald said.
Dave Tu, president of DCL Logistics in Fremont, Calif., presented a classic "UPS magnet" story when he explained why he opened a Louisville location.
Tu said he read "Delivering Happiness" by Zappos founder Tony Hsieh, who set up his e-commerce shoe business in Shepherdsville near UPS so that he could shorten the delivery time for online shoppers.
"I read that book and I flew out to Louisville and met with the chamber and I said, 'Hey, it makes sense for us to be out here'," said Tu, whose largest U.S. location is in Louisville, where his company has about 200 employees who handle "pick and pack" work for e-commerce retailers.
Revenues were up by about 50% last year and Tu hasn't seen any softening of the market as the pandemic begins to fade away.
"There's a lot of good talent, a lot of good expertise and there's a whole ecosystem around the logistics and distribution system," Tu said.
Diana Herold, president of Derby Supply Chain Solutions, and Bill Marks, director of sales, said the company's revenues were down last year because of the pandemic. A couple of Derby's customers shut down for three months while another opened and shut several times because of the pandemic.
"We were probably down about 20% versus 2019," Herold said.
But Marks pointed out that there were a few bright spots. One company that makes outdoor products – solar lighting and fountains – tripled its volume because many people were at home working on projects.
"I think the logistics sector is going to continue to grow. I don't think that it's peaked," said Herold, whose company has 600 employees in seven states, including 250 full-time employees in Louisville.
A number of other logistics companies serving a myriad of clients are located in the Greater Louisville region, including Premier Packaging, eBay Enterprise and HJI Supply Chain Solutions.
Rail, water, public transportation
Greater Louisville and Southern Indiana have the benefit of top-notch water, rail and logistics infrastructure to make their resident businesses highly competitive.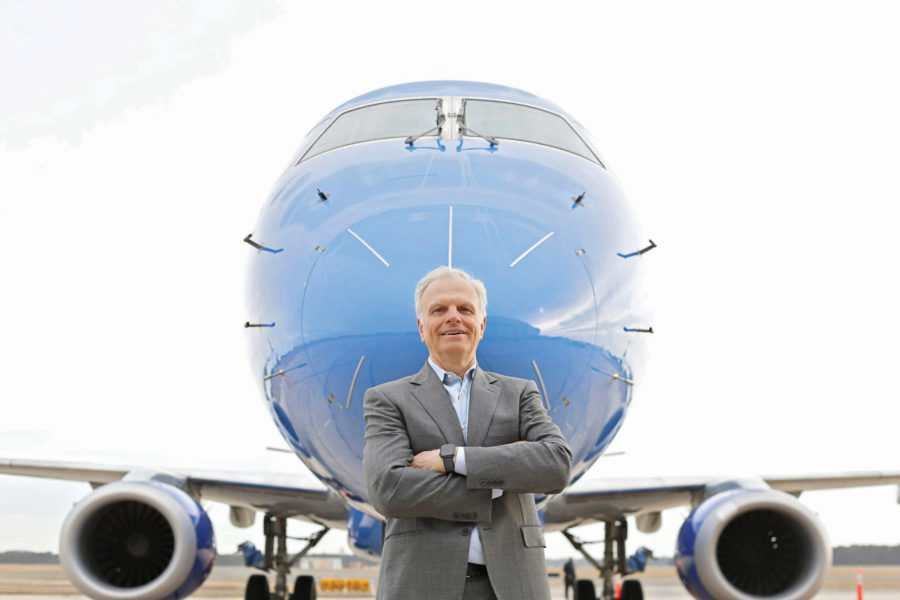 The Louisville Riverport Authority has been a centerpiece of economic growth and development in Louisville for the past 30 years. Riverport is home to 120 companies that employ more than 6,500 people – businesses engaged primarily in manufacturing or logistics and distribution, including Honeywell Logistics, Balfour Co., Coca-Cola Consolidated, Atlas Machine & Supply, Interpolymer Corp., Kentucky Trailer and Zeon Chemicals. It has over 2,000 acres of land used for industrial and commercial development.
Riverport's fully developed transportation facilities complement Louisville's central location to make it one of the most accessible industrial parks in the nation. The port includes a cargo dock, a barge fleeting area and ground storage. It has rail service by CSX, Norfolk Southern, and Paducah & Louisville.
The Port of Indiana-Jeffersonville is a part of America's premier inland port system, the Ports of Indiana. Situated on two major North American freight transportation arteries – the Great Lakes and the Inland Waterway System – the state's three-port system serves the world's most productive industrial and agricultural regions.
More than 1,000 barges, 250,000 trucks and 16,000 railcars pass through the port each year, moving cargo to various states on the inland waterways system and to the world by transshipment with ocean vessels in the Gulf of Mexico. The Port of Indiana-Jeffersonville is home to 27 companies, including 15 steel-related businesses, and the port's maritime industrial park offers warehousing, distribution and manufacturing facilities, and a variety of steel services including processing, roll forming and galvanizing, along with multimodal connections.
Louisville also benefits from a robust public transportation system. During a typical year, the Transportation Authority of River City (TARC) provides more than 12.5 million passenger trips covering more than 12 million miles. The buses – with comfort and productivity amenities such as on-board Wi-Fi, luggage racks, reading lights and other features – typically run 43 routes in five counties across Kentucky and Southern Indiana. TARC vehicles average more than 41,000 riders daily, and 83% of trips are for work or school.
In 2020, during the height of the pandemic, ridership was down 70%, mirroring national trends in public transit, said Carrie Butler, TARC executive director. As COVID-19 numbers declined and vaccination rates went up in early 2021, passengers started returning.
"Everyone at TARC is looking forward to seeing our regular passengers, and some new folks who've recently discovered the value of public transit, on the bus again soon," Butler said. "It's been great to see a renewed recognition from the community for the important space public transit holds in keeping a city alive and moving, and the crucial role we'll play as the city begins to open back up."
TARC recently completed its comprehensive operations analysis, which was designed to enhance overall safety and quality.
"We are looking forward to kicking off our long-range plan that will also include opportunities for public engagement," Butler said.
In recent years, TARC launched a new, user-friendly website and better passenger amenities, like the ability to use mobile-fare payment, she said. It also recently added 47 new buses into the TARC fleet.
AIRPORTS & GENERAL AVIATION
Atlantic Aviation
atlanticaviation.com
Bowman Field
Louisville
flyLouisville.com
Clark Regional Airport
Sellersburg, Ind.
flyjvy.com
Lebanon-Springfield Airport
Springfield, Ky.
lebanonspringfieldairport.net
Louisville Muhammad Ali International Airport
flylouisville.com
INTERNATIONAL SHIPPING COMPANIES
DHL
FedEx International
UPS
PUBLIC RIVERPORTS & RAIL
Canadian Pacific Railway
cpr.ca
CSX
csx.com
Louisville Riverport Authority
louisvilleriverportauthority.com
Norfolk Southern
nscorp.com
Port of Indiana-Jeffersonville
Portsofindiana.com
Meade County Riverport
meadeky.com/riverport-authority