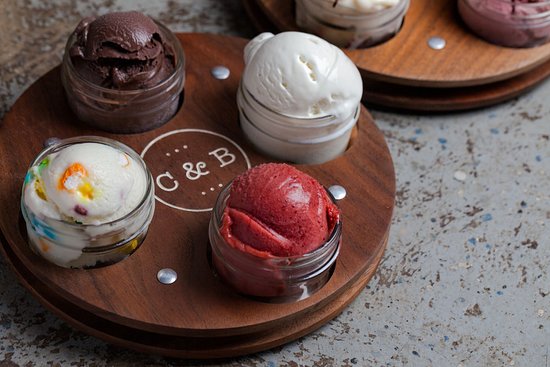 LEXINGTON, Ky. — Commerce Lexington Salute to Small Business Awards Luncheon presented by Forcht Bank, Crank & Boom Craft Ice Cream was named the 2021 Small Business of the Year. The recipient of this year's award in the Business Success Category, Crank & Boom was chosen for the honor of three different category winners.
Crank and Boom Craft Ice Cream was born from an idea to offer coconut ice cream as a dessert option at Toa Green's family restaurant, Thai Orchid Café.  As more ice cream flavors were added to the menu and people began coming to the restaurant just for the ice cream, Toa and her husband Mike realized they had something special and launched Crank and Boom in 2013.
From there, Crank and Boom ice cream was served at 200-plus events across Central Kentucky, such as weddings, local festivals, and corporate outings, and by 2015, the Crank and Boom Ice Cream Lounge opened in the Distillery District.
That simple idea to create a new menu option has since grown to a multi-million-dollar business that includes two scoop shops, a 6,000 square-foot production facility, 40-plus employees, nationwide shipping, and recognition through national press including PEOPLE Magazine, the New York Times, and Cooking Channel.
With a mission to Create Joy, Ignite Laughter, and Inspire Compassion, Crank and Boom not only uses the highest-quality, local and all-natural ingredients to make its ice cream, but it has been committed to helping others in the community.
Commerce Lexington Board Chair Ray Daniels (Equity Solutions Group), said, "Commerce Lexington's Salute to Small Business enables us to say thank you and recognize many hardworking businesses and organizations. This past year and a half have been difficult for all businesses, but even more so for our small businesses.  Despite the adversity, they have been innovative and adapted to the changing economic landscape, continuing to provide great products and services to the community.
Since 1986, Commerce Lexington has recognized 106 outstanding small businesses and nonprofit organizations, and we are very proud to honor these exceptional 2021 category award winners."
Click here for more Kentucky business news.