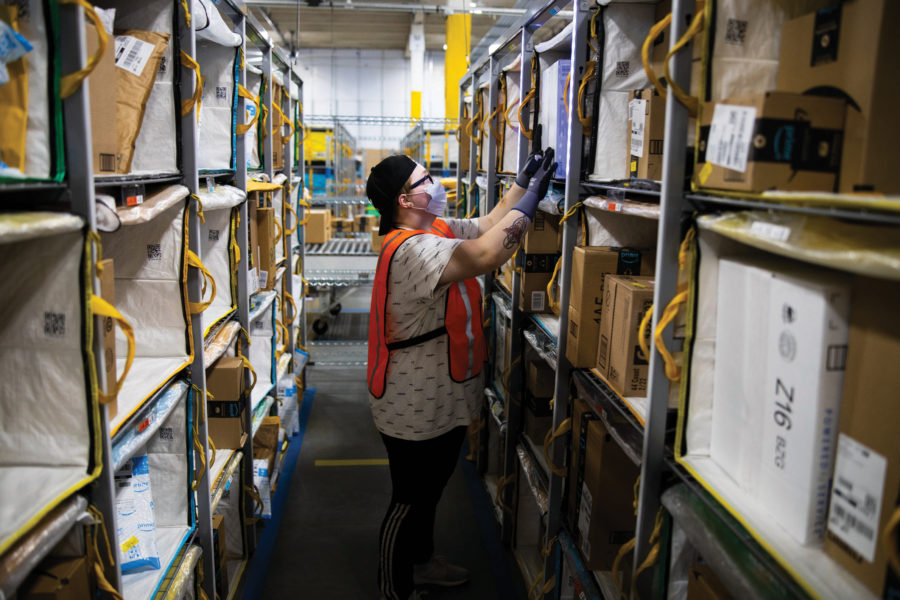 SEATTLE — Amazon is hiring 150,000 seasonal workers across the United States, including 2,500 in Kentucky, the company announced today.
Jobseekers can received an immediate contingent offer for seasonal roles with an average starting pay of $18 per hour, sign-on bonuses up to $3,000 and an additional $3 per hour depending on shifts in many locations, plus the opportunity to transition to long-term careers.
The seasonal roles are in addition to previously announced plans to hire over 40,000 new corporate and tech jobs and 125,000 full and part-time fulfillment and transportation jobs, including the 3,000 full and part-time Kentucky operations jobs announced previously. (In September, Amazon announced 3,000 new jobs in its Lexington, Shepherdsville, Erlanger and Hebron operations.)
"Our seasonal hiring helps us deliver on our promises to customers while also providing flexibility to our full-time employees during busy periods," said Alicia Boler Davis, senior vice president of global customer fulfillment.
RELATED — TLR One-on-One: Andre Woodson discusses role as Amazon's Kentucky spokesperson
Jobs in Amazon's operations network include stowing, picking, packing, shipping and delivering customer orders, and more. New hires will be fully trained and all facilities follow strict COVID-19 health and safety protocols. A job with Amazon can be the start of a future, long-term career inside or outside of the company. Interested candidates can see all the regions with open positions at amazon.com/apply.
Amazon opened its state-of-the-art air cargo hub at Cincinnati/Northern Kentucky International Airport (CVG) in August.
After more than four years of planning and construction, the Amazon Air Hub serves as the central hub for Amazon Air's U.S. cargo network, facilitating the rapid transport of customer packages across the country. This $1.5 billion investment in Northern Kentucky will eventually create thousands of jobs for people from various backgrounds, including load planning, management of package sortation, and robotics technology.
The 800,000-s.f. sortation building sits on an 882-acre campus that features seven buildings, an expansive new ramp for aircraft parking, and a multi-story vehicle parking structure. The sortation facility is equipped with the innovative use of robotics technology that helps move and sort packages—including robotic arms and mobile drive units that transport packages across the building—miles of interlinked conveyors, and ergonomic workstations that support a comfortable work environment for employees. The building will also feature a solar rooftop scheduled for installation over the next year, and all energy generated from the panels will feed directly into the electrical grid of the local community.
Click here for more Kentucky business news.