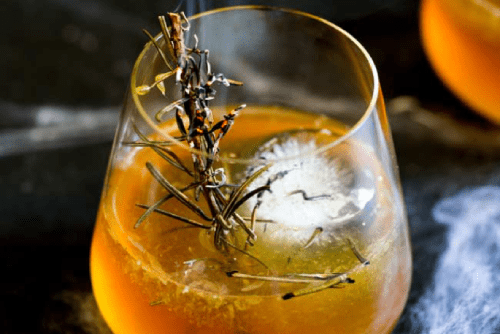 As Halloween approaches, what better way to celebrate than with a Haunted Graveyard. The mixture of maple, orange, and bourbon is sure to sink its teeth into you.  Also, by smoking the rosemary the drink gives off an even spookier vibe.
Ingredients
1/2 Bourbon
1/3 Maple syrup
4 Orange Slices
4-6 Splashes Bitters
2 Rosemary stems
Ice
A cocktail shaker or mason jar
Method
Mix the bourbon, maple syrup, and bitters together in a shaker.
Add an orange slice and ice.
Shake, strain into a mason jar.
Light a rosemary leaf and promptly extinguish.
Garnished with the smoking rosemary stem.
Click here for more Bourbon Flight news.
Click here to sign up for The Bourbon Flight Newsletter (coming January 2022).