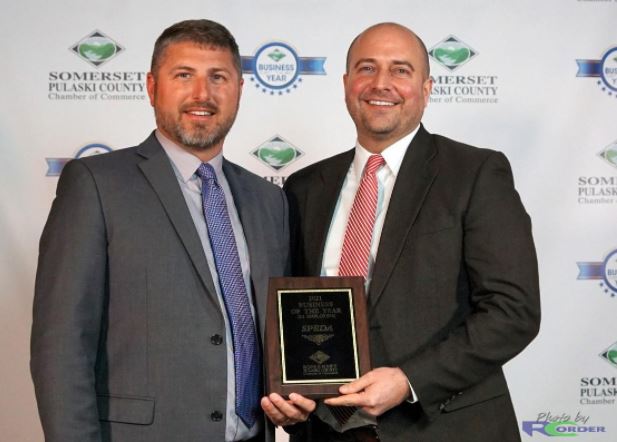 SOMERSET, Ky. — The Somerset-Pulaski Economic Development Authority (SPEDA) has been recognized as Business of the Year by the Somerset-Pulaski County Chamber of Commerce.
Nominated in the 2-5 employee category, SPEDA received the honor at the Chamber's annual banquet and awards ceremony. The city-county partnership, now entering its fourth year, was selected for its unique and proactive approach to reimagining economic development by focusing on the quality of life initiatives.
SPEDA utilizes industrial recruitment, retail and commercial development, tourism marketing and promotion, education, workforce development, arts and entertainment and community planning to improve quality of life in Somerset, Pulaski County and the Lake Cumberland region. The organization — led by a nine-member board of directors that represents city and county government as well as a variety of economic sectors — embraces the values of boldness, vibrancy, innovation, growth, collaboration and unity to enhance the economic, political and social well-being of the community's residents.
Through this approach, SPEDA has invigorated the local economy and earned Somerset-Pulaski County a seat at the table in statewide conversations about economic development. In 2021 alone, SPEDA announced more than $300 million in newly committed business development and $30 million in existing business expansion. This included groundbreakings for the community's first bourbon distillery, Horse Soldier Bourbon, and its first sustainable indoor farm, AppHarvest — both of which received national media attention.
SPEDA has also launched several initiatives that are firsts in Kentucky, including a 501(c)(3) charitable organization that raises money for community projects. In its first endeavor, the SPEDA Community Foundation has raised nearly $200,000 so far for Somerset's first Veterans Memorial Park, which will be built downtown in 2022.
SPEDA's team includes Girdler and Chief Accounting Officer Jessica Carlton, both of whom work tirelessly to ensure SPEDA operates smoothly, efficiently and transparently, Board Chair Brook Ping said.
Click here for more Kentucky business news.