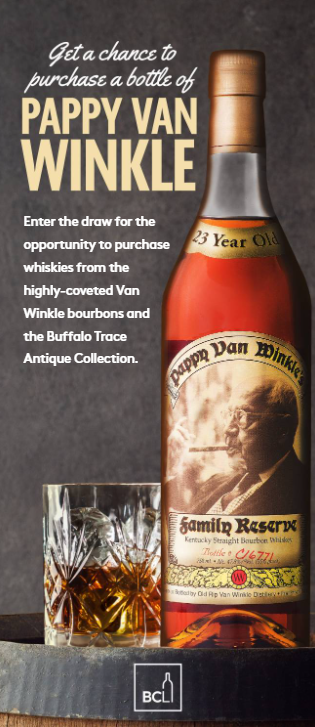 B.C. Liquors are holding a drawing for the chance to buy the prized bourbon, Pappy Van Winkle. The drawing begins February 7th and runs through February 14th, visit select BC LIQUOR stores to enter a draw for the opportunity to purchase whiskies from the highly-coveted Van Winkle bourbons and the Buffalo Trace Antique Collection.
Participating stores will have a QR code for you to scan which will take you to a page to enter the draw. QR codes will only be available in-store. An online draw will be held for the opportunity to purchase each product. Only one entry per person per product. Duplicate entries will be voided.
Successful entrants will be notified via email beginning March 7th until all bottles have been claimed. Please check your email inbox regularly. You will be required to confirm your intent to purchase within the timeframe provided. If we do not receive a response within that timeframe, we will move on to the next successful entrant.
You must be able to pick up and pay for the product(s) starting April 9th at any of the participating stores below. Your entry number and proof of identification* must be presented. Please note that requesting representatives to pick up on your behalf, extensions, or store transfers will not be accommodated.
Click here for more Bourbon Flight news.
Click here to sign up for The Bourbon Flight Newsletter.