PIKEVILLE, Ky. – Community Trust Bank recently was honored for the 13th consecutive year with the Gold Lender Award from the United States Small Business Administration (SBA) as Kentucky's top volume SBA 7a Community Bank lender in federal fiscal year 2020–2021. The award was presented Nov. 5 at the SBA Lender's Conference in Louisville.
SBA authorized 77 SBA 7a loans for Community Trust Bank customers in Kentucky during the fiscal year, totaling $18.88 million. The 77 loans represented the largest number of loans approved by SBA for any lender in Kentucky, including national banks originating SBA loans in the commonwealth. (Republic Bank had the largest 7a loan amount, $25,422,800 with 48 loans. Republic received the Silver Lender Award.)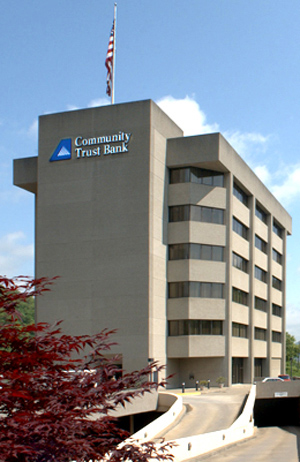 Over the past two years, Community Trust Bank has funded 155 SBA 7a and 504 loans, providing over $33 million for small businesses, primarily in Kentucky, Tennessee, West Virginia and Ohio. Over the past 13 federal fiscal years, Community Trust Bank has funded 1,085 SBA 7a and 504 loans, providing access to more than $234 million for small businesses in the region.
Community Trust also funded approximately 6,300 SBA Paycheck Protection Program (PPP) loans to more than 5,000 businesses during 2020 and 2021, distributing more than $400 million of forgivable loans to small businesses to help them make it through the financial uncertainty of the COVID pandemic.  Approximately 90% of the PPP loans have already been forgiven by SBA. The businesses helped by those PPP loans employ more than 50,000 people.
"Over the years, the relationship with the SBA has been an excellent one for both Community Trust Bank and our customer base, allowing us to offer competitive business loan products across our service area," said Mark A. Gooch, president and CEO.
Terry Spears, vice president/small business banking officer, said SBA has some special programs in place for 2022 to help small businesses, including a larger limit ($500,000) for SBAExpress loans, fee waivers for loans up to $350,000 and reduced fees for all loans.
SBA loans may be authorized for up to $5 million, however, the 504 loan program allows lenders to facilitate much larger projects through the combination of the bank's first mortgage loan, SBA's $5 million fixed-rate second mortgage loan and the borrower's equity injection.
The U.S. Small Business Administration (SBA) was created in 1953 as an independent agency of the federal government to aid, counsel, assist and protect the interests of small business concerns, to preserve free competitive enterprise and to maintain and strengthen the overall economy of our nation.
Community Trust Bank is a wholly owned subsidiary of Community Trust Bancorp, which is headquartered in Pikeville, Ky., and has 70 banking locations across eastern, northeastern, central, and south central Kentucky, six banking locations in southern West Virginia, three banking locations in Tennessee, four trust offices across Kentucky, and one trust office in Tennessee.
Click here for more Kentucky business news.