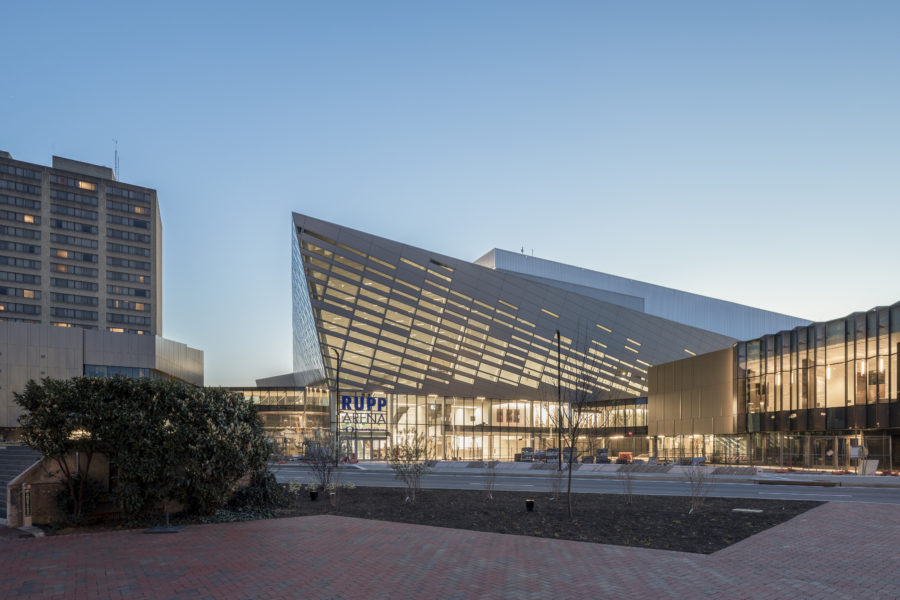 LEXINGTON, Ky. — Local and state leaders today celebrated the grand opening and dedication of the Central Bank Center.
Check out our photo gallery below.
Completion of the $310 million Central Bank Center expansion project comes after over 10 years of planning and construction. The project includes a 100,000-plus s.f. exhibit hall space, a 25,000-s.f. multi-purpose ballroom, 16 meeting rooms of various sizes, configurations totaling 30,000 s.f. and over 50,000 s.f. of hospitality dining areas. Renovations to historic Rupp Arena include conversion of most of the bench seating in the upper tier to chairback seating and enlarged concourses. A new iconic architectural facade replaces the "big box" look of the original 1976 building.
Because of the expansion, Lexington will now be able to compete for 90% of the national convention business vs. 65% with the old facility.
The celebration also commemorates the 50th anniversary of the formation of the Lexington Center Corp., the governing body that oversees the management and operations for Rupp Arena, the Lexington Convention Center and the Lexington Opera House. The LCC Board of Directors recently entered into a five-year management and booking agreement with OVG360, a division of Oak View Group, the largest developer of sports and entertainment facilities in the world.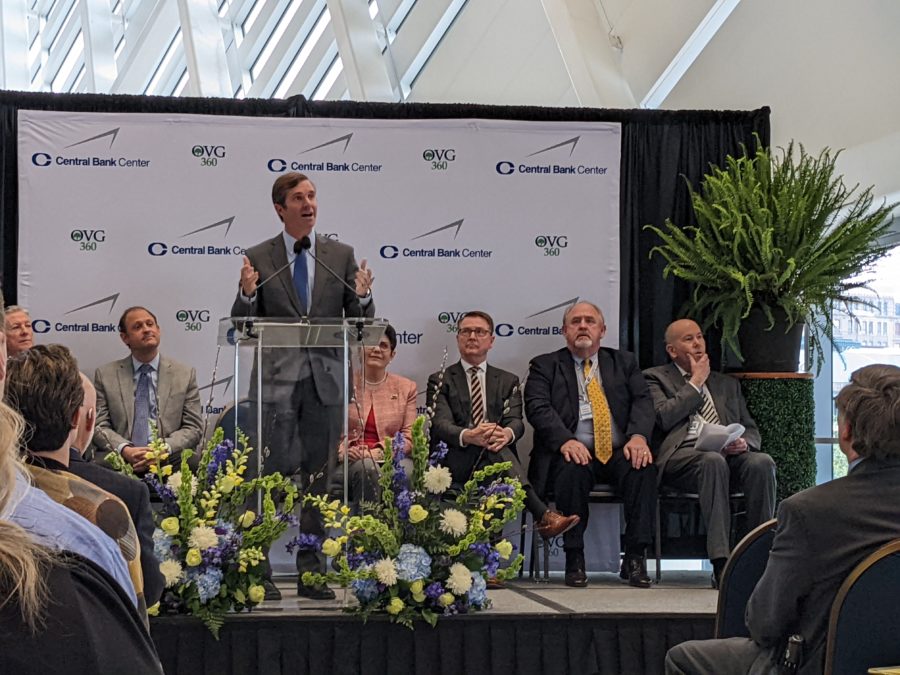 "Today we celebrate an investment in tourism, an investment in economic development, an investment in Lexington, an investment in Kentucky," said Bob Elliston, board president of Lexington Center Corp. "The expanded Central Bank Center facility will sustain, even elevate, Central Kentucky as a meeting destination, keeping Lexington competitive in the regional and national convention marketplace as well as create an iconic visitor destination in the heart of the Bluegrass. Renovations to Rupp Arena sustain its relevance as a first-class sports and entertainment venue and stretch its life far beyond that of most facilities of its kind." 
Lexington Mayor Linda Gorton said, "This is a great day in our city. A great day for new jobs, for downtown and for exciting entertainment opportunities. We have been working to expand Central Bank Center for many years to make it more competitive. This expansion comes with a reinvention of Rupp Arena and a beautiful new trail that runs in front of the Center and through downtown." 
"Kentucky's economy is soaring and the Central Bank Center expansion will add to our momentum in Lexington and central Kentucky," Gov. Andy Beshear said.
The governor also highlighted the key role Kentucky Transportation Cabinet Secretary Jim Gray, a former Lexington mayor, played in bringing the project to life. 
"The Central Bank Center is a spectacular re-imagining of vital convention and arena space in the heart of downtown Lexington and our community," said Tom Harris, University of Kentucky's vice president for university relations and acting VP for philanthropy and alumni engagement. "It already has enhanced the fan experience at Rupp Arena and the attractive, modern and spacious convention and meeting space will only further elevate our community's ability to attract new visitors and old friends to downtown and our campus. It will add to an already vibrant quality of life in Lexington."
An independent feasibility analysis from 2015 estimated an expanded convention center would generate an additional $19.6 million in direct spending and an additional total economic impact of $28.4 million annually over current estimates from that time. Because of the expansion, Lexington will now be able to compete for 90% of the national convention business vs. 65% with the old facility. 
"This project is critical to the future of tourism in our community and an important economic development project," said Mary Quinn Ramer, president of VisitLEX. "Lexington would have lost more than $13 million in economic impact as fewer and fewer conventions would have been able to use our old convention space, which was too small compared to competitor cities. In addition, private investment will follow the public's investment in the convention center — spurring new hotel developments and other business investment in Lexington." 
Studies show that for every $1 in public investment another $4 in private investment follows. Ramer pointed to recent downtown hotel properties — 21C Museum Hotel, Residence Inn City Center, Lexington Marriott and the newest hotel currently under construction, The Manchester, adding 550 rooms and bringing the total number of hotel rooms in downtown Lexington to 1,324. Funding for the Central Bank Center expansion was provided by revenue bond issuance and investment from both LFUCG and the Commonwealth of Kentucky. The architectural firm NBBJ of Los Angeles was the principal designer with EOP of Lexington in a collaborating role. Messer Construction was the contractor on the project.