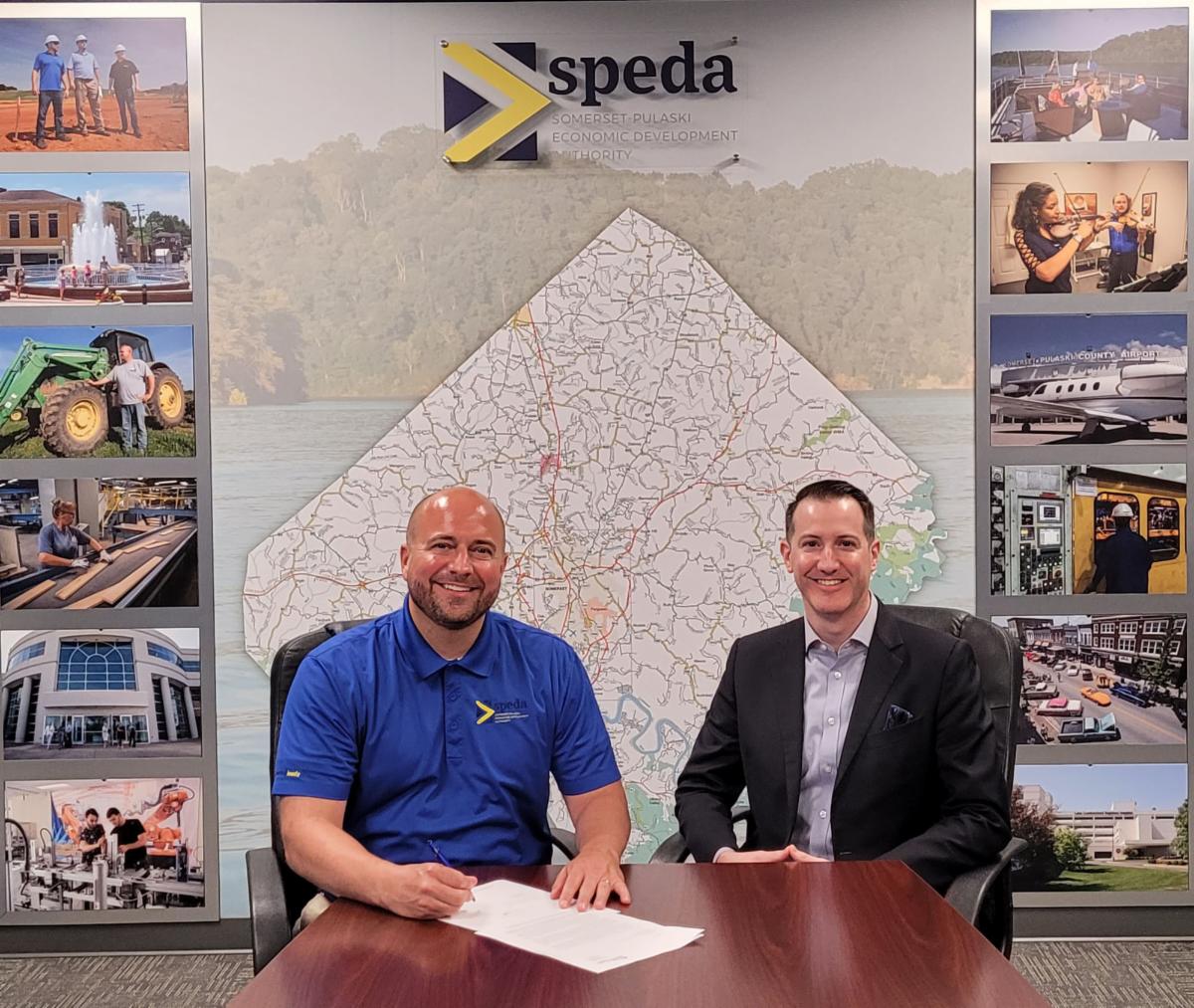 SOMERSET, Ky. — The Somerset-Pulaski Economic Development Authority (SPEDA) has taken another step forward in determining if there is interest in building an agriculture and exposition center in Somerset-Pulaski County.
Following a unanimous vote by SPEDA's board of directors in May, SPEDA President and CEO Chris Girdler and Frost Brown Todd Attorney Jason Halligan have signed an official engagement letter for SPEDA to pursue a request for proposals (RFP) and a request for qualifications (RFQ) for this project. This follows a request for information (RFI) that SPEDA and Frost Brown Todd issued nearly a year ago, in which multiple companies responded with ideas on how best to utilize at least 50 acres in Pulaski County for this type of facility.
If pursued, an ag expo center would host events and a recreational vehicle park, or other related features that improve the quality of life of residents and promote economic development in agriculture-rich Pulaski County. Pulaski ranks second in the concentration of cattle farming operations in Kentucky, yet does not have a facility in which to promote agriculture or host events — causing organizers to seek facilities in other counties or attempt to host events in inadequate facilities, Girdler said.
"Agriculture is a vital part of our economy and ensuring this industry has a path for growing and thriving in Somerset and Pulaski County is critical to SPEDA's mission," Girdler said. "Given the amount of interest from the prior RFI, we anticipate receiving several qualified and aggressive proposals with this next step in the process. Pursuing projects like this helps us continue to show our desire to explore and evaluate any and all options for community growth."
Girdler indicated an RFP and RFQ will be released soon — watch the Opportunities page on SPEDA's website for official documents — allowing interested companies, developers and consultants to provide options for an ag expo center and list what services they would provide that are necessary to developing this type of project. SPEDA and Frost Brown Todd are interested in exploring a public-private partnership (P3) for the ag expo center, with a partner who can demonstrate market innovation and creativity in designing, building, operating, maintaining, and potentially financing the facility.
Girdler said he is excited to take the next step in this process, but stressed it does not guarantee an ag expo center will be built.
"This is a process that takes time, and we look forward to bringing together all interested parties to determine what type of interest from private developers exists in the marketplace," he said.
Girdler said taking the next step in this process is further proof that SPEDA takes great care in financial stewardship and is dedicated to enhancing opportunities for all industry sectors.
"The occupational tax revenue in Somerset and Pulaski County has grown tremendously since SPEDA's inception and that hasn't happened by accident," Girdler said. "We've proven in a very short amount of time that Somerset and Pulaski County is the easiest place to do business through record-setting announcements in multiple industry sectors. Exploring the potential of an agriculture and exposition center only furthers our efforts and continues to improve the quality of life for residents and businesses."
Click here for more Kentucky business news.