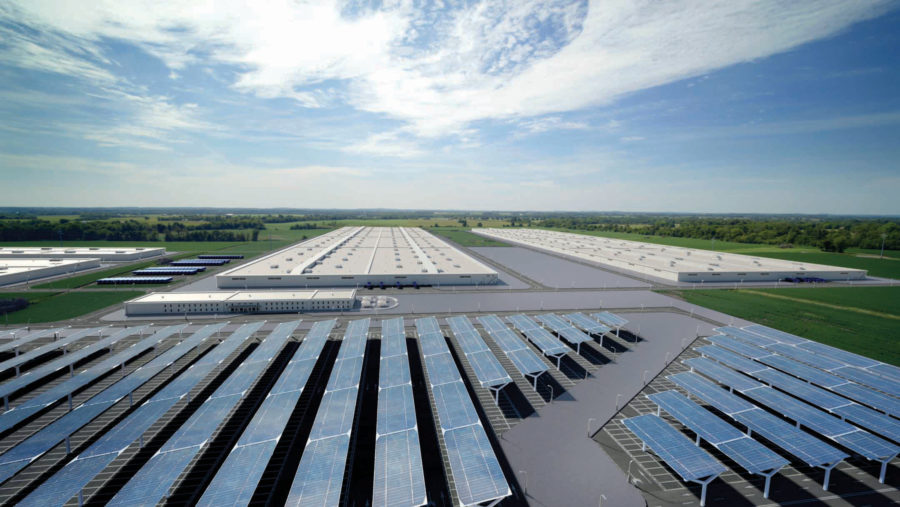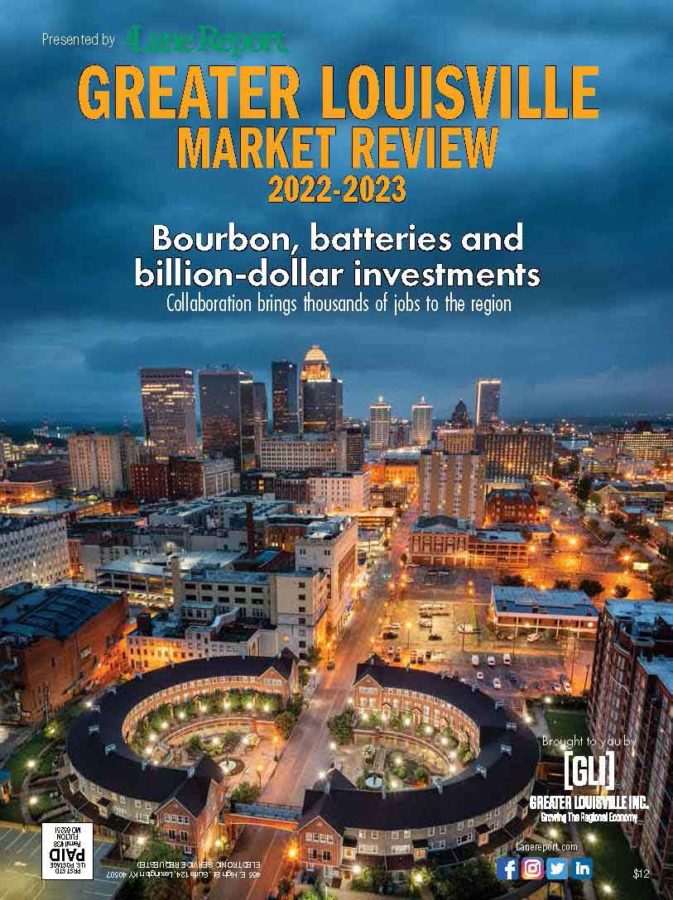 Economic development activity in the already robust Elizabethtown-Hardin County region is cranking up to an unprecedented level.
Ford Motor Co. and SK Innovation made the exciting announcement in 2021 that they had chosen to build the $5.8 billion BlueOvalSK Battery Park in Hardin County. Two battery plants are being built on a 1,551-acre site near Interstate 65 in Glendale. Batteries made at the park will supply Ford's North American assembly plants with gigawatts to power the next generation of Ford and Lincoln electric vehicles.
The single largest investment in the history of the commonwealth, BlueOvalSK Battery Park will create 5,000 jobs over the next several years. By 2025, Ford will invest over $30 billion into EV production and plans to have a 40% global product mix by 2030.
The community has been bustling with activity since the announcement, preparing for the growth that such a large-scale project will bring to the Elizabethtown/Fort Knox metropolitan statistical area (MSA), which is home to over 150,000 people.
Construction will incorporate an on-site training facility that also will be a satellite campus for the Elizabethtown Community and Technical College. There is a surge in activity from both residential and commercial developers, according to Rick Games, president and chief operating officer of the Elizabethtown Hardin County Industrial Foundation (EHCIF).
Construction of a new I-65 exit ramp is underway.
"Hardin County can expect to see continued economic growth for many years to come," Games said.
The battery plant was just one feather in Hardin County's cap in 2021.
Kruger Packaging broke ground on a $114.2 million state-of-the-art manufacturing operation in Elizabethtown that will create 150 new jobs. Major expansions were announced at pipe manufacturer WL Plastics, plastic fabrication company Fischbach USA, and adhesive manufacturer Soudal.
Graphics communications company Taylor Corp. is expanding in Radcliff by 30,000 s.f., investing $18.8 million and creating 28 new jobs. It makes pressure-sensitive labels for a variety of industries.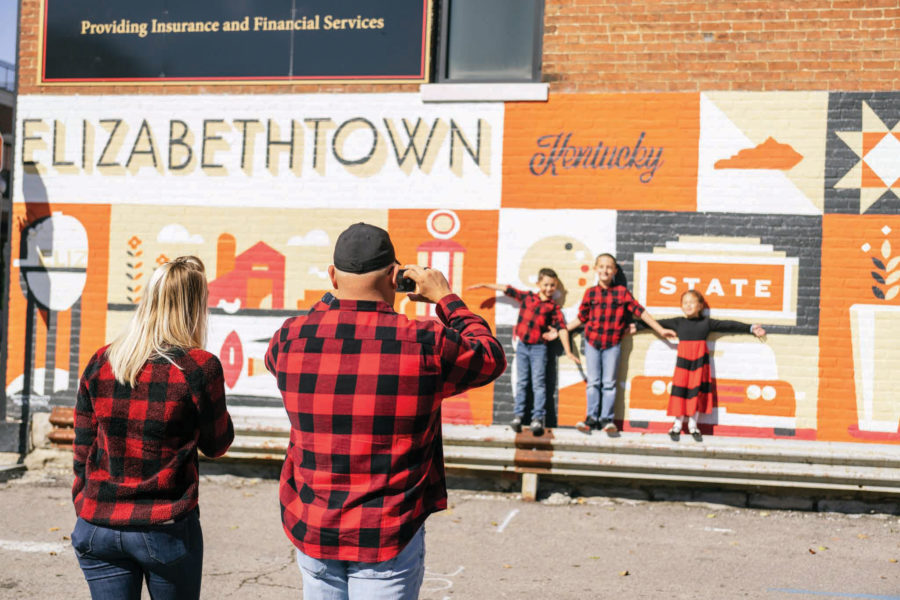 An ideal location to build businesses and lives
Hardin County offers an exceptional business climate situated at the junction of I-65, the Western Kentucky Parkway and the Bluegrass Parkway, within a day's drive of two-thirds of the U.S. population.
"Location is one of our biggest selling points. We also have great infrastructure, a great education system and low crime. The city (of Elizabethtown) is very forward thinking," Games said. "It's just a great place to raise a family and a great place to do business with very low taxes."
Companies with roots in the region enjoy a competitive advantage: The MSA has some of the lowest utility costs in the nation and offers substantial incentives.
The community has a talented, motivated and well-trained workforce, Games said. The collaborative EHCIF Training Consortium offers industry-led training programs and training equipment, and ECTC provides a wide range of certificate and degree programs as well as customized business and industry training.
A high quality of life is one of the community's priorities. The MSA boasts affordable housing, quality health care, great schools, safe neighborhoods and friendly people.
The region is served by Baptist Health Hardin, which is building a new outpatient medical pavilion behind the hospital's existing facility in Elizabethtown. Set to open in 2024, the pavilion will include a new comprehensive cancer care center, two new surgical suites that will feature a hybrid operating room, and a multidisciplinary outpatient medical office building to accommodate new physicians and specialists.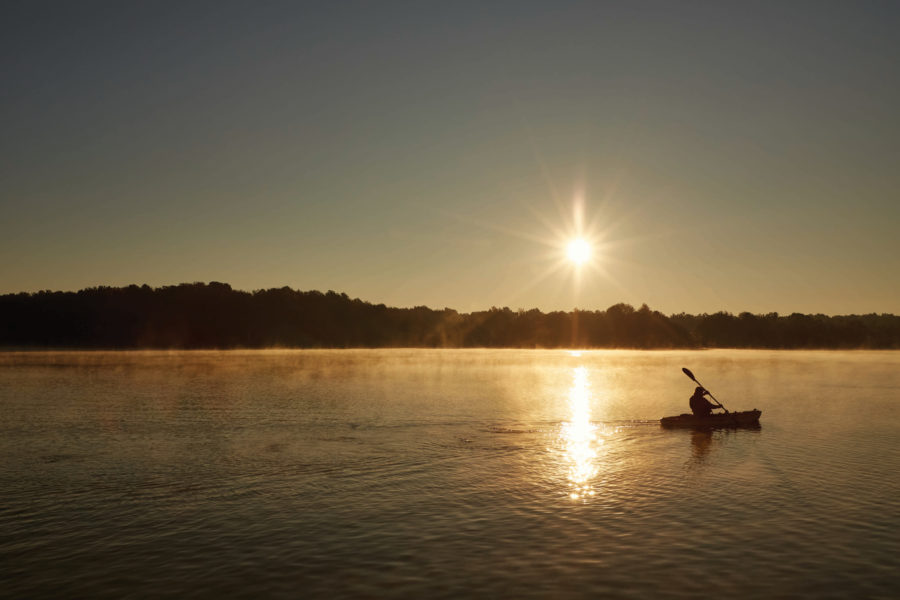 Baptist Health has pledged to invest $235 million in the Hardin County hospital over the next five to 10 years.
Elizabethtown is a sports tourism destination
The Elizabethtown Sports Park, a $29 million sports facility built 10 years ago by the city, has proven to be a big tourist attraction. With 12 baseball/softball diamonds, nine full-size sports fields and more, the 150-acre complex has made Elizabethtown a top sports tourism destination.
The park was created to offer a venue within the community where teams, players, coaches and families could stay, eat and experience its small-town charm. In the decade since it opened, the sports park has generated $150 million in direct economic impact in the city of Elizabethtown and drawn an average of 160,000 visitors each year.
'Bourbon's backyard'
Located west of the Bourbon Capital of the World (Bardstown), Elizabethtown tourism officials bill the community as "bourbon's backyard." But Hardin County has some of its own bourbon, too.
In 2013, Boundary Oak Distillery in Radcliff became the first legal producer of liquor in Hardin County since before Prohibition. The distillery uses limestone water from a natural spring at the base of a 100-year-old oak to distill its small-batch bourbon, amber whiskey and moonshine.
Other attractions in the region include the 170-acre Freeman Lake Park, Swope Cars of Yesteryear Museum, the Fort Knox active military base, the Historic State Theater, the Kentucky High School Basketball Hall of Fame and more.
HARDIN COUNTY
County seat: Elizabethtown—Mayor Jeff Gregory
County judge-executive: Harry Berry
2020 population: 110,702
Households: 42,059
Median household income: $57,101
Owner-occupied housing rate: 61%
Median owner-occupied housing value: $157,700
Median gross rent: $811
Residents with a bachelor's degree
or higher: 22%
Labor force: 51,968
Top industry by jobs: Public administration—6,222 jobs at 65 establishments
Source: U.S. Census Bureau and Select Kentucky
Click here for more Market Review of Greater Louisville.