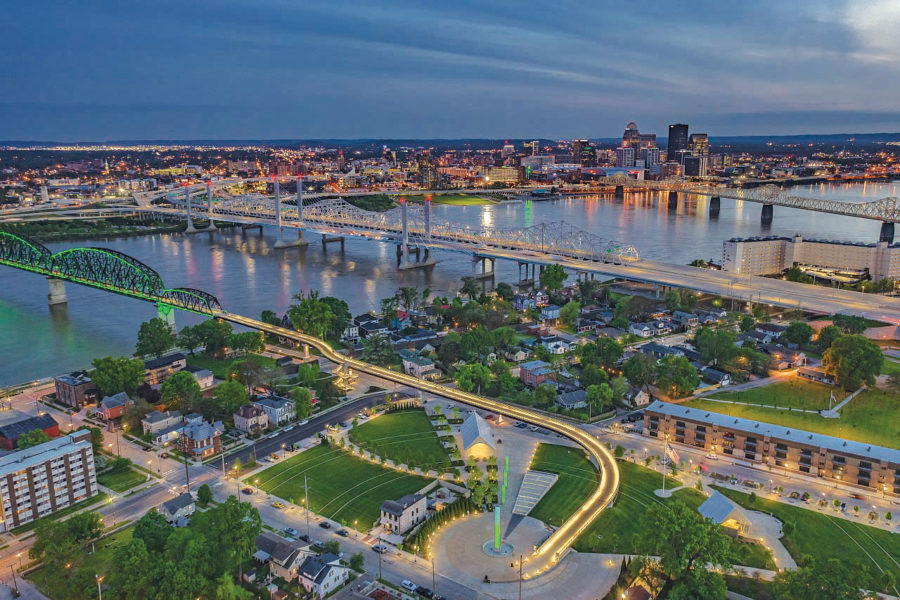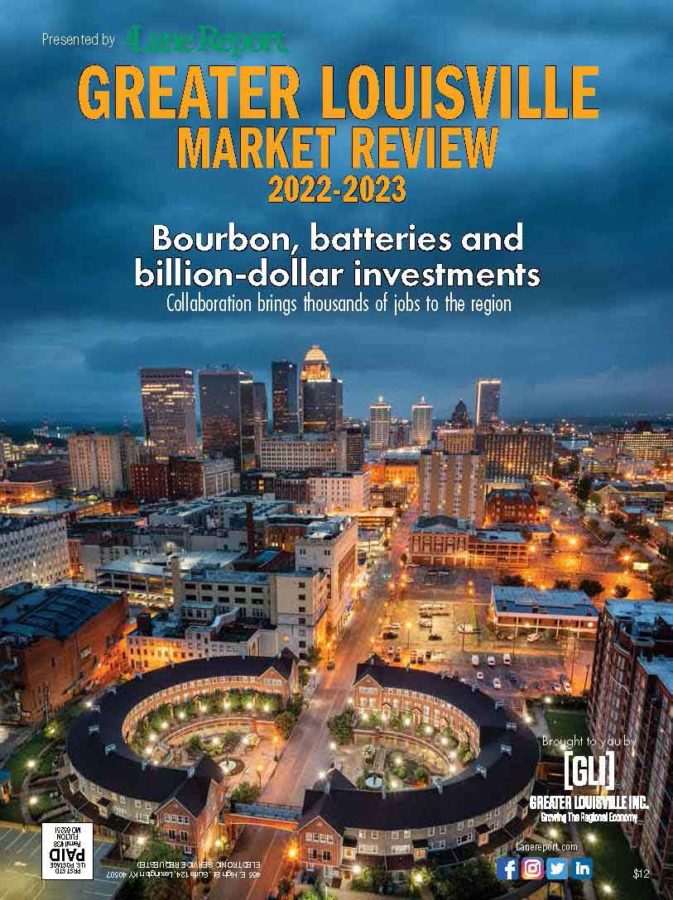 A hub of robust development is located just across the Ohio River from Louisville in Clark County, where a business-friendly environment has attracted a diversified economic base.
The 6,000-acre River Ridge Commerce Center in Jeffersonville, situated alongside I-265 and the Port of Indiana-Jeffersonville, is driving much of the Clark County region's growth. More than 60 businesses operate here—Amazon, Bose, Collins Aerospace, Enjoy Life Foods, Medline, Optum, HempRise and more. River Ridge has 10,400 employees on site, supports more than 17,500 regional jobs and has made an economic impact of $2.5 billion since it opened.
The River Ridge Commerce Center posted one of its most successful years ever in 2021, with record investments by private developers and historically strong sales activity as more prospects look to locate major facilities at the spacious and green business park, according to the River Ridge Development Authority, which is adding significant infrastructure to fuel long-term growth.
"In 2021, River Ridge added new, higher-wage jobs, diversified the mix of industries represented, invested in expanding water and wastewater capacity, and forged new partnerships that will ensure the commerce center continues to grow for decades to come," said RRDA President J. Mark Robinson.
The RRDA and partners opened the first building in the new 45,000-s.f. Gateway Office and Research Campus at River Ridge in 2021. This $12.3 million office building will house the development authority and Clark County government. It overlooks a 5-acre lake, an amphitheater and walking trails.
River Ridge also has an industrial park and a 1,400-acre megasite available for development.
Ports of Indiana-Jeffersonville handles Ohio River shipments of steel, agriculture and industrial cargoes, and provides more than 1,000 acres of industrial sites for multimodal businesses. It is one of the fastest-growing steel terminals on the Ohio River since opening in 1985. Jeffersonville's port is home to 30 companies, 15 of which are steel-related. It handles more than 2 million tons of cargo each year.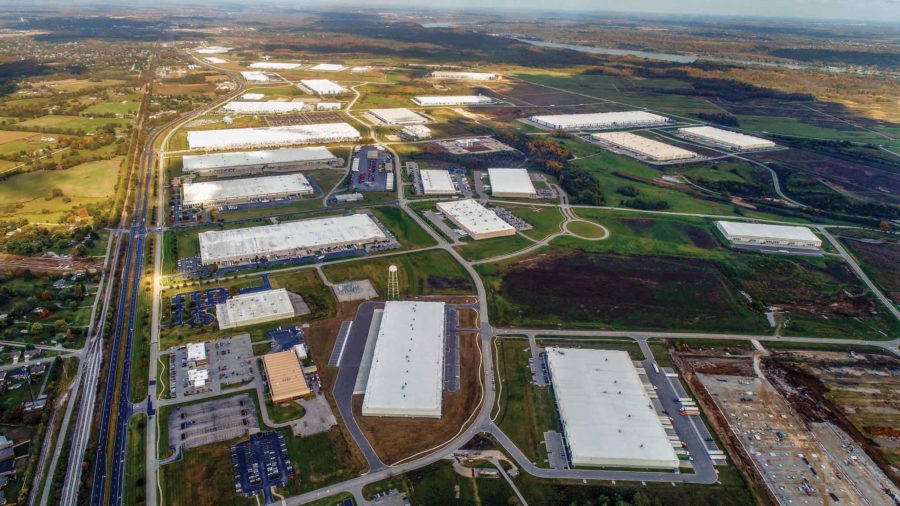 Clark County is home to several other retail, office and industrial parks—Quartermaster Station, Silver Creek Business Park, American Place Business Park, Bridgeport Business Center, Jeffersonville Industrial Park, Water Tower Square and others.
The county is a major transportation hub with interstate highways, railroads and close proximity to Clark Regional Airport and Louisville Muhammad Ali International Airport. It has direct access shipping on the Ohio River with the active port facility. It is the fastest-growing port on an inland U.S. waterway, covering 1,057 total acres.
"We're in the sweet spot—a place with easy access to our big-city neighbor and just a few miles from rolling hill farmlands," explains the Clark-Floyd Counties Convention Tourism Bureau.
Some of the largest employers in Clark County are the Greater Clark County Schools district, Clark Memorial Hospital and the Clark Memorial Hospital Foundation, Amazon and Heartland Payment Systems.
Jeffersonville attracts new businesses
The county seat of Clark County is Jeffersonville, a city of nearly 50,000 residents along the Ohio River who often refer to it as "Jeff."
The Big Four Bridge is exclusively for pedestrians and cyclists and can be accessed via Jeffersonville's Big Four Station Park — and in Louisville via Waterfront Park.
With activity from many industry sectors, Jeffersonville continued to grow even during the height of the pandemic. Its leaders strive to build a strong economy and offer top-notch public amenities, Mayor Mike Moore said in his 2022 State of the City address.
"As Jeffersonville continues to grow and develop, it's attracting attention from more people who want to live here and raise their families here. The housing market has never been stronger," he said.
New business openings in 2021 included Nothing Bundt Cakes, Torchy's Tacos, Sally Beauty, Coffee Crossing, Taylor's Cereal Bowl Kitchen, Close Enough Cafe and Upland Brewing Co.
"The exciting thing is, that's only a glimpse of the commercial growth all across Jeffersonville in the last year," Moore said. "In all, 78 certificates for new businesses were issued by the city's planning department in 2021."
Development continues. New hotels, restaurants, event spaces, retail establishments, an urgent care center and an emergency center are in the works.
"We want people to come and live here … to come and shop here. We want companies to move here and we want families to move here," Moore said.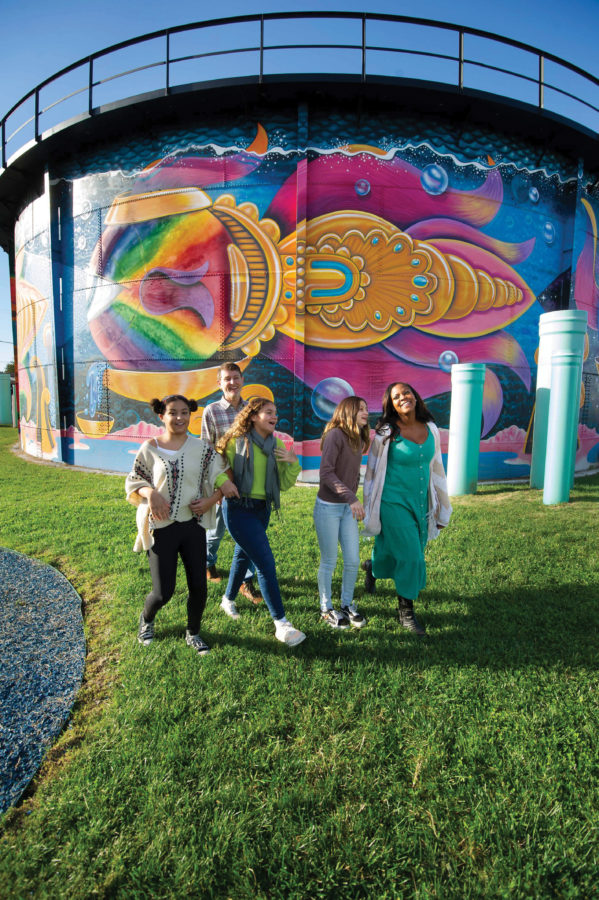 The city is committed to smart growth, he said. With input from residents, the city's comprehensive plan is being revised to address future land use and determine the types of developments best suited for Jeffersonville.
Historical attractions, outdoor recreation
Downtown Jeffersonville is a popular spot for visitors. The Jeffersonville Historic District, listed on the National Register of Historic Places, includes a mix of residential and commercial architecture from the mid-1800s to the early 1900s. At the south end of the district, Riverside Drive includes grand homes and is one of the few streets in Indiana with residences overlooking the Ohio River.
Downtown is home to Schimpff's Confectionery, one of the oldest continuously operated, family-owned candy businesses in the U.S. Visitors to this destination can see how candy has been made since the 1890s and check out the shop's 1950s soda fountain, its original tin ceiling, old-fashioned candy jars, early 20th-century equipment and candy museum.
Other attractions in Jeffersonville and Clark County include Jeffersonville Riverstage, Clark State Forest, Howard Steamboat Museum, Clark County Museum, Jeffersonville Aquatic Park, The Ohio River Greenway, Charlestown State Park and the Joe Huber Family Farm and Restaurant. In Clarksville at the Falls of the Ohio, much of it walkable, visitors can tour exposed fossil beds at the site where Lewis & Clark met for their expedition.
The NoCo Arts and Cultural District is one of the city's most colorful points of interest. It is the visitor-friendly, whimsical home to artists, makers, historians and inventors who have transformed the area into an inspiring place to live, work and tour.
In May 2022, PGA golf legend Fuzzy Zoeller opened a new hotel in Jeffersonville near River Ridge. The hotel features a one-of-a-kind restaurant, Fuzzy's The 15th Club Food & Spirits.
CLARK COUNTY, IND.
County seat: Jeffersonville–Mayor Mike Moore 
Other communities: Charlestown, Clarksville, New Providence, Sellersburg, Utica
2020 population: 121,093
Households: 45,024
Median household income: $57,111
Owner-occupied housing rate: 72.6%
Median owner-occupied housing value: $152,000
Median gross rent: $868
Residents with a bachelor's degree or higher: 20.7%
Source: U.S. Census Bureau
Click here for more Market Review of Greater Louisville.