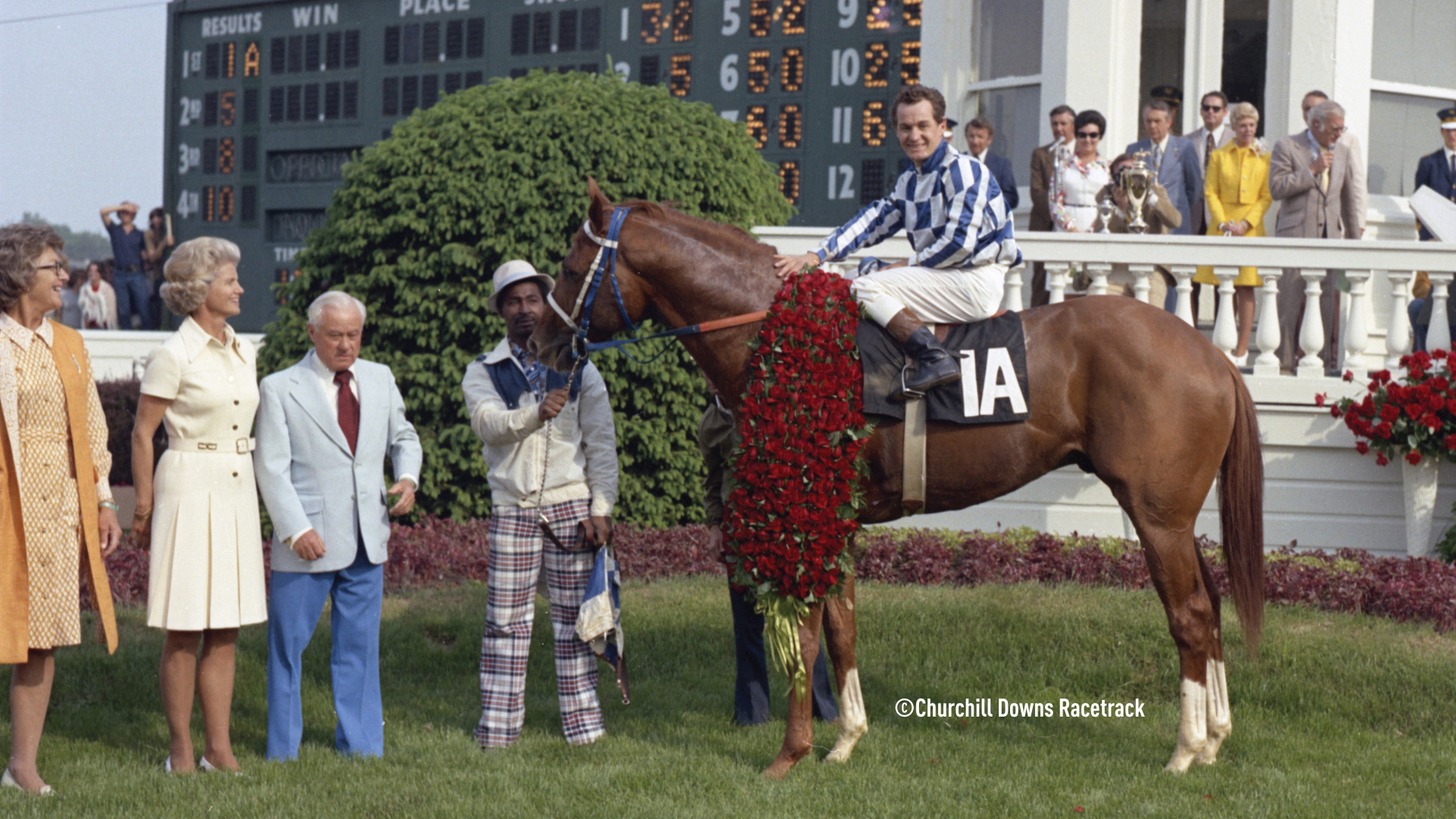 It's hard to believe it's been five decades since the remarkable Secretariat blazed his way into Thoroughbred racing history, smashing track records to smithereens and capturing the hearts of everyone. During his 1972 through 1973 racing career, the red chestnut colt sporting three white feet and a star with a narrow stripe down his nose made the covers of Time, Newsweek and Sports Illustrated, accomplishing a feat that hadn't happened before nor since.
That era is etched in my memory, as I had the privilege of working as an exercise rider while the "big hoss" commanded the track. In the mornings, he'd step onto the dirt at Saratoga as if it were a red carpet and he were a sure bet for Best Actor at the Academy Awards. Riders, trainers, grooms, owners…everyone would turn his way to admire Big Red.
According to ESPN.com, Secretariat remains the No. 1 name in Thoroughbred racing. And on April 20, 2023, the Kentucky Derby Museum at Churchill Downs will celebrate the 50th anniversary of his Triple Crown year with the opening of "Secretariat: America's Horse," a state-of-the-art exhibit designed to showcase his life, stardom and incomparable impact on horse racing, America and the world.
Permanently located on the facility's second floor, the new 1,000-square-foot exhibit will be seven times larger than the existing one on the first floor. Guests will have an immersive experience, thanks to Louisville design company Solid Light, which is incorporating exclusive technology, visuals and video.
Bred by Meadow Stable in Virginia, the flashy chestnut became the property of Meadow's Helen Bates "Penny" Chenery when she lost a coin toss with racehorse owner/breeder Ogden Phipps to determine which of two broodmares' foals each would get. Penny's loss became divine providence.
Out of 21 starts in two years, Secretariat won 16 and earned $1,316,808. Three of those wins were the 1973 Triple Crown Races: the Kentucky Derby (first horse to win the race in under two minutes —1:59:4— a new track record); the Preakness Stakes (1:53, a stakes record); and the Belmont Stakes (setting a world record of a mile-and-a-half on dirt by an unbelievable 31 lengths in 2:24).
As the big horse blazed down Belmont Park Racetrack's home stretch, track announcer Chic Anderson's voice blared above the cacophony of the screaming crowd. "He's moving like a tremendous machine!"
Secretariat's Belmont is considered one of the greatest races in history. All three of his Triple Crown records still stand.
Nominated to the National Museum of Racing Hall of Fame in 1974, Secretariat won five Eclipse awards, including Horse of the Year at ages 2 and 3. Upon retirement to stud, he was syndicated for $6 million, an awe-inspiring figure at the time.
During Big Red's days on the track, the late, revered sports columnist Pete Axthelm heralded the stallion: "When he accelerates…he produces a breathtaking explosion that leaves novices and hardened horsemen alike convinced that, for one of those moments that seldom occur in any sport, they have witnessed greatness."
Visit this fascinating installment to learn much more about Secretariat and his "team" throughout his racing and breeding days.
And by all means, wander through the rest of the museum to delve into everything Derby. General admission includes two floors of interactive exhibits; a 30-minute, guided historic walking tour of Churchill Downs Racetrack; and the facility's thrilling signature movie, "The Greatest Race", on a 360-degree, 4K high-resolution screen. As the Kentucky Derby Museum is the exclusive tour provider for Churchill Downs, guests can add a walking tour upgrade to options that include Millionaire's Row and the backside, where Thoroughbreds live and work during racing season.
Discover Derby history, from the first running in 1875 through the 148th in 2022, call a race, play Derby Trivia, and find out what it takes to be a jockey.
Visitors can sate their rumbling tummies at the Derby Café with a Kentucky signature dish like a Hot Brown panini, burgoo, or bourbon bread pudding, and quench their thirst with the Kentucky refresher at the Bourbon Bar.
To accompany the opening of this exhibit, the Derby Museum collaborated with Woodford Reserve Distillery to handpick a commemorative bottle of Woodford Reserve Double Oaked Personal Selection for Secretariat's 50th anniversary. A limited quantity will be available and specially packaged in a custom display box that will include a custom medallion, tac pin, julep cup and a brief history of Secretariat.
Seth Hancock, owner of Claiborne Farm, where Secretariat stood at stud and "entertained" hordes of fans, once described the stellar stallion in human terms: "Just imagine the greatest athlete in the world. The greatest. Now make him 6-foot-3, the perfect height. Make him real intelligent and kind. And on top of that, make him the best-lookin' guy ever to come down the pike. He was all those things as a horse."