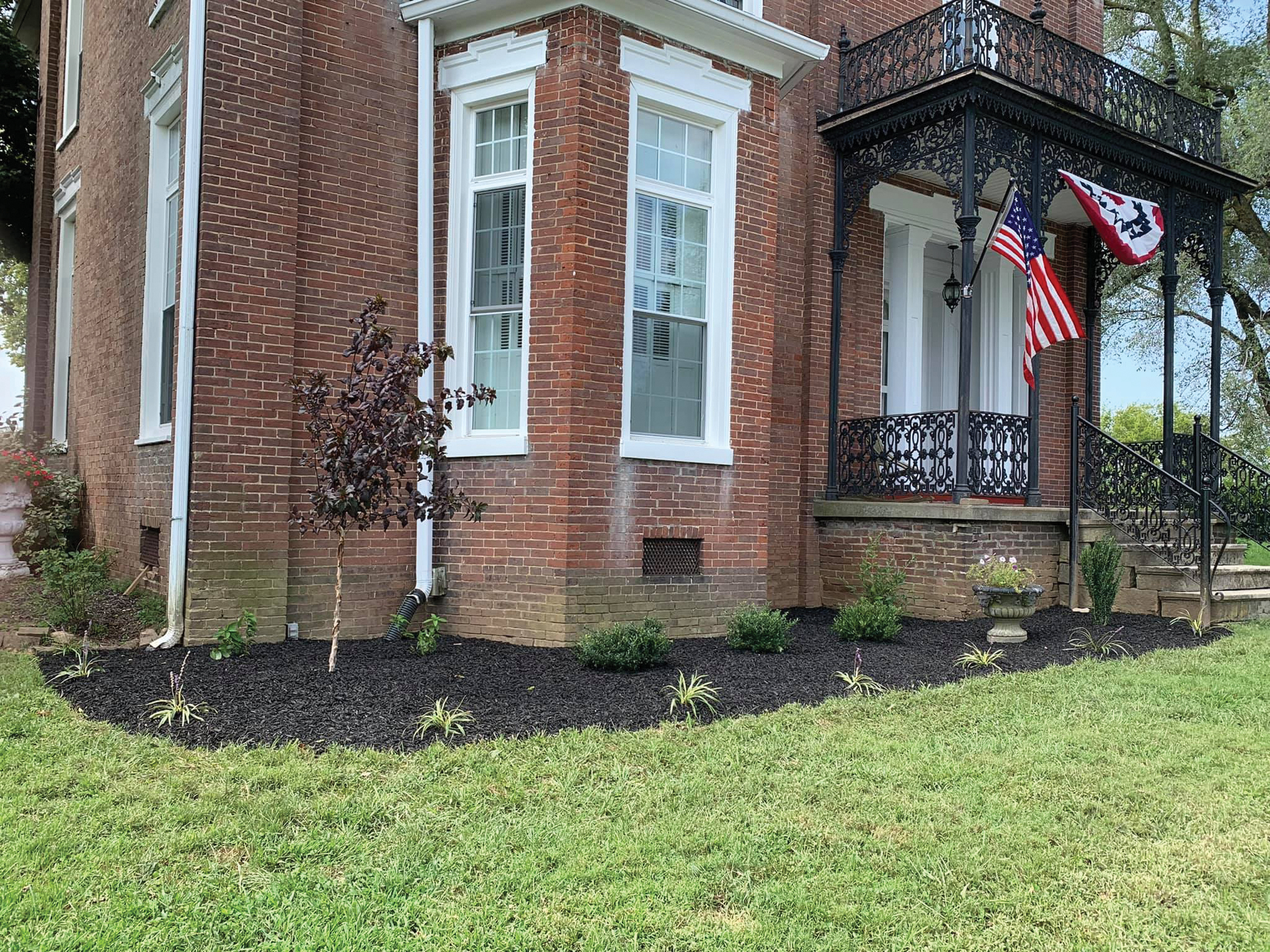 Few people are aware that the country's first commercial winery opened in 1799 in the "Great Bend of the Kentucky River" in Fayette County. By 1860, the commonwealth had become the third largest wine-producing state in America and boasted more than 2,000 acres of vineyards before Prohibition brought wine production to a halt.
In the past decade or so, however, the industry has begun to reblossom in the Bluegrass state. According to the Kentucky Department of Alcoholic Beverage Control, 73 in-state wineries are currently in production.
Among those is Springhill Winery and Plantation Bed and Breakfast, which lies south of Bloomfield on Highway 55 at exit 34 of the Bluegrass Parkway. Its Victorian mansion, circa 1857, and winery are set on five acres, three of which are planted in vineyards.
Moved to its current location in the spring of 2000 by renown vintner and historian/storyteller Eddie O'Daniel, the bed and breakfast business grew and thrived under his and wife Carolyn's ownership until his untimely 2018 death in an ATV accident.
Two years later, June and Jeff Daugherty traveled from Mount Washington to scope out the Springhill B&B. June had thought about owning one upon retirement but neither she nor her husband had any idea that the house came with a winery until they visited the first time that year in May. After purchasing the property that September, they renovated the B&B and opened as a family-owned and operated business the following month.
Traveling a learning curve, Jeff and their daughter Mallory have teamed up as winemakers.
"People have been very helpful in this business we knew little about," said June. In the first competition the Daughertys entered, the Kentucky Commissioner's Cup, their wine won a silver medal.
June agrees with a quote of Eddie O'Daniel's that "winemaking is as much a lifestyle as it is a passion."
"There's always more to learn about winemaking," she said. "Things can be so different from year to year, depending upon the amount of sun and rain you get. You can grow the same grapes in the same area three years in a row and have three totally different-tasting wines each year. There's a lot of science to it, but also a lot of art."
To quote O'Daniel, "The dirt in this area is different than dirt anywhere else in the country. It's that dirt and limestone water that makes Kentucky's bourbon good and horses good and our wine good."
Currently, wine tastings and sales take place in the historic house. At this time, Springhill Plantation offers two dry white wines, one dry rose, six dry reds, four semi-sweet, and eight sweet wines. Check the website for hours.
Construction is underway to add a bistro to the winery that will offer soups, salads and charcuterie boards. Mallory, who is a degreed pastry chef and does all the cooking for the B&B, will run the bistro. The bistro is due to open in early summer and she has been busy planting fruit trees and bushes and a small garden, from which she'll use as much fresh produce as possible.
The six rooms and suites at Springhill Plantation Bed and Breakfast can accommodate up to 12 guests total. The rooms command views of rolling pastureland and range from high-ceilinged spacious spaces to tucked-under-the-eaves cozy spots. Perched on a hilltop, the handsome brick home hosts popular murder mysteries, complete with guest participation in the play and dinner featuring its own estate wines. June and Jeff regale visitors on the area's history, which includes the particulars of a nearby 1864 Confederate skirmish.
Breakfast at this gracious plantation includes your choice of quiches, parfaits, muffins, coffee cake, French toast and bacon. Then set out on your voyage of discovery. The B&B is located directly on the Kentucky Bourbon Trail and the Kentucky Wine Trail and there are more than 15 distilleries and a number of other wineries within an hour of Bloomfield.
Or embrace vacationing by simply reveling in Mallory's "sweet treats" and chilling on the back patio, wineglass in hand, to the soothing tune of a fountain as you watch the sun set over the lush countryside.
The Daughertys give folks every reason to visit for the beautiful accommodations and award-winning wine, but also for their fun variety of events. In addition to a Valentine's gala, Mother's Day and Christmas teas, a women's wellness day every other month features massages, foot scrubs, facials, and paraffin wax baths for hands. Six times a year, you can sip and paint to your heart's delight. A Music in the Vineyard series is held twice a month from May through October, with a band and food truck. The complete schedule appears on the business's website and Facebook page.
The lovely property is a perfect place to celebrate anniversaries and birthdays, have a corporate retreat, enjoy girlfriend getaways or as a hideaway for a romantic rendezvous. (VacationIdea Dream Vacation magazine has named it the No. 1 Best Romantic Getaway from Louisville.)
Find out more at springhillwinery.com or by calling (502) 252-9463.