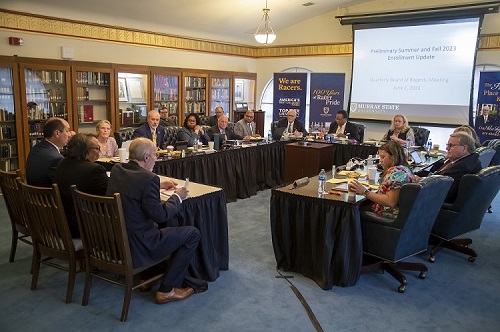 MURRAY, Ky. — Among the highlights of its meeting on Friday, June 2, Murray State Regents approved a $165.9 million budget for the 2023-2024 fiscal year, with focuses on providing continued access and affordability for students, investing in the University's faculty and staff, advancing academic quality, and enhancing student services.
Murray State President Dr. Bob Jackson received a positive four-year performance evaluation for the period of 2019-2023 by the Board of Regents, who extended Jackson's employment contract through June 30, 2027.
"I am very grateful to our Board of Regents, administration, faculty, staff and students for a positive and productive quarterly Board of Regents meeting," President Jackson said. "I appreciate the support and confidence of the Board of Regents along with our administration, and the extension of my contract in affirming the positive direction of the university. Through the hard work, initiative and collaboration among many individuals, our future is very bright as we maintain our focus on the success of our students."
The Dr. Don I. Tharpe Lecture Hall in the School of Engineering was dedicated in appreciation of his service to the university. Tharpe is a graduate of Murray State and received both his undergraduate and graduate degrees in industrial education. He was appointed to Murray State's Board of Regents in 2017 and assumed the role of chair on July 1, 2022, becoming the first African American Board of Regents chair in the institution's history.
An in-depth update of completed, current and upcoming campus facilities projects was provided, including renovations to the Curris Center, campus lighting enhancements, the Chestnut Street pedestrian bridge, Woods Park and a new School of Nursing and Health Professions building.
Spring 2023 enrollment increased from the previous spring, while Fall 2021 to Fall 2022 retention reflected an increase from the previous fall one-year period. The University is currently welcoming large groups of incoming Fall 2023 students and their families to campus for Racer Nation Orientation summer sessions.
Eight faculty were named recipients of the 2023 Regents Teaching Excellence Award, while nine current or former faculty members were extended the honorary title of Professor Emeritus. Dr. Brian Parr, interim dean of the Hutson School of Agriculture, was approved as dean of the Hutson School of Agriculture, effective July 1, 2023.
An update was provided on Murray State University's Be Bold: Forever Blue and Gold Centennial Campaign, with the goal of raising $100 million to support the University. $50 million will be directed toward student access including new scholarship endowments and enhancing the traditions of a Murray State total college experience. Another $50 million will be raised to support academic excellence and the strategic modernization of campus facilities, with a focus on new funding prioritizing teaching and learning, restoring original campus buildings, creating new greenspaces and investing in athletics programs and facilities. Through March 31, 2023, $57 million has been raised by alumni, donors and friends of the institution.
The Board of Regents authorized the President to enter negotiations for the purchase of two tracts of land adjacent to farmland owned by the University.
Election of officers was held, with Regent Leon Owens voted as Board Chair and Regent Virginia Gray voted as Board Vice Chair. 2023-24 Board of Regents meeting dates will be August 24, 2023 (Board Retreat); August 25, 2023; December 8, 2023; March 1, 2024; and June 7, 2024.