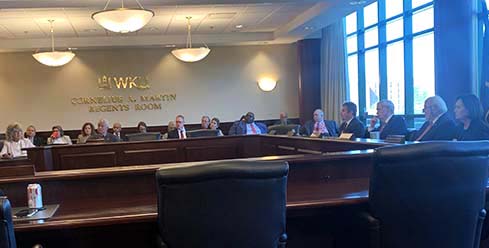 BOWLING GREEN, Ky. — Western Kentucky University's Board of Regents approved a $389.9 million WKU budget for fiscal year 2024, an increase of $6.5 million compared to the prior year's budget. The budget includes a 2% salary pool to address cost of living increases, and address inversion, remedy compression, and reward performance.
"I am pleased with the transparency, the point that it is balanced and that we are able to reward our faculty and staff in a time of high inflation with a moderate tuition increase," WKU President Timothy C. Caboni said. "I think that all in all it supports the most important things that we do which are teaching and retaining students."
Tuition and fee revenue will comprise the largest share (46%) of the fiscal year 2024 revenue budget, $177.1 million. The Regents approved a 3% increase to the undergraduate resident tuition rate for the coming fiscal year. Undergraduate resident students will pay $5,718 per semester for tuition, an increase of $162 compared to the 2023 fiscal year.
To maintain WKU's commitment to access and opportunity, the scholarship budget is increasing by $5 million. "We've managed to invest significantly to the tune of over $20 million in additional student aid over the past four years," President Caboni said.
State appropriations account for 21%, or $83.4 million, of the new budget, a decrease of 3% from the previous fiscal year. The state appropriation includes $67.6 million in base funding, $5.9 million in performance funding, approximately $5 million for The Gatton Academy, $3.24 million to balance increases in Kentucky Employee Retirement System premiums, and $1.75 million for the Kentucky Mesonet at WKU.
WKU completed its transition to the Resource Allocation, Management and Planning (RAMP) budget model last year. RAMP is an approach that uses the principles of responsibility-centered management (RCM) and is a financial management philosophy that supports decentralized decision-making and rewards the performance of campus units.
The Board also selected officers for 2023-2024. W. Currie Milliken of Bowling Green will serve as Chair, Jan West of Louisville as Vice Chair, and Doris Thomas of Smiths Grove as Secretary.
The Board of Regents will next meet on August 10 for its annual Board Retreat, followed by the third quarterly meeting of the year on August 11.