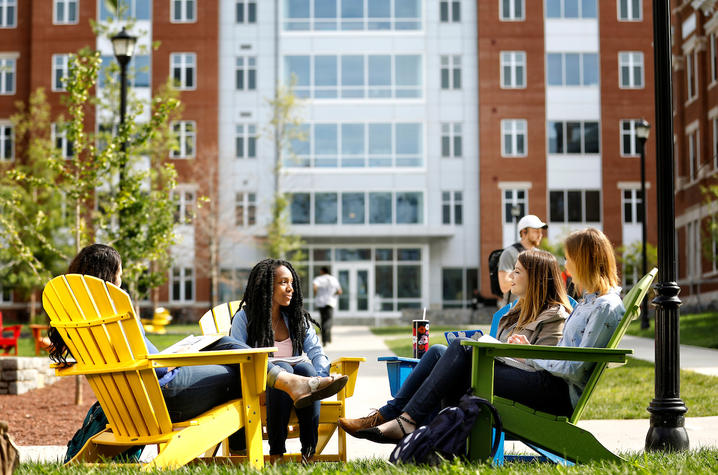 LEXINGTON, Ky. — Have you ever thought about the power of an opportunity? We're presented with numerous opportunities throughout our lifetime — some big, some small. But all it takes is the right one to change your life.
At the University of Kentucky, we are dedicated to upholding a powerful promise — to prepare students to lead lives of meaning and purpose. Part of that commitment is empowering and encouraging students to understand the importance of investing in themselves and their future. In September 2022, we told you about UK Invests — a new, first-of-its-kind initiative to help students become healthier, wealthier and wiser by building a foundation of financial literacy and healthy habits.
Following the completion of online financial education courses, personal brokerage accounts were available for UK's student-athletes during the first phase.
In Spring 2023, the university continued to expand the program — allowing cohorts of students across campus to open accounts and earn money. For students like Anna Hoover, the program is already paying off. "I've always been interested in investing, and I never really knew where to start," she said. "UK Invests is providing me with a place to get those answers."
Here's a reminder on how UK Invests works:  
Students can create a brokerage account and learn about financial wellness through iGrad (a leading financial education provider).
Students can earn money by practicing and participating in healthy behaviors and habits — from financial education to building employability skills, getting involved on campus and prioritizing physical and mental wellness.
As part of this initiative, the university is working with Fidelity Investments. The Fidelity Bloom for UK Invests app ensures our students are empowered to make deposits in their future investment opportunities that can help them reap a lifetime of benefits for themselves, their families and their communities.
Additionally, the first-of-its-kind program sets UK apart from other colleges and universities by teaching real-world situations to demonstrate the benefits of saving and investing early.
Students will build a foundation of financial literacy — allowing them to achieve greater financial security, career readiness and well-being.
Starting this semester, each and every student (undergraduate, graduate and professional) will have the opportunity to deepen their understanding of financial wellness, practice investing and receive monetary rewards for institution-identified healthy behaviors.
UK Invests by the Numbers: 
Students can earn up to $250 per semester ($500 per academic year) to be deposited into their Fidelity Bloom for UK Invests account.
Students can earn up to $75 ($15 per online financial literacy assignment; $30 for attending an in-person financial literacy session) in the "Financial Literacy" category.
Students can earn up to $50 ($10 per event) when they attend a registered event on campus in the "Involvement" category.
Students can earn up to $75 ($15 per event) for attending peer tutoring, common hour study groups, etc., in the "Employability Skill Building" category.
Students can earn up to $50 ($10 per event) for working out at a campus recreation facility, attending a mindfulness session, etc., in the "Wellness" category.
The idea is to hard-wire healthy habits as part of the university's overall approach to wellness.
In the program's first year, UK invested $1 million in our students' futures — entirely through private and philanthropic support.