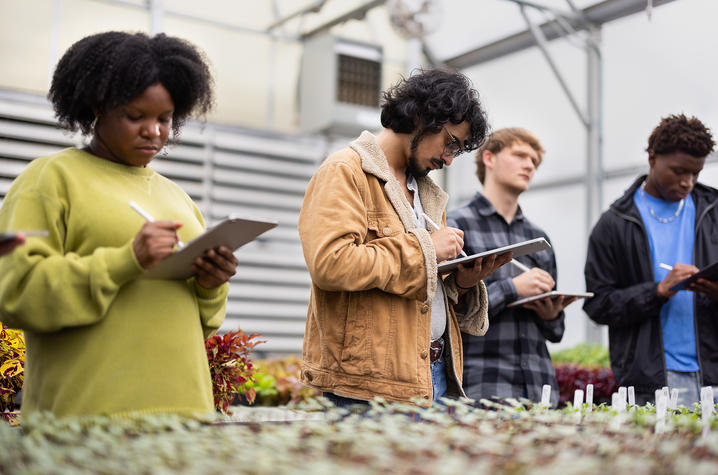 LEXINGTON, Ky. — When everyone has easy access to technology, it levels the playing field. This concept is the driving force behind the University of Kentucky's Smart Campus initiative.
At UK, recent data suggests that 25 % of students' families' average annual income is about $25,000. We also know that students' persistence is impacted by health and wellness, financial stability, academic preparation and belonging.
With that information, UK administrators asked themselves what strategies could help set students up for success, no matter their background as soon as they set foot on campus.
Enter Apple.
The Smart Campus initiative started in the fall of 2019. The initial phase of the program began with providing all incoming, first-year students with iPad Air, pre-loaded with UK-specific apps, and paired with Apple Smart Keyboard and Apple Pencil. Through leveraging the power of technology, we can begin to address obstacles across multiple platforms with a cutting-edge digital suite of tools.
Now in its fifth year, the program has blossomed into what it is today — The Cornerstone, a newly constructed building on campus dedicated to innovation and technology, full courses built around the idea of integrating technology into the classroom and tens of thousands of Apple products distributed.
"We have deployed more than 30,000 iPads to our students over the last five years," said Eric Monday, executive vice president for finance and administration and co-executive vice president for health affairs. "Choosing to invest in Apple technology has been monumental in enabling our students to more effectively complete coursework and produce research that advances the Commonwealth and beyond."
This initiative has been a historic pairing of a leading-edge technology company with a flagship, land-grant institution, reshaping the university's approach to higher education. The commitment has created a comprehensive, campuswide approach to using technology to:
Refine and optimize student recruitment, retention and graduation efforts;
Enhance pedagogy for both in-class and online learning;
Better prepare underrepresented students for college;
Increase safety and mental health and well-being among students, faculty and staff that could be scaled to other audiences and for other uses beyond the campus;
Leverage access to financial wellness and online learning to increase opportunity for lifelong success;
Enhance student skills in app development with Swift coding; and,
Assist interventions and programs in health care and, in particular, opioid and substance abuse disorder.
"Technology efforts — like our iPad initiative — have equipped us with the tools needed to enable greater access and equity in our community. As we build upon our student retention efforts, we use technology as one of many tools to level the playing field for our students. Doing so complements our wrap-around approach to providing support services for our students of color, first-generation students, students who live on or off campus and students who come to UK from Kentucky or outside our state," Vice President for Student Success Kirsten Turner said.
In a new feature story, Apple showcases the many ways administrators, faculty, staff and teachers use iPad to help advance Kentucky.
Eric Monday and Kirsten Turner join UK President Eli Capilouto in a new series of videos on Apple.com about the overall efforts across campus.
"We believe education can be a great force for equity and have been impressed by the University of Kentucky's efforts in this important work since they started the Smart Campus initiative in 2019," said Susan Prescott, Apple's Vice President of Education and Enterprise Marketing. "UK is leading by example, providing iPad and education apps to all so that everyone has the opportunity to realize their potential. We're proud to showcase UK's efforts as a beacon for schools and institutions around the world."
The Apple profile also tells the story of how technology is supporting UK's $87 million  HEALing Communities Study (HCS), through the eyes of Sharon Walsh, HCS principal investigator and professor in UK's College of Medicine and College of Pharmacy and director for the Center on Drug and Alcohol Research.
With a goal of becoming one of the country's most innovative campuses, UK is recognized as an Apple Distinguished School for 2021-2024 for its Smart Campus initiative, and remains dedicated to exploring how technology can facilitate learning, teaching, research, health care, and ways in which it can help enhance the future of our students and the entire Commonwealth of Kentucky.
What attracted so many to teach, learn, discover and heal at the University of Kentucky is its unique capacity to fulfill its land-grant mission. That mission calls on faculty, staff and students from across campus to make a positive impact across the state. Through technology, UK's ability to meet that promise to Kentucky is strengthened. In another example this summer, UK implemented the WildCard Mobile ID initiative to enable students to conveniently and securely access campus buildings, purchase meals, and more with just their iPhone, Apple Watch or iPad.
To learn more about how iPad is shaping the student experience and providing limitless possibilities, watch the video above. For more information on the university's Smart Campus initiative, click here.
—By Ryan Girves, UKnow