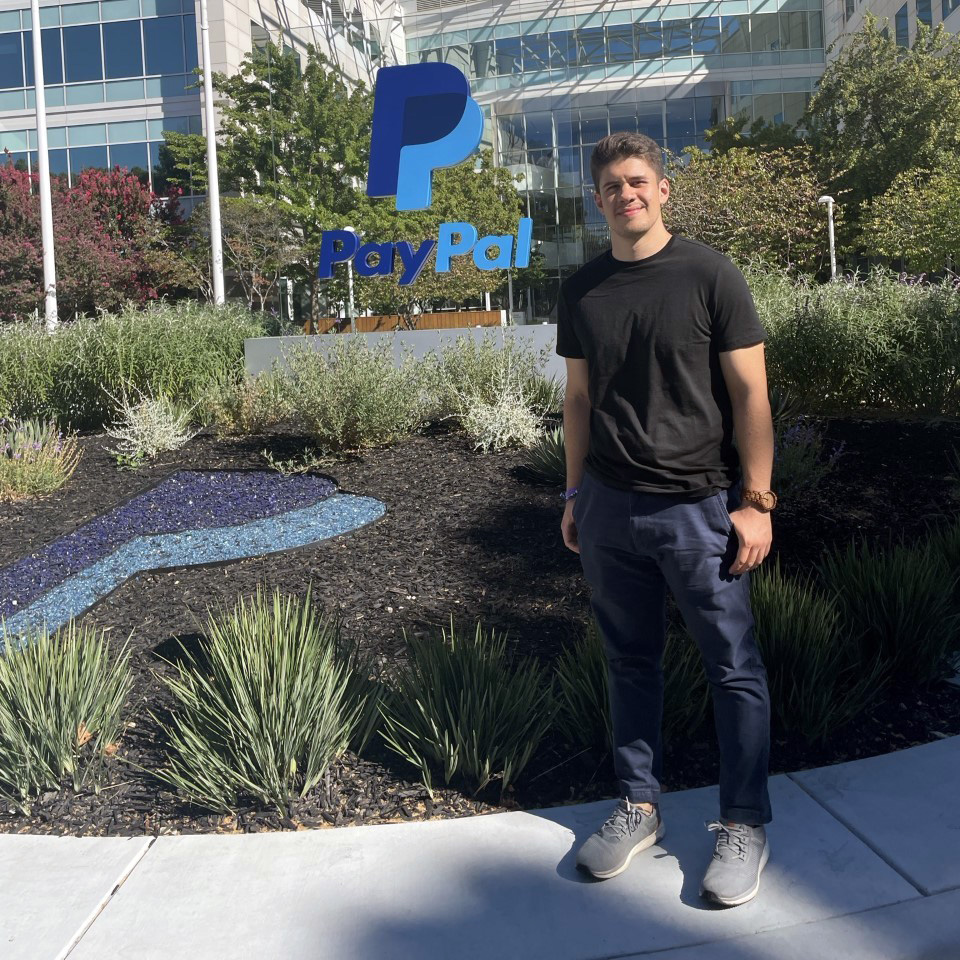 RICHMOND, Ky. — As a first-generation college student from a single-parent household of Latino heritage, Ivan Olivas found a sense of community and began to envision the exciting possibilities while being a student at Eastern Kentucky University (EKU). Olivas became very involved with the Latinx community on campus through El Centro, which has grown to be a significant factor in his commitment to giving back to his alma mater. 
Now, the 2021 EKU Spanish and Honors graduate has teamed with his employer, PayPal, to help ensure that future generations of Latinx students have similar opportunities for success.
Last year, Olivas reached out to one of the employee resource groups at PayPal, Aliados, which was established to enhance the visibility, recruitment and advancement of Latinx employees while positively impacting digital inclusivity and education with its outreach initiatives. The result was a $5,000 gift by the company to the Latino Education Assistance Development (LEAD) Fund at the university.
Olivas, a software engineer for the credit risk platform team at PayPal, serves as an active resource for the Bobby Verdugo and Yoli Rios Peer Mentoring and Tutoring Center (affectionately known on campus as El Centro), especially for students in technology-related fields, and personally contributes annually to various scholarship funds.
Before becoming a successful professional, Olivas was an outstanding student, taking part in three national Honors conferences where he presented with Spanish faculty. He also served as president of the Latino Student Association, and was founder of the first multicultural Greek organization on campus, Sigma Lambda Beta. But when he first arrived on the Richmond campus, Olivas experienced "strong bouts of self-doubt, self-pressure, severe anxiety and depression. I am very grateful for the community of El Centro for being there for me in those tough times," he declared.
He also earned bachelor's degrees in computer science and Spanish, as well as two prestigious national scholarships and a campus Honors scholarship to study and volunteer abroad. His experiences in Argentina, Mexico (birthplace of his parents) and Ecuador "greatly shaped my understanding of the world and helped me to appreciate the amazing diversity it has to offer. It also contributed to understanding myself and my identity more, given that I am Latino and Mexican American."
That's why Olivas gives back to the university at every opportunity. "EKU made higher education possible for me and gave me many opportunities academically that contributed to me growing in ways I never thought possible," he said. "Now that I am in the position to give back, I think it is important to help the next generation of students reach their potential."
PayPal's contribution will help many students overcome a common obstacle to higher education. "Costs are one of the most significant barriers for many Latinx students in completing their degree," he said, "So a contribution to reducing that burden goes a long way in removing a primary stressor for many Latinx students."
Dr. Socorro Zaragoza, professor of Spanish at EKU, established the assistance fund to help remove financial barriers for Latino students and allow them to continue their education.
"Our Latino familia at EKU has a strong tradition of supporting the community," said Dr. Abbey Poffenberger, Spanish professor and chair of the Department of Language and Cultural Studies, Anthropology, and Sociology. "We were delighted when Ivan informed us that he had advocated for PayPal to donate $5,000. We are proud to see him continue to be a leader and an agent of change in the community, and he knows that every penny will go to support our students when they are most in need."
To celebrate EKU's Latinx students and heritage, the school will be hosting its annual Latinx Street Fair as part of National Hispanic Heritage Month. The street fair, which will be held on Wednesday, Oct. 4 at Powell Plaza, will feature dancing, mariachi music, food trucks and more. The purpose of the Latinx Street Fair is to celebrate U.S. Latinx cultures from all backgrounds of Latin America.