The restaurant business is hard and the competition is relentless. What inspired you two to get into it and to do so as a team?
Bruce Drake: There wasn't anywhere near the competition when we started this in 1998. But Brian and I knew each other because I used to own a restaurant called Regatta's Seafood Grill and Brian was one of my best customers. He came in every day and we would talk for two hours.
Brian McCarty: We met each other in the late '80s, early '90s when he had Regatta. I've been a serial entrepreneur all my life and after I graduated from business school and came back to Lexington, I had a couple years where I didn't have a clear direction of what was next.
In 1995, I had an opportunity to partner with Brad Scott and a couple other guys to buy A.P. Suggins Bar and Grill (in South Lexington). I used Bruce as my sounding board and tried to twist his arm into getting in that deal with us, but he declined.
We ran that for a year. Two of our best customers for lunch were C.B. McEachin and J. W. Davis Jr., who owned the Lansdowne Shoppes (shopping center on Tates Creek Road). Columbia's Steak House was coming to the end of its 10-year lease in '97, and they asked if we'd have any interest in considering a second location when Columbia's left the Lansdowne Shoppes and moved over to Richmond Road.
I knew if I was going to consider a second deal after I only had a year or so of experience in the business, I was going to need somebody with a lot more of a track record and I insisted on Bruce coming in with us on the (future) Malone's. He finally broke down and said yes.
We didn't know what we were going to do at Lansdowne Shoppes, but I grew up across the street and had been going to the restaurants there—Nellie Kelly's, Brubaker's, Columbia's—for years and spent a lot of money at the shops. I knew Lansdowne Shoppes could support a great restaurant and Lexington would embrace it if we did it right. Bruce and I kicked the tires on what we should do. Prime beef and prime steaks were a hole in the market, and we decided to build Malone's in '98.
MG: What are the important characteristics of a successful partnership, and how does somebody assess a potential partner?
Bruce: It's a lot like a marriage. It's a lot of give and take. Brian and I are both A types. We have our own ideas of the way we want to do things and a lot of times we disagree. As a matter of fact, pretty much all the time we disagree, then usually the lighter head usually prevails. The good news is, all the fussing and fighting has all been for the better of the restaurant.
A friend of mine is in a partnership and he doesn't want to rock the boat. Unfortunately, if you do that long enough it builds up resentment and you just get tired of not getting your way. But we're pretty balanced. There are certain things I'll go over the top on or certain things he goes over the top on, but we both know that it's for one reason. The biggest thing about us is—and I can't say this about every partnership—we have 100% trust in each other. Not only in our overall ideals but I have 1,000% trust in him with my full bank account. That's a good thing to have.
Brian: It goes both ways. We are oil and water and there are very few similarities between the two of us; we love to debate the topics at hand and provide each other with a different perspective. I couldn't care less whether he's right or I'm right. I just want the best answer so we can raise the bar and give the consumer and our team members the best outcome.
MG: Your branding calls for "100% satisfaction 100% of the time." What are your customer experience goals?
Bruce: No one's ever going to be perfect, but that is what we want: Every guest to have 100% guest satisfaction 100% of the time. That's never going to happen, but it's what we try to achieve.
Brian: We have set an expectation with our team culturally, and with our consumer, that if we drop the ball then we will go above and beyond to make it right.
Bruce: We call it "customer promos." It's a line item on our daily sales report, how much we spend on our customer promos. Most restaurant companies would have a heart attack and fire everybody if they saw what we customer promo a day.
MG: A well-trained staff is a BHG hallmark. What goes into training and how did you create your program?
Brian: Over 10 years ago we started BHGU, the Bluegrass Hospitality Group University. We have one in Lexington and one in Louisville. All our new hires go through the university, not only for their entry-level training but for advanced degrees if they've been with us a while and are looking to improve their knowledge and/or maybe move up into management. We're able to get that training function out of the restaurant, where a lot of times there's day-to-day chaos. We think putting it off-site in a classroom-style environment is better for learning.
Bruce: Unlike a lot of restaurants, we move a lot of people through. It's nothing to hire 30 or 40 people in one week, in Lexington only.
Brian: We have 3,000 employees, so there's a lot of lot of training. When you think about our 26 restaurants and the employees there—the age demographic of 16, 17, 18 up to 25—they're moving on. They're going to school. They're moving around. We're having to constantly hire and train new folks and BHGU is a stable resource that consistently trains our new hires and provides a bedrock foundation for our culture and what we're trying to impart.
MG: What are your keys to success?
Bruce: As an example, BHGU—most companies would kill to have something like that. We do a pretty good job with it. But in our minds, we're only maybe a seven out of 10 with it. As good as we are with it, we think we could be so much better. There are so many more areas that we still could improve.
Neither of us are greedy people. A lot of the monies we have made over the years, we've sunk right back into the restaurants. We've remodeled Lansdowne; we've remodeled Hamburg—I mean big money; we've remodeled Palomar. We keep putting monies back into the facility.
We get upset at employees if a refrigerator has been broken or something's down and they haven't gotten it fixed. A lot of places don't fix things because they're trying to not spend money, and we're quite the opposite. We even have a facilities person whose job is to make sure that stuff gets done. We're always trying to serve the best product we can serve. That's our goal.
MG: How often do you assess and change the menu?
Brian: We're constantly looking at trends, not only within our brands and within our menus and what items are selling better today versus the same day last year, but what items are trending down.
In 1998 when we built Malone's, we brought a lot of ideas from Chicago and Atlanta and bigger markets than Lexington. We constantly are looking. Last week we were in Nashville and Columbus looking at six or eight restaurants that we look up to. All these great culinary trends tend to start in markets a lot bigger than Lexington and move down. We do not want to stay stagnant. We are always looking to raise the bar. We always strive for excellence. We're always trying to reinvent and be cutting edge.
Bruce: We had a tasting yesterday for 12 new proposed items to go on our menu, which means we would have to lose 14.
Brian: You want the brand to stay healthy. To keep brands healthy, you have to understand what the consumer is experiencing elsewhere, what they're embracing, what they want you to embrace and figure out a way to incorporate it into your offerings.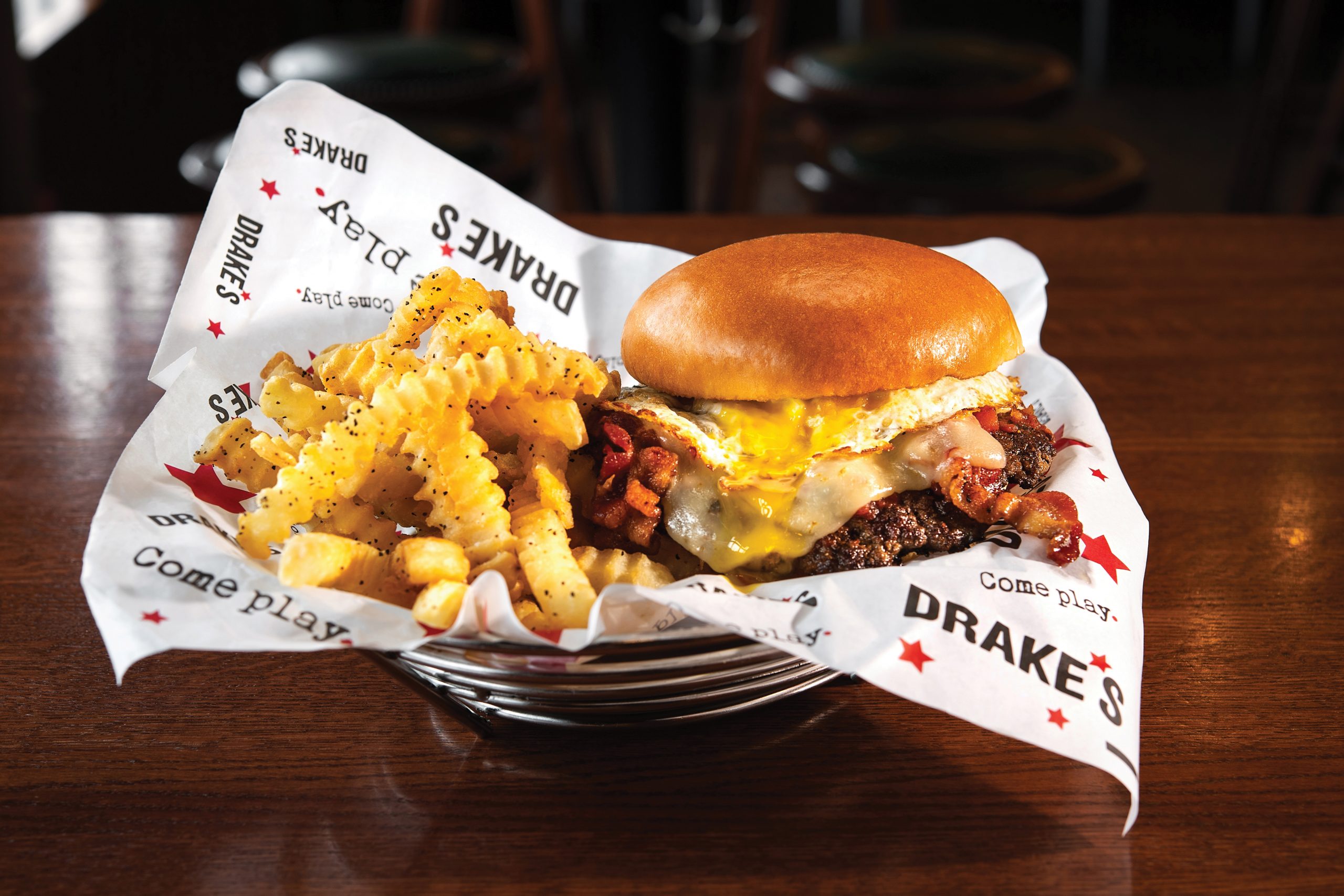 MG: How much importance do you place on presentation?
Brian: The consumer eats with their eyes so presentation is a huge part of what we do. When that plate is put in front of the customer, they need to see the love that we're putting in to end up creating this for them.
Bruce: Things have changed since 1998. It used to be a steak on a plate. Now it's evolved a lot. In 1998, there were about 100 prime beef steak houses in the country, none of which were in a city of less than a million people. And within eight years we had three in a city of 300,000, so Lexington really took to it.
Brian: And with the explosion of social media, everybody is looking for that great food shot to share. So it puts the pressure on us to deliver, because you're seeing your competitors come up with amazing presentations. We don't want to be left behind so we're constantly evolving as well.
MG: The COVID pandemic accelerated existing trends across society and business. What were the major impacts on BHG and do these changes look permanent?
Bruce: Obviously, No. 1 would have to be carryout. We were very lucky. When COVID happened, we already had a pretty strong carryout business. We had curbside service. We had six or eight parking spots out front already. We had text. We had all that stuff set up where you can just pull up and we bring you the food. When the pandemic hit, it went to a whole different level. It was crazy. It took us a few days to adjust, but we adapted well. Employees appreciated that we stayed open; they could still make money and have positions and it was a great time for everybody to come together and go through a really tough situation.
Brian: What the pandemic did was expose the carryout experience to so many more potential customers because they were forced to stay at home, and it was the only way they could get our products. Trials are a huge part of trying to grow a new product or a new segment. We got a trial during the pandemic, and customers liked it. That has carried over to the world we live in today where the carry-out portion of our business has just exploded compared to 2019.
I can't emphasize enough how important it was that we had a two- or three-year head start on figuring to go outside (with orders). We invested in carryout back in 2015 in a big way and when the pandemic hit, we didn't have to learn that. We already had it in our toolbox.
Bruce: It was exciting. Several times I just sat back in the parking lot and watched people come and go. It was really kind of neat to see. It was amazing. Then we had the tent in the parking lot and open on two sides. Thank goodness nobody got COVID that way. It was a challenge. We had heaters and diesel. It was a zoo!
MG: So putting carryout cars through the lot is essentially the same as turning a table for restaurants?
Bruce: A busy restaurant will push 30, 35 tables through an hour, and that's a busy restaurant.
Brian: Think about when all these kitchens were built back in the '80s, '90s and 2000s before carryout exploded. The smart people in the room built your back-of-the-house infrastructure to be able to handle 30 tables an hour. All of a sudden, a pandemic hits and you're trying to push 60, 80 or 100 tickets an hour through that same infrastructure. Not everybody can pull it off.
MG: Restaurants are increasingly using automation technology to improve operations and efficiencies. What is BHG using?
Bruce: We are converting to a system that's been around but now it's really solid-state. It's called Toast. It's a handheld that really works. We have it in several of our units and Nov. 11 we're going companywide. Once you learn the handheld, you can go to the table, take the order and when they punch it in it's to the kitchen.
Brian: The consumer recognizes that the food is getting to their table four or five minutes faster.
Bruce: If you're like me, I can't pay my bill quick enough. If you pull your credit card out, that handheld takes it.
Something else Brian and I were more against than anybody, but—and we still do it old school at the three Malone's—all our 22 Drake's use an app. The whole world's adapted very easily to it. If you want carry-out at Drake's, pull up the Drake's app. When you send the order it doesn't go to somebody; it goes it goes into the kitchen and prints out on the screen. As soon as you hit "send," they're cooking it.
Brian: The technology improves the guest experience. That's what we're trying to do.
MG: You're in a wave of expansion now, going to neighboring states. What's your strategy now and longer term?
Brian: We don't have it figured out longer term, but we're both in our 50s and we want to keep building restaurants. We're in a very good spot; we have 26 profitable restaurants and we'll continue to build them as long as we can stay that way.
Bruce: We're not racing to get to 100 or 200 or whatever. We're going to build what we need to build to be what's best for the company.
Brian: And we don't have pressure from private equity.
Bruce: We don't have partners calling us saying build more, build more.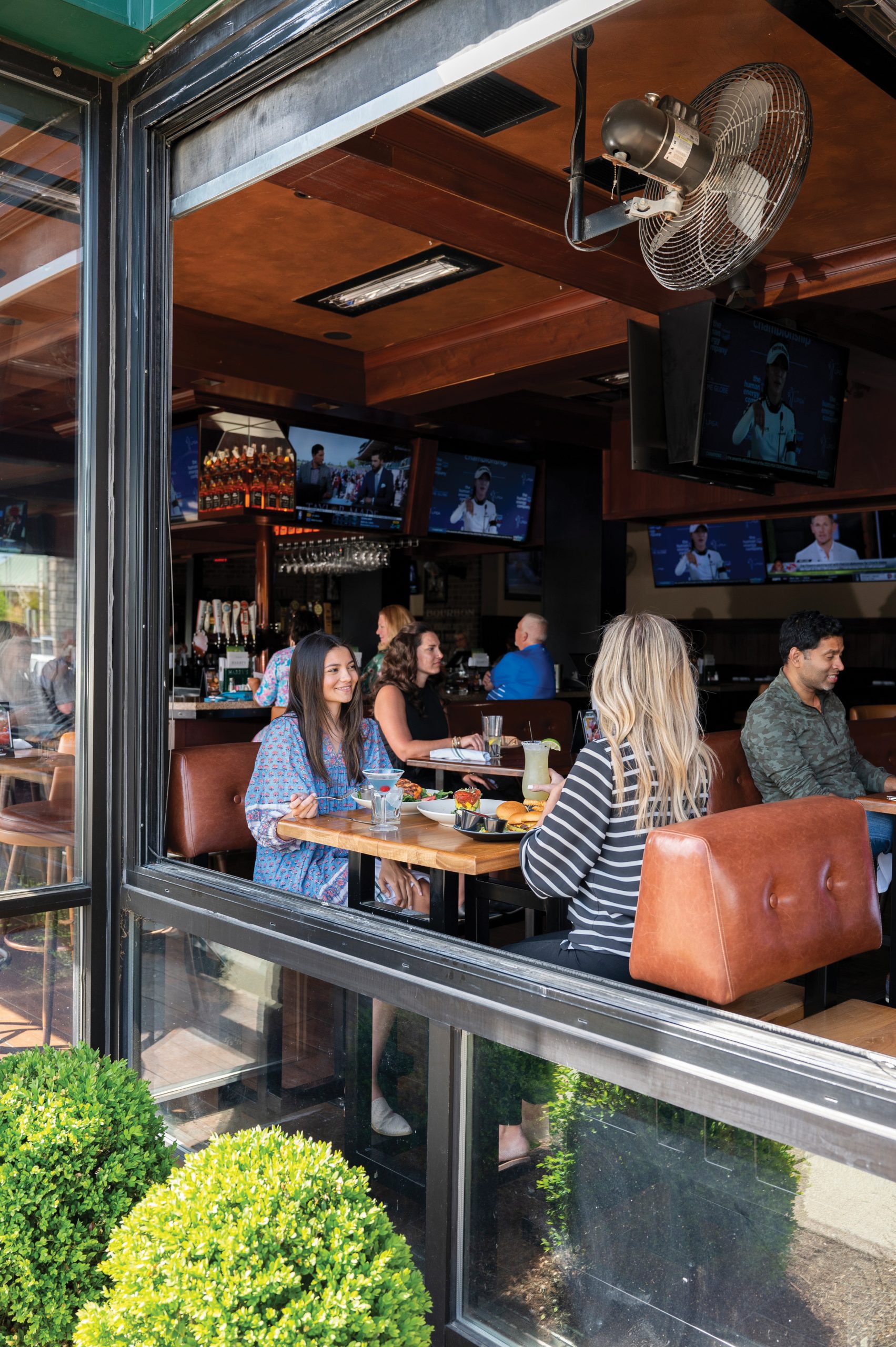 MG: Explain your ownership structure and how that affects the way you operate.
Brian: Back in 1998, we started putting together an (investment) package that will have anywhere from one to eight restaurants. We'll go to outside investors and sell out 30 or 40% of that deal. We've had probably eight offerings over the 25 years we've been doing this. Those holding companies have one to eight restaurants apiece.
Bruce: We sell it off in 1% increments. There might be somebody who buys 1% or 2%. There may be 10 people that buy 1%. We don't care; they're more cheerleaders. We may have 150 investors total that have 30 or 40% of the company. They're great cheerleaders.
Brian: They're great fans that are constantly supporting the restaurants.
Bruce: We have been a blessed with great partners. Nobody owns like 25%, so they can't come in and say, "I want heirloom tomatoes on my salad" or "You should put this on the menu." They let us do our thing.
Brian: It's been a great run because we have great partners, and we've had tremendous success. The model would have failed if we weren't constantly building great restaurants. We've been blessed to have a growth path that has continually opened up successful restaurants.
In terms of future growth, in 2009 we built the first Drake's here in Lexington. In 2011, we decided that was going to be the first time we left Lexington. We opened up two Drake's in Louisville and one south of Nashville. We realized we were going to be able to grow outside of Lexington in a big way. We went from four to seven and now seven to 26.
The big thing we learned in 2011 is that we could open three new restaurants in one year, and we had to build an infrastructure to grow at that pace. You have to have an opening team, and it's much more than just the management team you'll have to operate your restaurants. There're a lot of functions to open a restaurant that aren't there anymore once they're open. Once Bruce and Brian proved to themselves that we had an infrastructure that could open three, then we became very comfortable. Three was the pace. We've opened four in the last 12 months. We feel like three or four a year is a great pace for us. As long as we can find great real estate and great people, we will continue to open restaurants.
MG: Marketing and branding has been a significant element of building and maintaining your business. What's your approach?
Brian: We're more aggressive than the typical restaurant group in marketing. We've always valued marketing and we want to make sure we're spreading the word, because that's how you grow. We implemented a rewards program over 20 years ago and we have over 150,000 members that experience our rewards program annually. That's a huge part of our marketing. Partnering up with UK and UofL athletics is a huge part of our marketing program, partnering up with Keeneland and the equine community is a huge part of our marketing program. We are not scared to spend marketing dollars and spread the word on all the good things that are happening.
MG: What steps do you take in entering new markets?
Brian: It's all about the real estate in the right part of town. Is it in the growing part of town? You don't want to go where there's going to be a market shift, and you're going to be left. You want to go where the density is, where your demographics are right in terms of age range and income levels. Then, what's the competition look like? Where is the competition and how does that fit against the brand we're looking to put there?
MG: How about the branding and marketing of the carryout and delivery product?
Brian: Bruce was an advocate 10 years ago for our (carryout and delivery) packaging and that was an issue we debated for six months. He won that one and I'm glad he did because it elevated what we did in the consumer's eyes tenfold. We want the best of the best. I think we stand out whether it's the iPads in the parking lot, our app or dedicated parking and we're whisking it out to your car, or whether it's DoorDash—
Bruce: We used to be scared of DoorDash. We used to be worried about a third party handling our packages and when they would get them to the house.
Brian: But overall, they're the market leader and they do a great job. At the end of the day, we run our restaurants and want to embrace best practices, and best practices don't necessarily start with Brian and Bruce. We're always looking over our shoulder and if we see something that is a better way, we're not opposed to change and implementing new practices. I eat out 360 nights a year. We're always looking at the competition and trends and trying to make sure that we're staying relevant.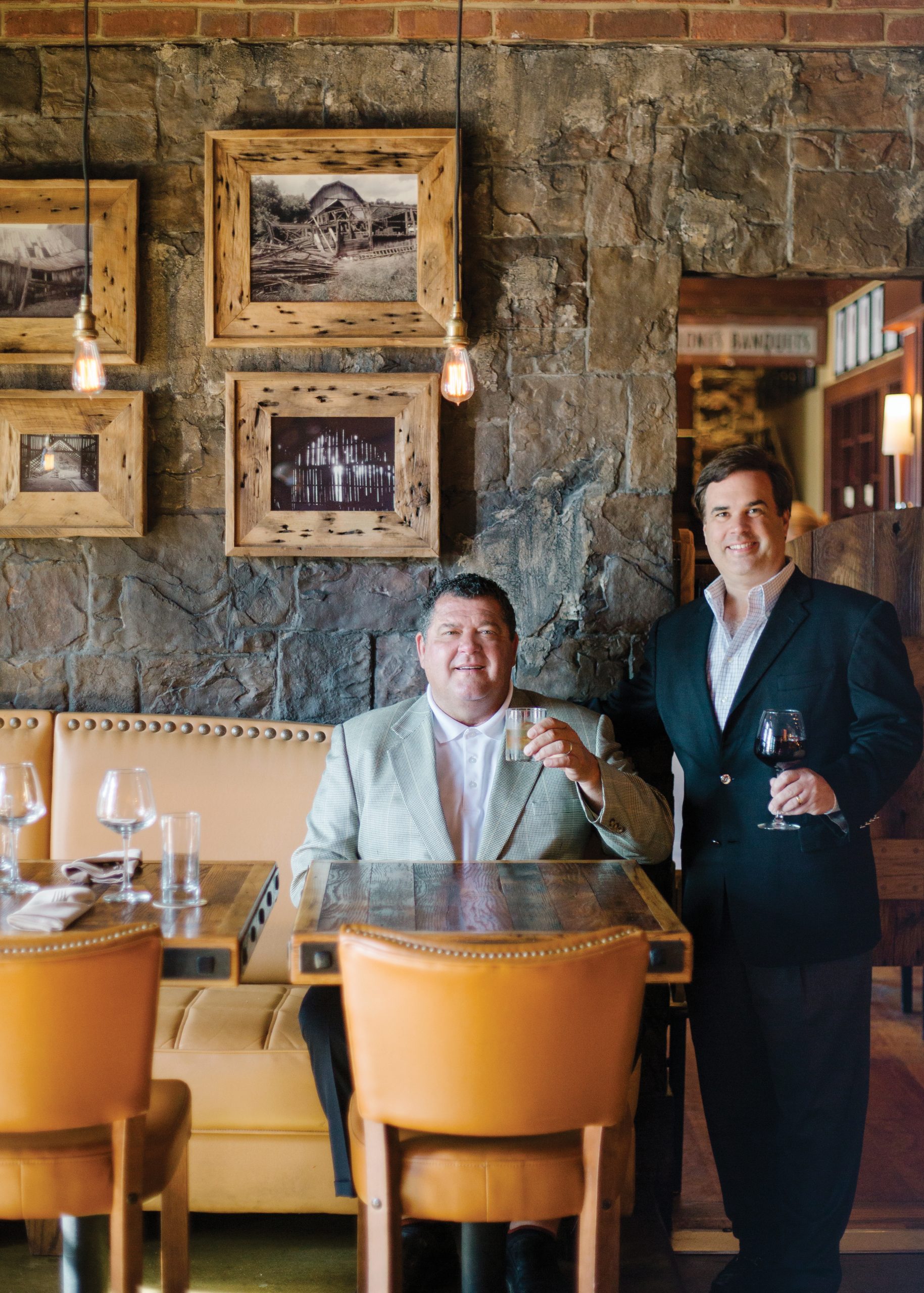 MG: How do you assess and maintain quality and customer satisfaction across 26 restaurants?
Brian: We have a lot of oversight in terms of quality assurance folks inside the restaurants every day, KPIs (key performance indicators) giving us feedback on customer service surveys.
Bruce: We have five different ways that a customer can let us know if they're not happy.
Brian: We served thousands of meals companywide yesterday and random surveys go out to a lot of the folks who dine with us daily. We are constantly looking at those satisfaction scores and how each of the 26 restaurants are performing today versus last year, versus last month and are they trending up or down in customer satisfaction.
Bruce: We look at Yelp, at all table reviews.
MG: Do you discuss your revenue numbers?
Brian: We're hoping to be $200 million next year. Growth has been huge because we've been in growth mode the last five years, opening up three to four a year. When we were four and didn't have anything out of town, we were probably $50 million. We've gone from $50 million to $200 million in 10, 12 years.