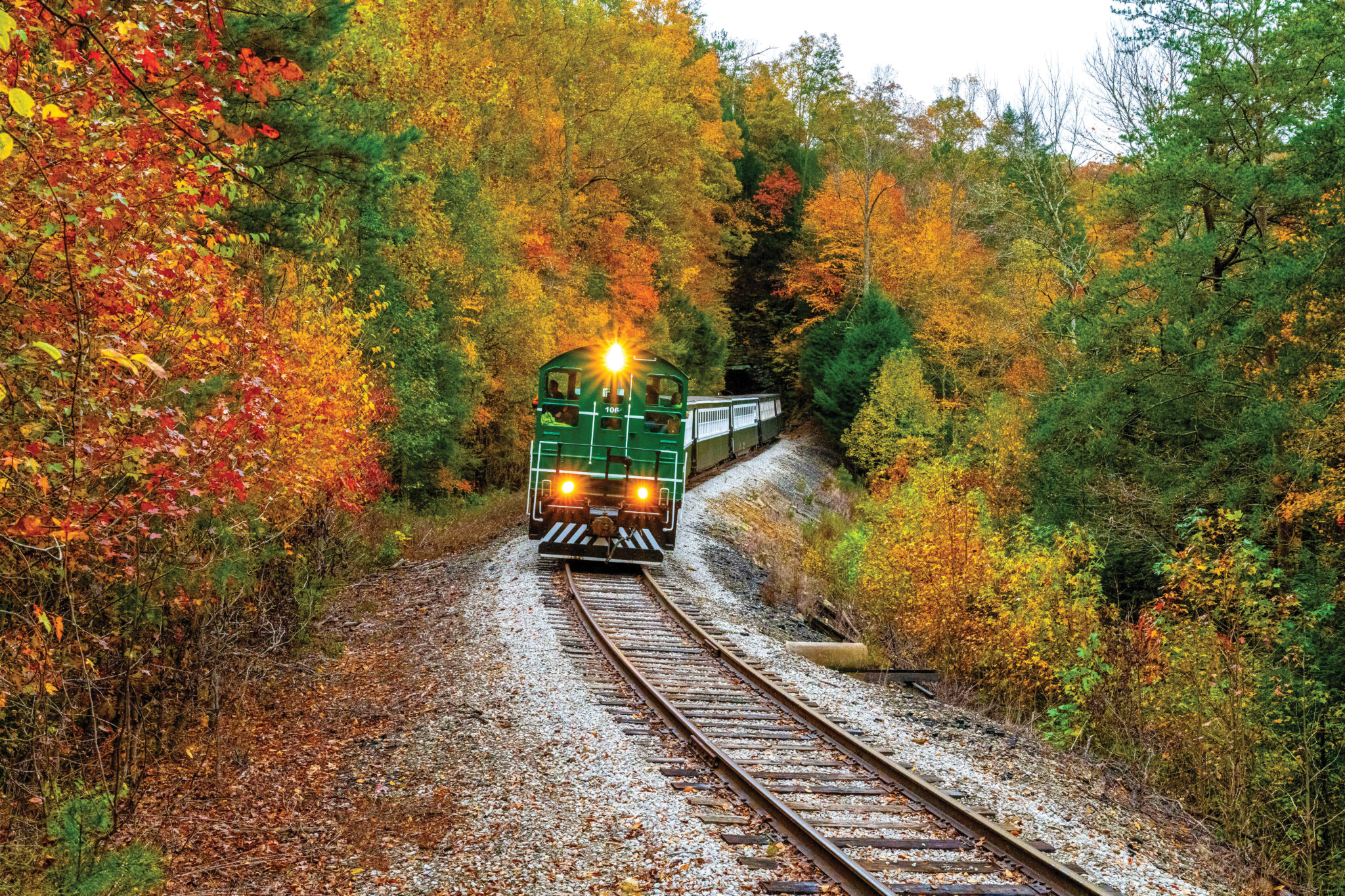 Travelers seek one-of-a-kind experiences, and Kentucky offers hundreds of unique attractions that provide memories to last a lifetime. Whether you like the outdoors, history, horses or bourbon, Kentucky aims to please and hits the target.
In Stearns is the Blue Heron mining camp in the Big South Fork National River and Recreation Area. This abandoned coal mining town operated from 1937 to 1962. During that time, hundreds of people lived and worked in an archetypal company town. They describe in their own words, via oral history projects, how people in Blue Heron lived and worked.
Because mining towns were built as temporary structures, none of the original buildings remained when the community became a tourism attraction in the 1980s. The museum was built as an outdoor site with open metal shells of buildings (called "ghost structures") that resembled the original town. The museum features audio programs, photo exhibits and everyday items relevant to the building's purpose.
While there, you can also ride the Big South Fork Scenic Railway Heritage Railroad, a 16-mile route through scenic Daniel Boone National Forest. Blue Heron also has a variety of hiking trails.
Rather opt for something even more iconic? Try the Harlan Sanders Café and Museum in Corbin: The Birthplace of Kentucky Fried Chicken. This site has been remodeled to its 1940s appearance and is listed on the National Register of Historic Places. You can tour Col. Harlan Sanders' office and see the kitchen where he developed the Kentucky Fried Chicken secret formula. The museum has a collection of Kentucky Fried Chicken memorabilia.
For something entirely different, the creative-minded may want to visit the Kentucky Folk Art Center at Morehead State University. This museum, located in the historic Union Grocery, houses a permanent collection of nearly 1,400 pieces of self-taught art in rotating exhibits. The museum also sponsors events throughout the year, including the Appalachian Holiday Arts and Crafts Fair on the first Saturday of December.
Ready to be scared? Waverly Hills Sanatorium in Louisville has been called one of the most haunted hospitals in the United States. The former tuberculosis sanitorium is an excellent example of Tudor Gothic architecture and is listed on the National Register of Historic Places. Waverly Hills offers both historic and haunted tours. It has been featured on "Ghost Hunters," "Scariest Places on Earth," "Celebrity Paranormal Project," "Creepy," "Most Haunted," "Paranormal Challenge," "Ghost Adventures," "The Bull and the Beautiful," "Call of the Wildman," "Ghost Asylum," "Paranormal Lockdown" and even an episode of "Supernatural."
Another popular stop in Louisville is the Kentucky Derby Museum, which features two floors of interactive, family-friendly exhibits about Thoroughbreds, racing and the Kentucky Derby.
"The Kentucky Derby Museum is one of the region's premier attractions, celebrating the tradition, history, hospitality, and pride of the world-renowned event that is the Kentucky Derby. We're honored to be a bucket list destination for hundreds of thousands of guests each year, and most recently named a top 10 attraction for fans by USA Today," said Bobbi McSwine, communications and social media manager for the Kentucky Derby Museum.
Serenity calls
Kentucky also claims the Trappist monastery that acclaimed author Thomas Merton called home for many years. The Abbey of Gethsemani is located near Loretto in an area of Kentucky favored by Catholic pioneers and provides a truly unique travel experience. The abbey's welcome center features a film and display about monastic life at Gethsemani. In the gift shop you'll find books, a fine selection of gifts and food products made by the Trappist monks at the abbey available for purchase.
Extensive nature trails are open to the public for extended walks and hikes. No advance arrangements are needed to walk the grounds or to attend services, which feature distinctive chanted prayers by monks who otherwise maintain a vow of silence.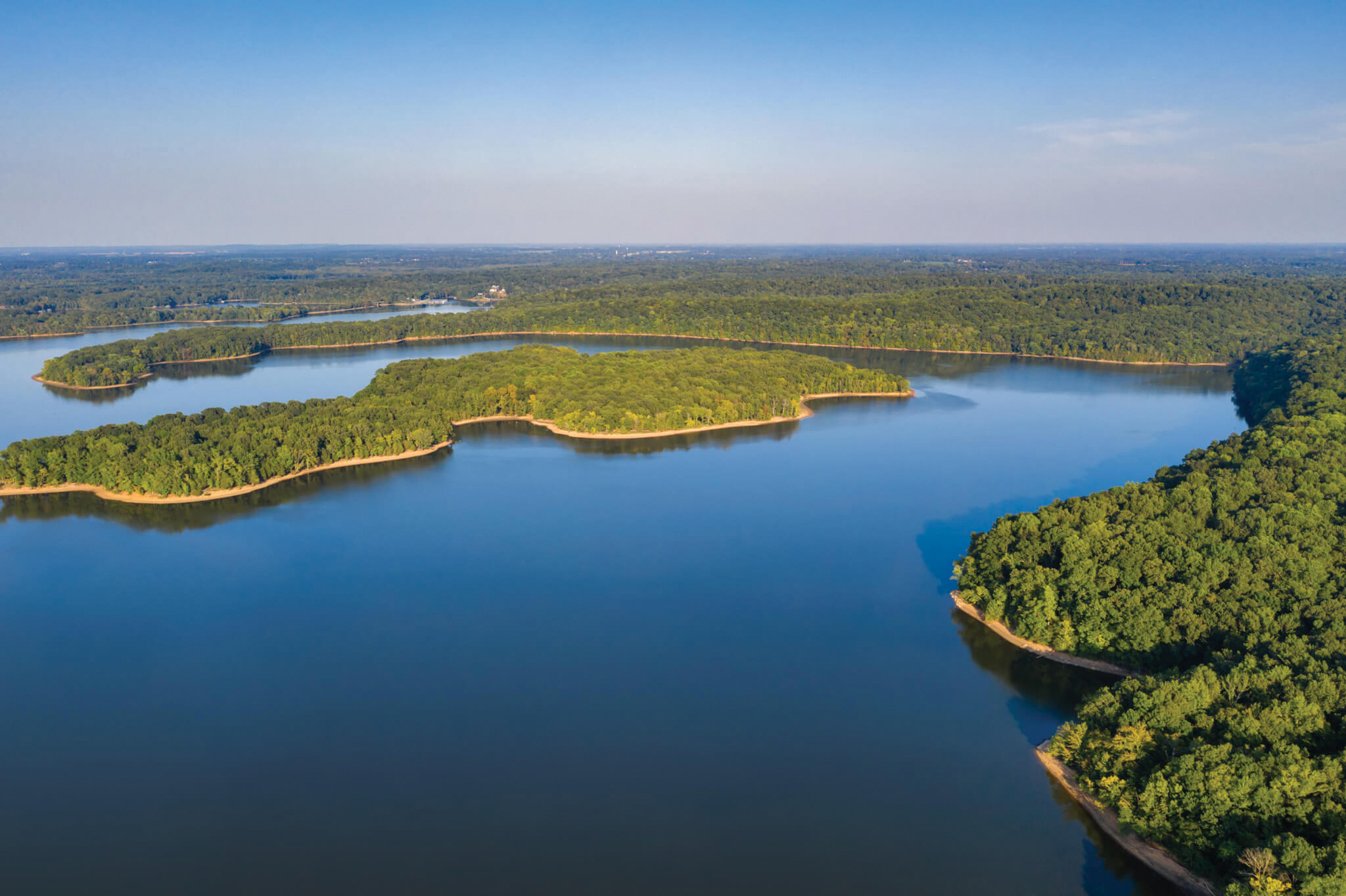 The monastery offers days-long retreats to foster a spirit of communing with the Lord. These retreats are silent, unstructured and undirected, but may include private consultation with one of the monks if desired.
Just west of the state capital is the Salato Wildlife Education Center, one of Kentucky's true treasures. The Salato Center celebrates native plants and wildlife with indoor exhibits that feature aquatic turtles, frogs and toads, the Eastern Hellbender, venomous and nonvenomous snakes of Kentucky, and a warm-water aquarium with an audio tour. Another exhibit recognizes record fish. Yet another features restored species such as elk, white-tailed deer, river otter, ruffled grouse, wild turkey, peregrine falcon, and more animals that the Department of Fish and Wildlife has worked in partnership with various national and state agencies to restore.
One of the most exciting of the indoor exhibits, Get on Board, is an interactive aquatic exhibit that allows people to experience what it's like to be a fisheries biologist. Visitors enter the exhibit through the mouth of a huge Kentucky spotted bass into a fish hatchery. There you follow the process from the eggs hatching to growing to full stocking size. Then you see the stocking process. The tour ends with posing for the cover of Kentucky Afield magazine holding your trophy striped bass.
The outdoor exhibits include a number of native species: bald eagles, bison, black bears, bobcats, elk, white-tailed deer, wild turkey, quail and a raptor aviary. Outdoors you will also find hiking trails, fishing lakes and picnic shelters.
Go west!
In far Western Kentucky you'll find Land Between the Lakes, Kentucky Lake and Lake Barkley. The two Kentucky State Parks offer recreational activities in massive lakes large enough for yachts and enjoy watching for bald eagles and other wildlife.
The Homeplace at Land Between the Lakes is a working 1850s farm with interpreters in period clothing going about their daily chores. Those feeling industrious can help if they choose, or just watch. The livestock include rare and endangered species and most crops come from heirloom seeds.
There also is the unique Golden Pond Planetarium and Observatory with an enjoyable presentation of Tonight's Sky Live, where qualified interpreters supplement automated presentations with personal interactions that allow visitors to learn about the planets, stars and constellations in the night sky of the coming evening.
Hit the trails
The recently created Kentucky Wildlands Waterfall Trail lists 17 of the commonwealth's most spectacular waterfalls. That's not an easy feat for a state with more than 800 waterfalls! Some of the most beautiful on the list include Jenny Wiley Falls in Johnson County and Princess Falls in McCreary County, but by far the most unusual is Cumberland Falls with its moonbow. It is the only one in this hemisphere, which can appear in the falls' mists. Time your visit for a full moon and hope for a cloud-free night.
Another trail you don't want to miss is the Kentucky Bourbon Trail. Purchase your passport and field guide in advance or at your first distillery tour, then at each distillery you visit, collect a stamp on that distillery's page. There are 47 distilleries in all, 19 full-scale distilleries and 28 craft distilleries. You can break your tour up however you wish, unlocking rewards as you visit more distilleries.
If you like that sort of thing, you may also want to try the Beer Cheese Trail. It's a Clark County/Winchester trail celebrating their local culinary claim to fame, beer cheese. It began when Johnnie Allman served his cousin's Joe's Snappy Cheese at the historic Driftwood Inn. Today, the Beer Cheese Trail boasts 15 stops, plus the annual Beer Cheese Festival. The more stops you visit along the trail, the more swag you earn.
If you're looking for something a bit edgier, check out the Haunted Trail of the Kentucky Wildlands, which features 12 sites throughout Eastern Kentucky with spooks, haunts, and supernatural sightings.
Where the paranormal is normal
More of the paranormal can be found in Ashland at the Paramount Arts Center where.
Paramount Joe, a workman found hanged in the curtain rigging, haunts the theater. Billy Ray Cyrus filmed his "Achy Breaky Heart" video here and claimed to chat with Joe during his breaks.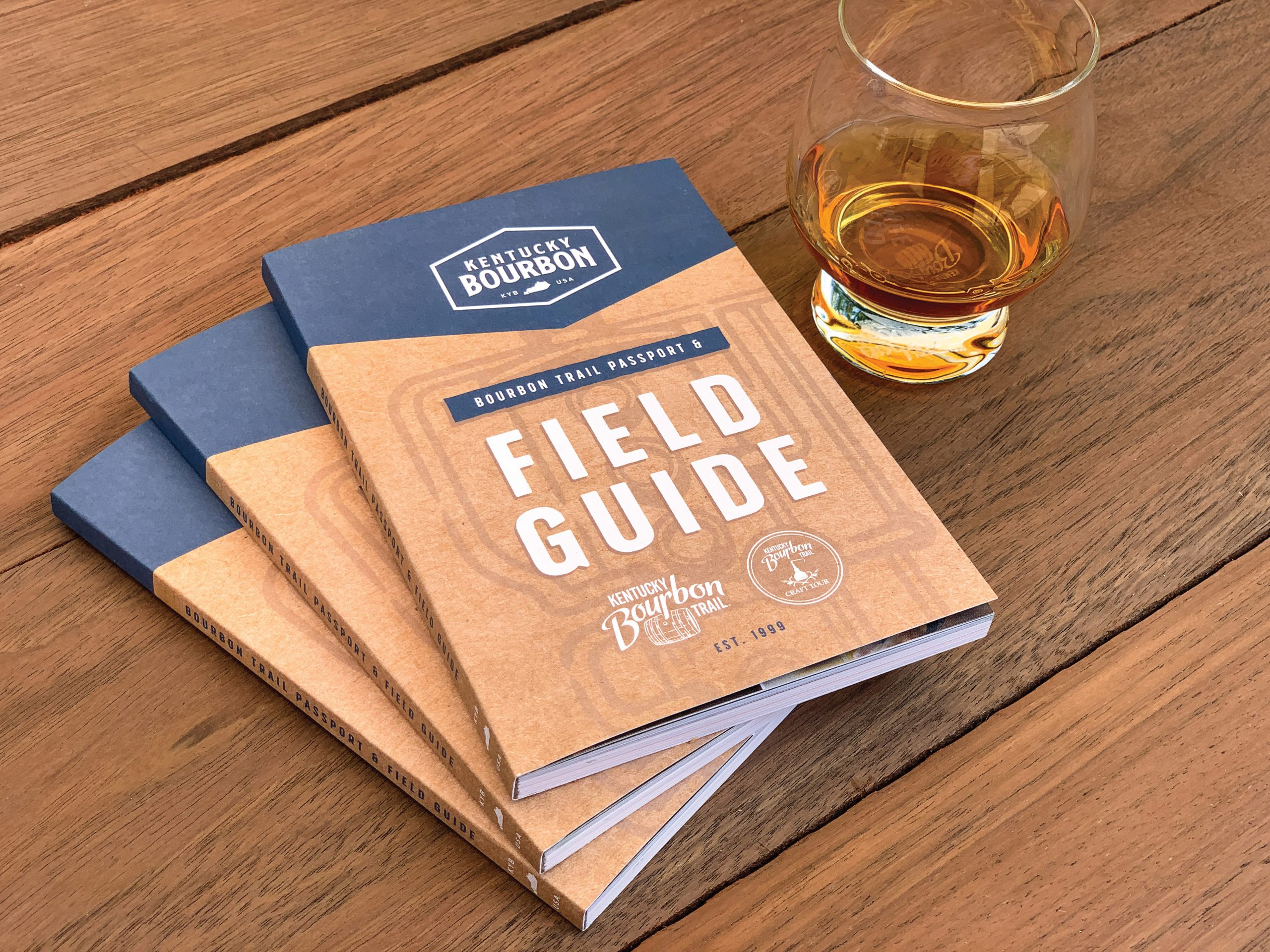 When Cyrus signed posters for all the staff, he also autographed one for Joe. Later, when all the posters exactly alike were hanging and the theater wanted to make more room, they removed Joe's poster. The next morning, the employees found all the others scattered about the floor.
Or check out the Hellier Caves, featured in a documentary based on a report of hobgoblins in the area. Investigators concluded that a triangle of caves from Ashland to Pikeville to Somerset abounds with paranormal activity that include goblins, UFOs and Mothman.
In Clay County's Wynn Cemetery, two witches are buried in graves that sit above ground, near three trees where women convicted of being witches were hanged. Strange happenings occur on the anniversaries of their deaths.
Or search for Kentucky's own headless horseman in Burkesville. You may also see a trapper leading a Native American woman on a horse surrounded by odd lights. In addition, white-colored Bigfoot sightings abound.
The State Fair-est of them all
Some things are just pure Kentucky, like the Kentucky State Fair, at the Kentucky Exposition Center (KEC) in Louisville. Held in conjunction with the state fair is the World's Championship Horse Show, where more than 2,000 Saddlebred horses compete for over $1 million in prizes. You'll also find the North American International Livestock Exposition, the largest all-breed purebred livestock event in the world. The exposition features 10 livestock divisions and nearly 30,000 entries from 48 contiguous states.
According to David S. Beck, president and CEO of Kentucky Venues, "Our two properties, KEC and KICC (Kentucky International Convention Center) host 340 events a year and invite visitors from around the globe to experience Kentucky in new and interesting ways. For example, the Kentucky Exposition Center—one of the largest facilities of its kind and home of the Kentucky State Fair spanning 11 days—boasts headlining musical acts, family entertainment and educational opportunities about the 120 counties that shape the Bluegrass State."
At Big Bone Lick State Historic Site, find a piece of Northern Kentucky's prehistoric past on the Discovery Trail, which begins at the megafauna diorama pit and meanders along Big Bone Creek past interpretive panels that depict prehistoric drama. Learn about the happenings that occurred around the salt and sulfur springs during the last ice age.
The museum at Big Bone Lick has new displays on paleontology, Ordovician geology, Ice Age mammals, Native American history, the chronology of the science at Big Bone, and ongoing research currently underway at the park.
Mason County and Maysville may be known for their most famous citizen, actor George Clooney, but there are other reasons to visit. Schedule a culinary walking tour and enjoy famous dishes while you learn the history and evolution of local cuisine. Or try a driving tour of covered bridges. You will find two in Mason County and six more in the local area. Mason County's Dover Covered Bridge is the oldest covered bridge in Kentucky. The 63-foot-long modified queen-post truss-constructed bridge spans Lee's Creek and dates back to around 1835.
Oak Grove, another prime example of small-town Kentucky, features tons of military history due to its relationship to Fort Campbell, which straddles the state border with Tennessee on the western side of the state. The Pratt Museum, an official U. S. Army Center of Military History, houses military artifacts and memorabilia. Unlike many museums, guests can view and touch exhibits.
The town also boasts a historic one-room schoolhouse located near the War Memorial walking trails. The school underwent extensive renovations before the town moved it to its current location. Another highlight at Oak Grove is the M.B. Roland Distillery, a grain-to-glass craft distillery that uses local white corn for the Bourbon it crafts.
Murray, Kentucky, continues to be a destination evolving into a cultural incubator. Weekenders can explore the historic downtown, where public art from Kentucky muralists exist on every corner and the stories of how the city began can be heard on a downtown walking tour. In serene outdoor spaces, learn the local stories on the Calloway County Barn Quilt Trail. The 15th Street District, located on the edge of the Murray State University campus, is home to multiple restaurants and live music on weekend evenings.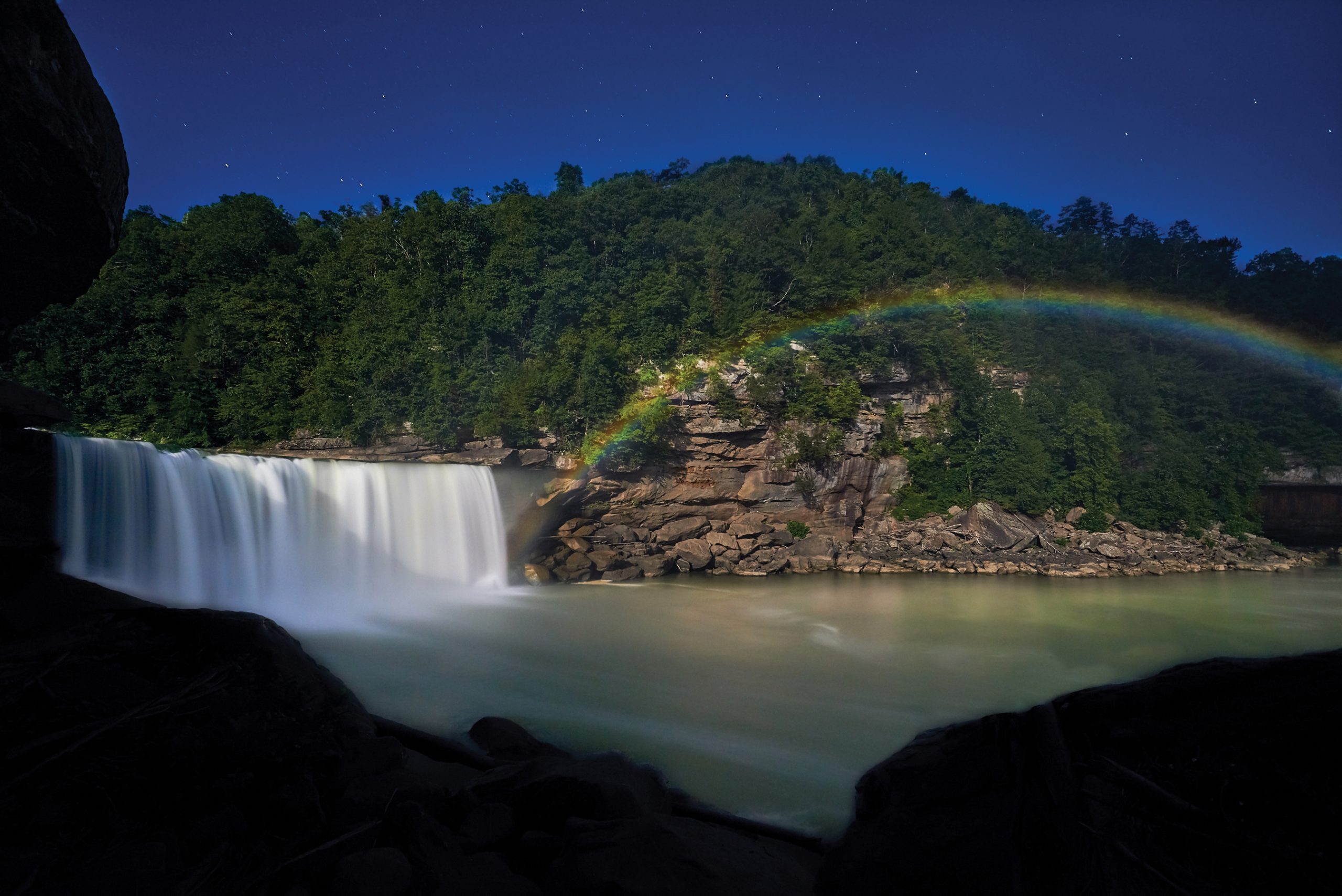 "Uniquely Kentucky" attractions
The Bluegrass State is known worldwide for its horse farms, and Claiborne Farms is one of Kentucky's most iconic Thoroughbred farms. It sits among the rolling hills of the Bluegrass, surrounded by miles of plankboard fences. On your visit, you can see their extensive breeding program, meet some young horses, and visit the great Secretariat's grave.
If all that traveling makes you hungry, My Old Kentucky Dinner Train is just the relaxing way to end your day. Enjoy a gourmet, seasonally inspired four-course meal prepared fresh on board. Excursions are also available with a bourbon tasting hosted by a master distiller. You'll enjoy breathtaking scenery on this 35-mile, round-trip excursion that leaves from and returns to Bardstown. Bardstown was named the Most Beautiful Small Town in America by Rand McNally in 2012 and 2014 and America's Best Small Town by Fodor's Travel Guide in 2014.
Kentucky Tourism Commissioner Mike Mangeot said that in addition to the commonwealth's well-known attractions like Churchill Downs, Mammoth Cave, the Red River Gorge and the Corvette Museum, the Bluegrass State has plenty of other treasures such as Kentucky Down Under in Horse Cave, where guests can pet a kangaroo.
"We also have a variety of festivals that showcase different experiences across Kentucky," Mangeot said, "like the World Chicken Festival in London, the Burgoo Festival in Lawrenceburg, the Mount Sterling Court Days Festival, the Wooly Worm Festival in Beattyville and many more. During the fall season there is no shortage of spooky attractions you can visit, like the Anderson Hotel in Lawrenceburg, Octagon Hall in Franklin, the haunted Rohs Opera House in Cynthiana, the Waverly Hills Sanatorium in Louisville, and many more."
No matter where you decide to visit in Kentucky, you'll find a unique experience waiting for you.