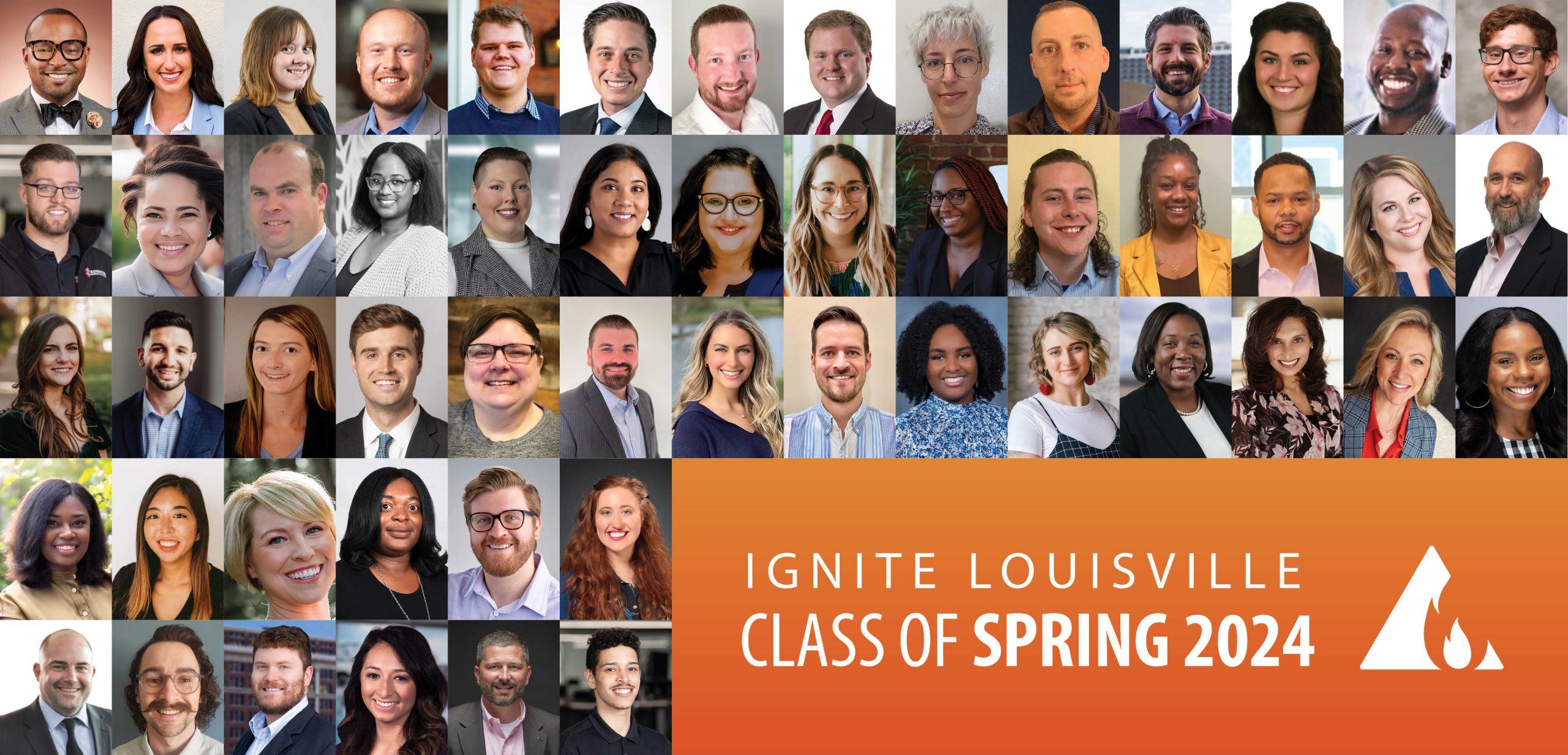 LOUISVILLE, Ky. — Fifty-four emerging leaders have been selected for the Leadership Louisville Center's Ignite Louisville Class of Spring 2024 which will run from October 2023 to April 2024. This is the 29th class of the award-winning program, which has graduated over 1,200 up-and-coming leaders, preparing next-generation talent for expanded roles in their organizations and in the community.
The Ignite Louisville experience grows high-potential professionals by developing the key components of leadership, with a core curriculum developed by the Leadership Louisville Center and partners including Norton Healthcare, Brown-Forman Corporation, and the U.S. Army. The class puts these lessons to work through the Ignite Louisville Challenge, which is an opportunity to be part of one of the Center's Community Acceleration Teams and work with a local nonprofit to develop and implement solutions for their needs. The teams compete to do the most good for their nonprofit, gaining hands-on experience performing on a diverse team and serving the community. Since the first class graduated in 2005, Ignite Louisville participants have worked on over 170 projects for area nonprofits to plan, execute, and sustain new strategies for success.
Members of the Ignite Louisville Class of Spring 2024 (Oct. 2023 – Apr. 2024) are (click for photo roster):
Le'Artis W. Allen, Senior Corporate Responsibility Specialist, LG&E and KU Energy
Alexa Bacon, Sr. Marketing Manager, Glow Brands
Marcella Bagniefski, Digital Marketing and Content Coordinator, Delta Dental of Kentucky
Lance Ballard, Director of Pharmacy, Baptist Health
Tommy Bell, Senior Agent and Producer, Triangle Talent
Cole Bruner, Assurance Manager, Dean Dorton
Kevin M. Buechler, AVP & Commercial Banker, WesBanco
Brad Butler, Managing Associate, Frost Brown Todd
Sara Butryn, Teacher, Jefferson County Public Schools
Matthew Butts, VP, Product Management, Aline
Jordan Clemons, Senior Investor Development Manager, Greater Louisville Inc.
Kaylee M. Collins, Assurance Manager, Cherry Bekaert
JaFayre Covington, Senior Project Manager, Messer Construction Co.
Cameron Curry, Project Manager, Thieneman Construction, Inc
Skyler Daugherty, Technical Account Manager, Advanced Business Solutions
M. Jordan Elmallakh, Psy.D
Charles D. Evans, US Import Brokerage Engineering Manager, UPS Airlines
Alesha Frazier, HR Generalist, Brown-Forman Corporation
Ce Garrison, Social Services Policy & Advocacy Supervisor, Louisville Metro Government
Andrea R. Ghooray, Director, Patient Experience, Volunteer and Guest Services, Norton Healthcare
Jennifer Hamma, Director, HRIS, Confluent Health
Angelina Marie Harlow, Senior Executive Associate, Volunteers of America Mid-States
MaShayla Hays, Legal Counsel for Pro Bono Initiative, The Lawyering Project
Oscar Heithaus, National Director, Blue Wave America
Whitney D. Hickman, SWMS Compliance & Enforcement Supervisor, Louisville Metro Government, Department of Public Works
Brandon Hill, Oracle Systems Administrator, Louisville Water Company
Sarah A. Hugenberg, Relationship Strategist, Vice President, PNC Bank
Jay Jones, Director Collateral Management Services, Farm Credit Mid-America
Alex Keeling, Whiskey Blending Scientist, Beam Suntory
John King, Jr., Financial Center Manager, German American Bank
Ashley Kuszynski, Senior Front Office Manager, The Al J. Schneider Company
Robert Leasure, Director of Business Development, Confluent Health
Sand Lundbom-Krift, ACT Team Lead, Seven Counties Services Inc.
Dan Mazza, Talent Acquisition Operations Lead, Confluent Health
Natalie McGraw, Director of Client Services, Go Social
Aaron T. Miller, Director Credit Food and Agribusiness, Farm Credit Mid-America
Mariah Mitchell, Administrative Assistant, University of Louisville School of Medicine
Katie Molck, Senior City Editor, LOUtoday
Camille Moore, Chief Auditor, Farm Credit Mid-America
Roshni Patrawala, Human Resources Manager, The Al J. Schneider Company
Lili Peters, Partner Relations Specialist, DNA Hospitality
Vashti Proctor, Marketing and Communication Manager, AMPED (Adventurous Minds Produce Extraordinary Dreams)
Alexus Richardson, Director of Communications, Dare to Care Food Bank
Jane Rudnick, Marketing & Communications Specialist, Spalding University
Katie Scales, Sr. Manager of Patient Engagement and Outcomes, Confluent Health
Johnecia Seay, United Community Coordinator, Metro United Way
Jacob Shepard, Clinical Effectiveness Director, Norton Healthcare
Erin Sigmund, Community Relations and Policy Advisor, American Printing House for the Blind
Joel Stinnett, Senior Reporter, Louisville Business First
Layne Taylor, Chief of Staff to the Chief Medical Officer, Humana Inc.
Charlie Todd, Senior Financial Analyst, Stored Value Solutions
Jerrica Valtierra, Communications Manager, Alzheimer's Association of Greater Kentucky and Southern Indiana
Brian Wehneman, Director, Risk Management, Humana Inc.
Austin Young, Tier 2 Engineer, Advanced Business Solutions
Click here for more Kentucky Business News.
Click here to Advertise.