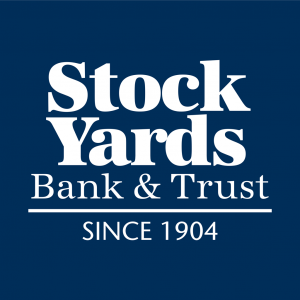 LOUISVILLE, Ky. — For the third year in a row, Stock Yards Bank & Trust has been named one of the Best Banks to Work For by American Banker and Best Companies Group.

Stock Yards Bank & Trust, since 1904, has grown from a small bank in Louisville, Kentucky, supporting the livestock industry to a community bank serving our region with branches in Kentucky, Indiana and Ohio.
The Best Banks to Work For program, initiated in 2013, identifies, recognizes and honors U.S. banks for outstanding employee satisfaction. Full results of this year's program are available at AmericanBanker.com and will be included in the November print issue of American Banker magazine.
"We are proud to be named one of the best banks to work for again in 2023," said Stock Yards Bank Chairman and CEO James A. (Ja) Hillebrand. "Our commitment to our employees, the community and our customers makes the difference. We know our employees are proud to work for Stock Yards Bank & Trust, and we couldn't serve our customers without them."
Determining the Best Banks to Work For involves a two-step process. The first step includes an evaluation of participating companies' benefits and workplace practices. In the second step, employee surveys are conducted to directly assess the experiences and attitudes of individual employees concerning their workplace. The combined scores determine the top banks and the final ranking.
When asked about the bank's culture, Hillebrand told American Banker, "Our culture is based on relationships — with our colleagues as well as with our customers. The power of those long-lasting relationships fuels our continued growth."
Stock Yards encourages its team members to support their community. Bank President Phil Poindexter shared, "We encourage our employees to volunteer and connect in their communities. Our employees enjoy working at Stock Yards for a variety of reasons including opportunities to give back where they and their customers live."
The community bank, which has 72 branch offices in its footprint, was one of only 90 banks featured on the 2023 list.
To go directly to a full list of this year's winning banks, click here.
Louisville, Kentucky-based Stock Yards Bancorp, Inc., with $7.67 billion in assets, was incorporated in 1988 as a bank holding company. It is the parent company of Stock Yards Bank & Trust Co., which was established in 1904. The Company's common shares trade on The NASDAQ Stock Market under the symbol "SYBT." For more information about Stock Yards Bancorp, visit the Company's website at syb.com. It has 72 branches are in Louisville, central, eastern, and northern Kentucky, as well as the Indianapolis and Cincinnati metropolitan markets.