Debate begins at 7 p.m.; doors close at 6:50 p.m.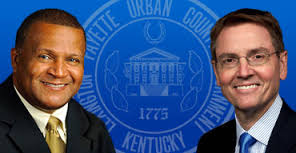 LEXINGTON, Ky. (Oct. 1, 2014) — Transylvania University will host a Lexington mayoral debate at 7 p.m. on Oct. 8 in the Carrick Theater. Doors close at 6:50 p.m.
The debate will feature incumbent Jim Gray and challenger Anthany Beatty.
WLEX will televise the debate, and WEKU will broadcast and live-stream it.
WLEX News anchor Nancy Cox will host the event and Tom Martin, Lexington Herald-Leader columnist, Transylvania staff member and Lexington Forum board member, will moderate.
A reception will follow in the Haggin Auditorium lobby.