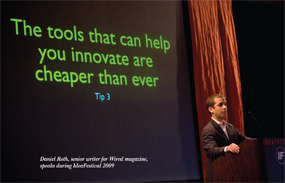 To spend time around a true entrepreneur is to be bombarded with ideas. Successful entrepreneurs constantly evolve and innovate, adapting to changing business conditions, reacting to the competition. Creativity is central.
"Entrepreneurship and artistry are very similar," says Kris Kimel, president of the Kentucky Science and Technology Corporation and founder of IdeaFestival, whose 10th incarnation is this fall in Louisville. While outwardly an annual three-day celebration of innovation and creativity, it's entire purpose, Kimel explains, is to feed and stimulate business entrepreneurship.
This year's presenters include writers, performers, musicians, engineers, artists, chefs, medical researchers, public policy experts, adventurers, autistic savants, filmmakers, physicists, urban designers and, yes, even an entrepreneur. Most are not household names – the closest would be the author Sapphire, whose novel "Push" was made into the Academy Award-winning movie "Precious."
All of them, however, fit into IdeaFestival 2010's subheading: Fresh Thinking – New Connections – Innovation That Matters.
"All are successful, world-class innovators," Kimel said. All of them have explored new territory in the world of ideas, thought and creativity, have synthesized their experiences and present the results compellingly.
The business connection might not be obvious when one examines IdeaFestival's diverse lineup of speakers and presenters, invited in from the outer fringes of current thought and creativity. But it's there, and Kentucky needs it, Kimel says – not merely stating the proposition but preaching it.
"Intellectual stimulation is important."
The evidence, he said, is found in economic statistics.
The commonwealth lags far behind the national average in per capita income, coming in at about 80 to 82 percent of typical U.S. earnings for many decades.
It's because of lower overall educational attainment and lower levels of innovation, according to a study the Center for Applied Business Research at the University of Kentucky conducted. The Kentucky Chamber of Commerce commissioned CABR to identify why the state remained at around 80 percent of national per capita income while regional neighbors who had been our income peers advanced. (See "Finding the Keys" May and June 2008 issues of The Lane Report for a recap of the study.) Among the key findings: Residents of other states outpace Kentuckians in filing for and receiving patents, a concrete measure of creative thought.
"Kentucky just needs more creative, revolutionary thinkers and innovators and risk takers," Kimel states bluntly.
"Kentucky does well at putting together others' ideas," he said. The commonwealth has a stronger manufacturing base than most states. "We need to generate more (ideas) of our own."
Specifically, Kimel said, Kentuckians – especially academics, researchers and the business community – need to focus on ideas and innovation that can "create exponential change." And they need to bring those big ideas to the marketplace.
Why exponential change? That's the state's only play if its residents are to catch the rest of the United States financially in the foreseeable future.
"Linear growth will never bring Kentucky to the national (income) average," Kimel said.
Nature, he notes, innovates by adapting and by intermingling, occurring largely as a result of mixing different backgrounds and perspectives.
The commercial, business and industrial sector works similarly – innovative capacity is very much an outgrowth of diversity in all its forms producing a creative cross-fertilization.
"Innovation, that's the United States' sweet spot, our economic advantage," Kimel said. It's no coincidence that the United States is also a melting pot of the world's peoples.
Kentucky can benefit by fostering a broader mix of industries, according to Kimel, especially those that create new knowledge such as nanotechnology and bio/life sciences, and by supporting a local culture that encourages and promotes creativity.
That's a lot of the mission that the Kentucky Science and Technology Corp. has taken on. Among its activities, it operates the Kentucky Enterprise fund, whose goal is to stimulate private investment in Kentucky-based technology companies. By partnering with the Kentucky Council on Postsecondary Education, KSTC is able to offer seed capital for promising science- and technology-related start-ups. Eligible companies are put through a rigorous due-diligence vetting process. They must be Kentucky-based, have 150 or fewer employees and must be operating in: biosciences, environmental and energy technologies, human health and development, information technology and communication, or materials science and advanced manufacturing.
It's the state's largest early-stage investment fund.
Small technology companies, lots of them, are the Kentucky's best strategy to a better financial future and quality of life for its residents, in KSTC's view.
"If Kentucky succeeds, it won't be several giants," Kimel said. "It will be hundreds of entrepreneurial operations" that get it there. And creativity is an integral part of the infrastructure.
Importantly, KSTC believes creativity is not just a genetic predisposition.
"It can be taught," Kimel said. "Creating a culture of creative thinking is essential if we are going to be successful" in reaching the state's goals.
Creative thought can be jarring, but that is a good thing.
Kimel likes to cite a quotation attributed to Albert Einstein: "If at first the idea is not absurd, then there is no hope for it." He also like to recount how Igor Stravinsky's "Rite of Spring" musical ballet composition, now familiar and tame, had such innovative complex rhythmic structures, timbres and use of dissonance when it debuted in 1913 that the Paris audience literally rioted at its first public performance.
IdeaFestival's goal is not to prompt a physical riot, but it does seek to disturb the conventions and habits that keep the commercial life of Kentucky on cruise control, locked in at income levels 20 percent behind the national average.
Some state-based companies have individual representatives attend IF and a few send multimember delegations, he said, to stimulate creative thinking for their business.
IdeaFestival 2010 takes place Sept. 29 through Oct. 2 at the Kentucky Center for the Performing Arts in Louisville.
IF's diverse and provocative presenter lineup attracts positive media coverage from major newspapers, magazines, online and broadcast media every year.
This year it will take place while Kentucky is hosting tens of thousands of international visitors here for the 2010 Alltech World Equestrian Games.
An "early bird" all-access pass to all IF presentations is $349, with student passes available for $199. Learn more at ideafestival.com or by calling (866) 966-4607.