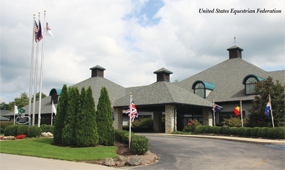 Dozens of national and international equine breed associations, regulatory bodies and benevolent groups make their home in the Bluegrass. More than 30 are headquartered just north of Lexington in the National Horse Center at the Kentucky Horse Park. Plus there are state and regional groups.
The American Saddlebred Horse Association was the first breed registry to take up residence at the Horse Park, moving into the new American Saddle Horse Museum Building in 1985. Founded in Louisville in 1891, the ASHA carries out administrative, promotional and educational activities for more than 8,000 members.
The United States Equestrian Federation – then the American Horse Shows Association – moved from Manhattan to the Horse Park in 1999, and has 110 employees in Lexington.
"For 10 or 15 years there had been a relocation committee, and there were five or six cities under strong consideration," said Kathy Meyer, USEF senior vice president of marketing/communications. "The leadership felt that in order to grow, we needed to be in a place more accessible to our membership, and in a place they could relate to.
"There were also tax incentives to bring our employees to Lexington, and the cost and quality of living here helped validate the decision," she said. "Our move helped pave the way for other equine groups to relocate here as well. You can look back and say we really did the right thing at the right time. In perception, and in reality, this really is the hub of horse sport and the horse industry – and we're in the center of the hub."
Housing groups at the park "was part of the original plan, but it was overlooked for many years," said John Nicholson, executive director of the Kentucky Horse Park. "There were 11 groups here when I came on board in 1997, now there are 35.
"The USEF moving here was key, and helped us achieve critical mass," he said. "The growth has been amazing, and this is perhaps the finest example of why we are the 'Horse Capital of the World.' There's no other single place with so much equine leadership in one area," he said.
One of the most prominent national Thoroughbred organizations is The Jockey Club and its affiliated companies, with 129 employees housed on Corporate Drive in Lexington. It moved its breed registration services to Lexington in 1988, while maintaining an office in New York City.
"Moving the registration department allowed us to align all of our processing departments within the same building," said Executive Director Matt Iuliano. "This not only enabled more efficient operations and staffing, but also set the foundation to leverage the centralized database design to support growth and strategic business initiatives."
National and International Equine Groups Headquartered in the Bluegrass
All headquarters are in Lexington unless otherwise noted.
American Association of Equine Practitioners
aaep.org
Formed in 1954, AAEP is a professional organization for nearly 10,000 veterinarian practitioners and students in 64 countries.
American Hackney Horse Society
hackneysociety.com
Incorporated in 1891, the society maintains the registry and stud book for the breed and publishes a stud book.
American Hanoverian Society
Hanoverian.org
Maintains the U.S. breed registry.
American Saddlebred Horse
Association saddlebred.com
Founded in 1891 in Louisville, it carries out administrative activities for 8,000-plus members.
Association of Racing Commissioners International
arci.com
Upholds the integrity of pari-mutuel horse racing, dog racing and jai-alai in the United States, Canada, Jamaica, Puerto Rico and Trinidad and Tobago, and serves a worldwide membership.
Breeders' Cup Ltd.
breederscup.com
Founded in 1982, The Breeders' Cup brings together the world's best Thoroughbreds for multimillion-dollar races every fall – this year Nov. 5-6 at Churchill Downs. It maintains eligibility records and biographical information on participants.
Certified Horsemanship Association
cha-ahse.org
The CHA certifies various instructors and accredits equine facilities.
Fasig-Tipton Company, Inc.
fasigtipton.com
Formed in 1898 in New York, it moved to Lexington in 1972 and holds Thoroughbred auctions across the country.
Friesian Horse Association of North America
fhana.com
The registry and membership organization in North America for the 8,000-member Het Friesch Paarden-Stamboek, founded in 1879 in The Netherlands.
The Jockey Club
jockeyclub.com
Formed in 1894 in New York City, it is the breed registry for all Thoroughbreds foaled in North America and Puerto Rico. It serves the breeding and racing industry through subsidiary companies.
The Jockey's Guild
jockeysguild.com
Nicholasville, Ky.
Founded in the 1940s, it represents Thoroughbred and American Quarter Horse jockeys in insurance, healthcare and safety.
National Horsemen's Benevolent and Protective Association
hbpa.org
Formed in New England in 1940, it has 35,000-plus members. A policy voice for horsemen in racing, it assists organizations, provides insurance and promotes racing in North America.
National Thoroughbred Racing Association
ntra.com
A coalition of racetracks, owners, breeders, trainers, horseplayers and affiliated associations promoting racing, safety, integrity. It offers buying discounts for members. It also has an office in New York.
National Walking Horse Association nwha.com
NWHA promotes education, responsibility, sportsmanship and recreational activities.
Paso Fino Horse Association
pfha.org
The association oversees shows, membership and maintains information for the Spanish heritage breed.
The Pyramid Society
pyramidsociety.org
A breeders organization created by Americans in 1969 to preserve the Straight Egyptian Arabian horse. It has 500-plus members worldwide.
Race Track Chaplaincy of America
rtcanational.org
Georgetown, Ky.
Organized in 1971 at Georgetown College, 60 interdenominational, Christian chaplains serve more than 100 racetracks, training centers and breeding farms internationally.
Thoroughbred Owners and Breeders Association
toba.org
Formed in 1961, it is the national Thoroughbred owners and breeders trade organization.
United States Dressage Federation
usdf.org
USDF provides programs for 125 affiliate local and regional dressage clubs with 2,000-plus annual competition awards.
United States Equestrian Federation
usef.org
Founded in 1917, USEF is the national governing body for all U.S. equestrian competition. It trains, selects and funds the U.S. Equestrian Team.
United States Hunter Jumper
Association ushja.org
The USHJA provides the framework for the sport at all levels and education for members. It operates under the USEF umbrella.
United States Polo Association
uspolo.org
It is the U.S. governing body and oversees tournaments (including collegiate and scholastic) and polo clubs.
United States Pony Clubs
ponyclub.org
Formed in 1954, it teaches youth riding and care of horses and ponies.