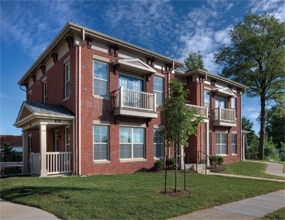 Eighty residential acres just east of downtown Lexington has undergone a dramatic renewal the past five years from Kentucky's oldest housing project into the newest and what certainly must be one of the most desirable of affordable-housing developments in the nation.
Beginning with a $20 million HUD Hope VI grant, Lexington Housing Authority administration served as its own developer, attracted public and private partners, and leveraged the grant into a revitalization project whose worth tallies just south of $100 million. A celebration June 10 christened a new neighborhood of attractive, modern multi- and single-family homes, every one different in appearance.
In addition to the Hope VI grant, money came from the local school system, Kentucky Housing Authority tax credits, Lexington-Fayette Urban County Government, the local Health Department, annual capital allotments from HUD, proceeds from sales of new homes built on site, and even a dollop of federal stimulus dollars.
Most of it is outside money for the community, notes Austin Simms, executive director of the Lexington Housing Authority.
The before and after is startling. Until five years ago, the area was the Bluegrass-Aspendale projects, an isolated island of 936 red brick barracks-style units dating to the 1930s. It was stereotypical crime-plagued public housing stock that had declined into one of the least desirable residential spots in central Kentucky.
The buildings were structurally sound, Simms said, but they had become functionally obsolete.
Today it's an inviting traditional-residential oasis whose varied structures communicates quality with pleasing entrances, columned porches, window-splashed facades and pleasant color schemes. The new streets have underground utilities, community green space and lots of mature trees.
There was one way into and out of the identical Bluegrass-Aspendale units arranged around a pair of looped streets. The streets were bulldozed with the structures. Now, new avenues, several with green medians, are built on a grid around a new neighborhood school and connect to surrounding streets. Parking is in the rear on lots built with an environment-friendly permeable paver system that improves drainage.
All of the reborn neighborhood's design features are intentional, explains Simms.
The goal was to make the neighborhood a desirable place to live, to improve attitudes and to erase the stigma attached to Bluegrass-Aspendale, said Kevin Matthews of Lexington-based Sherman Carter Barnhart architects, who was project manager.
Sherman Carter Barnhart also managed the six-city-block Liberty Green renovation just east of downtown Louisville, a project with shared characteristics.
The design ideas employ social principles and are referred to as New Urbanism, Matthews said. The porches, windows, proximity to the street, lack of individual driveways and communal resident parking in the rear all encourage residents to engage and connect with one another and to keep eyes on the street, creating a natural neighborhood watch.
The neighborhood's 80-year-old trees improve energy use in addition to being attractive, Matthews said.
"It adds character," he said. "They have a large, wonderful canopy. It looks like an established neighborhood." However, that canopy "reduces some of the heat island effect" and residents cut costs in the summer, he explained. Plus, according to New Urbanism principles, shaded, narrower streets promote slower vehicle traffic, which makes sidewalks more inviting for pedestrians.
Collaborative, creative design process
Matthews describes a satisfying collaborative process among the civil engineers, landscape architects and general architectural staff on the project. Those functions usually are done in isolation; separate firms often perform these steps.
"I think that's one reason why it was so successful, because they all worked together," he said.
Meshing those duties was not difficult, which had been a concern.
"It was very creative," Matthews said. "We already had a lot of enthusiasm for the project, but being able to explore different design ideas, color palettes – that also goes into not just the houses themselves, but how you can use different kinds of landscape materials on the site, placement of ornamental fencing. It's a very comprehensive look to the design."
Matthews gives special credit to the Lexington Housing Authority administration.
"We can design all day long," he said, "but if you don't have a builder who supports your vision, and encourages you, and has the staff that encourages you, it doesn't matter how talented a designer you are," he said.
In addition to Executive Director Simms, he cites Barry Holmes, the LHA procurement and development manager, and Michelle Lee, assistant for modernization/development/HOPE VI.
"They're all very, very progressive," Matthews said. "Lexington-Fayette are very fortunate to have them."
Simms is an advocate of treating people well to inspire better results. At his insistence, Lexington was the first in the nation to put air-conditioning in public housing, which at the time was not part of HUD's formulaic policy. "He challenged their policy," Matthews said.
Acknowledged at home, Simms is recognized in the national HUD community.
He is a past president of the Southeastern Regional Council of the National Association of Housing and Redevelopment Officials, a member of NAHRO's Board of Governors, past president of the Kentucky Housing Association, serves on several regional and national housing committees, and is a licensed real estate agent. In 2008, Simms was among an inaugural class of eight who received the NAHRO Fellowship designation, created to honor those who've demonstrated a sustained commitment to improve the housing conditions and the viability of their communities.
In April, the YMCA Black Achievers Program named Simms the 2010 Community Achiever of the Year, an award for those who evoke positive change through leadership and commitment to community betterment.
Simms has been an elected Fayette County Public Schools Board member and is Leadership Lexington graduate. Community affiliations have included membership on the St. Joseph Hospital Board, Fayette County Public School's Task Force on Excellence, Appalachia Educational Laboratory Board, Blue Grass Airport Board and the Commerce Lexington board.
Third time the charm for grant. This latest undertaking in the East End of downtown Lexington required perseverance. The Hope VI grant required three applications before HUD awarded it. The grant came with clear instructions regarding Bluegrass-Aspendale, Simms said: "Tear it down."
LHA's aim, though, is to lift local residents up, not merely transferring poverty laterally, he said. There was relocation and job-training counseling for outgoing residents. Those hoping to come back must be self-sufficient.
"Residents now must be employed or enrolled in an accredited technical school or college. They can't be unemployed," said Holmes, the LHA procurement and development manager. "The various social services have been very helpful with making people eligible to move back to a pretty, new site."
There are approximately 450 new residences in the rebuild neighborhood. Most are apartments and townhomes, but strikingly for a public project there also are 102 single-family homes, which are for sale in the $100,000 to $120,000 range. As part of the rehab, LHA sold the lots to pre-qualified local homebuilders for the development of 93 "affordable" and nine market-rate homes.
Once sold, the homes will go back on the local tax rolls, Simms notes.
The overall project brought tens of millions of outside dollars into the community, he said. Those dollars, in turn, went chiefly to local contractors and construction suppliers.
The biggest infusion came from the sale of $26 million in tax credits from the Kentucky Housing Authority. While such credits typically sell for 60 to 70 cents on the dollar now, LHA managed to get about 98 cents on the dollar before the recession struck.
The Fayette County public school system was also a big financial partner. First it paid LHA $12 million for property, Simms said, then spent another $12 million to build the state-of-the-art William Wells Brown Elementary in the neighborhood. Lexington-Fayette Urban County Government contributed money to enhance the school gym and add offices so Parks and Recreation could run programs for the neighborhood, and the health department similarly built a satellite clinic inside the school entrance.
LHA saved several million by acting as its own developer for the project. And the decision to use permeable pavers for the parking was a big money saver: It averted the need for water retention areas in the 80-acre space, freeing up more than $1 million that then went toward building more housing.
Even the name Bluegrass-Aspendale is receding into history. The various sections of the neighborhood now are named Grand Oaks (88 apartments), The Shropshire (80 townhomes), Bridlewood (88 apartments), Shropshire East (32 townhomes), Twin Oaks Park (60 townhomes) and Equestrian View (102 single-family homes).
"It's come a long way," Simms said.