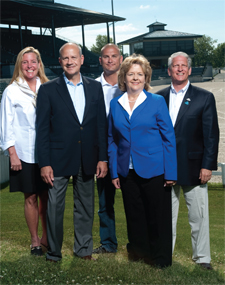 Years of event planning is entering the execution phase at the Kentucky Horse Park just north of Lexington. As you read this, organizers are orchestrating a philharmonic of hundreds of contractors.
The Alltech 2010 FEI World Equestrian Games (WEG)taking place Sept. 25 through Oct. 10 at the Kentucky Horse Park are expected to draw 800 equine athletes and their human counterparts, and hundreds of thousands of spectators. The spectacle will involve 300 vendors, 1,000-plus members of the media and some 7,000 volunteers.
Never before held outside Europe, the games will shine an international spotlight on the Bluegrass, exposing Lexington and the state to millions of people the world over.
Organizing an event of such magnitude is a logistical and operational challenge to be sure – the animals, athletes, spectators, media and volunteers all have special needs. But the games' management team members at the Kentucky Horse Park, the United States Equestrian Federation and the World Games 2010 Foundation feel their extensive planning will ensure the event meets world-class standards.
"This entire project is very similar to construction on an open piece of land," said Rob Hinkle, COO for the foundation. "We have to bring in the infrastructure. We have to figure what goes in first and go from there. There are a lot of schedules we have to adhere to, and everything has to hit at the right time. If not, you have the domino effect."
Laying the groundwork
Lexingtonians have been reminded of the games' pending arrival for many months now, as title sponsor Alltech's numerous countdown clocks tick down the days. What most don't know is that the behind-the-scenes efforts to bring WEG to the Bluegrass started more than a decade ago.
John Nicholson, executive director of the Kentucky Horse Park since 1997, said the event first hit his radar in late 2001 when he was traveling in Europe. "The (2002) games had just been awarded to Spain, and we began to put together a plan for a bid for 2006," he said.
WEG is governed by Switzerland-based Fédération Equestre Internationale (FEI). Held every four years (between Olympics), the games feature eight disciplines, including three that are also part of the Olympics.
Kentucky narrowly lost the 2006 WEG bid to Aachen, Germany. "I wasn't thinking it was a blessing in disguise when we lost the bid the first time," said Nicholson, who is also president of the WEG 2010 Foundation, "but now I see that it was."
A number of people, including Nicholson and John Long, CEO of USEF, began work anew on a bid for the 2010 games. Part of the plan was to fast-track Horse Park improvements that were scheduled for the future. "We had 30-year-old infrastructure," said Nicholson. "There was a sense of urgency because improvements were needed even if we didn't win the games."
Some $110 million in permanent improvements to the state-owned park were funded with $80 million in public money and $30 million from private sources, he said. A new outdoor stadium and indoor arena were completed in April and July 2009, respectively.
Shortly before the team made its pitch to FEI again in December 2005, it got thrown a curveball. Kentucky's constitution, they learned, does not allow a state-owned entity, such as the Horse Park, to enter a contract with a foreign entity such as the FEI. Hence, the birth of the World Games 2010 Foundation Inc.
"It became a separate entity that organized the event on behalf of the USEF and the Horse Park," said Long.
Building a budget
A first step was building a budget, which presented challenges aplenty – notably, there was no failproof way to project income.
"The World Games 2010 Foundation is a non-profit, 501(c)3 organization, whose operating budget is made entirely of revenue derived from ticket sales, hospitality sales, sponsorships and other revenue streams such as sales of trade show booth space, merchandise, etc.," said Jamie Link, who came aboard as the foundation's CEO early in 2009. "Vendors pay a fee to purchase their desired amount of booth space.
"We must maintain fiscal responsibility, and so of course the first goal is to be budget neutral. Profits from the games will benefit the Kentucky Horse Park," said Link.
Long was executive vice president and COO at Churchill Downs before joining USEF in 2003. "I've learned a lot," he said, "mainly that a non-profit still needs to run as a real business. Having a business background helped in the construction of the WEG budget."
The budget got a huge boost when Nicholasville-based Alltech signed on early, becoming the first title sponsor in WEG's history. (Alltech has its own organizing effort. See "Creating a Superbrand," September 2009 Lane Report.)
"We were gifted this wonderful $10 million sponsorship by Alltech," said Long.
"It was completely unexpected. We had initially planned on a total of $12 or $13 million in sponsorships, and Alltech steps up with this generous offering for the title sponsorship. That changed everything."
The final sponsorship total is projected to be near $25 million.
Also unexpected was the severe global economic downturn that hit in 2008. Ticket sales are not yet meeting projections, and some major sponsorship slots remain unfilled.
"If you'd told me four years ago that we wouldn't have a major automobile or international financial sponsor, I wouldn't have believed it," said Long. "We've found that we have to be nimble, flexible and able to adjust.
"It's notable that we are receiving no government funding," said Long, who is also the foundation's chairman of the board. "Some 40 percent of the budget for Aachen was underwritten by the government, and France, which has been awarded the 2014 Games, is getting 60 percent of their funding from state, regional and federal governments."
While there is no direct WEG operational funding, the state has made contributions. "The General Assembly approved extra resources for the Kentucky State Police, and extra subsidies to offset the losses incurred at the Horse Park during staging," said Marcheta Sparrow, secretary of Kentucky's Tourism, Arts and Heritage Cabinet.
"The Tourism Department has conducted two major blitzes recently, one in eastern and one in western Kentucky – talking to media, businesses, chambers of commerce – getting people energized about the games," Sparrow said.
"(Tourism's) big push during the games is the Kentucky Experience Pavilion.
Each of the nine tourism regions in the state has sponsored a portion, and they will be highlighting their regions. This has been a big undertaking, several years in the making.
"It's a wonderful opportunity not only to showcase Kentucky during the games, but I believe it will stretch us beyond our usual bounds," she said. "The components can be used to promote the state afterwards."
The build out
As summer began, there was an acceleration in activity at the Horse Park. The main parking lot was milled and repaved to prep it for the Kentucky Experience and Alltech Experience venues that will greet WEG attendees.
Land behind the new Outdoor Arena is being leveled for several sponsor structures and the main media facility that will be erected. Trucks delivered materials that are being assembled into what will be 36,000 temporary seats. When all temporary structures are in place, they will number at least 300, ranging from large open tents with flooring to buildings with heating, ventilation, air-conditioning and interior decoration.
Hinkle, who is foundation vice president of operations and administration, previously spent several years at the Horse Park running special events prior to moving to Florida to manage equine operations at Disney World. While appreciative of the experience gained at the nation's top theme park, "I wanted to get back to the sport," he said.
He became World Games 2010 Foundation's first employee in 2006. One of his primary responsibilities is overseeing the hundreds of contracts and contractors.
"Very few in this area have done events this large, but we love to involve local people and companies," Hinkle said. "Some of the larger contractors from elsewhere have subcontracted to locals."
Beyond building the infrastructure necessary to put WEG on, there is the very real-world challenge of coming in on budget.
"You find the people best suited to provide the services, at the best price," said Sean Doane, venue manager. "That's the key to running a major event."
Doane has overseen major events in Las Vegas. Operating in a smaller market, though, is different.
"In Las Vegas, you've got everything you need right in town," he said. "Here, there aren't many vendors that have put on an event of this scale. But we've made sure the people of Lexington and Kentucky were involved as much as possible."
Meanwhile, Horse Park operation continues, with an average of three events a week between now and the end of August. A major exhibit, "A Gift from the Desert," recently opened at its International Museum of the Horse.
Plenty of moving parts
In early July, approximately 20 workers started construction on temporary seating and buildings. "Moving forward, it will be 350 to 400 just for the build-out," said Doane, who oversees keeping all projects moving while Scott Lowery oversees the business end of the build-out.
Tents will start going up shortly, and will go up very quickly. "A good tent crew can erect 20,000 feet of temporary structure in a day," said Doane. "Power and HVAC will follow right behind that."
Generators will power most temporary structures during WEG?and run six 53-foot television control trucks.
"We worked with KU, the city of Lexington and the Horse Park and determined it would be less expensive to self-generate," said Doane. "As of today, we're planning on using over 200 generators in various sizes."
Houston-based Aggreko, which has a satellite facility in Cincinnati, is the electrical provider. It has worked major events on the PGA Tour and the Vancouver Olympics, Doane said. Before WEG opens, Doane said, they'll conduct a five-day test of continuous power and have back-up generators at the ready.
WEG 2010 will generate 130 hours of television coverage, the biggest equestrian event broadcast in U.S. history, said Hinkle. More than 125 countries will broadcast parts of the games in over 25 languages. The 40 cameras shooting will require 150 miles of cable for power and transmission. Most of the media will be housed in hotel blocks in Richmond and bused to the park daily.
Various park areas have managers for build-out and during the games. A computerized ticket system will track problems that arise and fixes, Doane said. An IT department member will oversee the use of radio frequencies to be used by television, police, operations staff and more to ensure channels don't conflict. Even WEG trash disposal is a big project.
"We're making an attempt to be as 'green' as possible," said Doane. "We'll have a number of compactors for trash and recyclables, all out of sight, and we'll be collecting areas often."
Underscoring the myriad details involved in preparations, the several thousand Canada geese that had settled in the park were an issue to resolve because, among other things, they were soiling the stadium's expensive synthetic performance surface.
"We used strobe lights and a recording of predators to encourage them to go elsewhere," said Nicholson. A state Fish and Wildlife crew followed up June 28 to collect the stragglers and relocate them to Western Kentucky.
Bring on the horses
Another unique facet of WEG is the transport, health and safety of some 800 equine athletes. Issues include strict vaccination rules, quarantine and the sheer volume of horses transported long distances to the competition.
"One of the biggest challenges involved in holding the games in the United States is transportation of the horses," said Sabrina Zeender, FEI coordinator for the Alltech Games. "This is undoubtedly the largest movement of competition horses ever undertaken.
"Hosting an event of this magnitude, of course, carries its own challenges, particularly with regard to infrastructure and the logistics of bringing together upwards of 800 athletes and 800 horses and thousands of spectators," she said.
"But the infrastructure at Kentucky Horse Park has been delivered on time, and the teams are working well together on the ground. We have every reason to be confident that we'll have a fantastic games."
The end result
"It's a wonderful opportunity to showcase the state," said Sparrow, "and it will leave behind a wonderful legacy for the state, and the Horse Park in particular.
We're already known for having one of the finest venues, if not the finest, in North America. Now people around the world will know how wonderful it is."
"I think the games have already worked, because of the new groups that are coming here to the new facilities. At this point, we've already booked approximately 20 new events," said Nicholson. "Among those in the international equine industry, we're already viewed among the leading facilities of this type in the world – and perhaps the leading facility in the world."