Jeanne Fisher will serve as local resource for personal finance issues
LOUSIVILLE, Ky. (Jan. 15, 2015) — Jeanne Fisher, a certified financial planner for ARGI Investment Services in Louisville, is the only Kentucky representative among 28 volunteers named to the Certified Financial Planner Board of Standard's Board Ambassadors.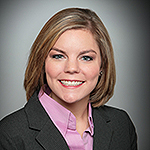 Ambassadors serve as a resource for their local communities, the media and within the financial planning profession by:
Educating the public on the importance of having a financial plan that supports one's life goals, and of working with a competent, ethical financial professional;
Representing and explaining the meaning of the CFP certification, the recognized symbol of excellence in personal financial planning; and
Supporting CFP Board's Consumer Advocate program, which currently includes a series of monthly personal finance tips, broadening the awareness of financial planning to all consumers, promoting the benefits of gaining CFP certification among their peers, and publicizing CFP Board's Public Awareness Campaign, designed to raises awareness of the CFP certification.
"I'm very excited to serve as a CFP Board Ambassador where I will be able to use my experience as a CFP professional to help my community, providing information and insights on how financial planning can improve people's lives," Fisher said.
Fisher, of Bowling Green, has been with ARGI since 2009. She graduated from Western Kentucky University with a B.S. in finance and economics and received an MBA at the University of Kentucky.