Optimism developed traction in 2014, and solidly positive expectations for 2015 are gaining momentum. The Kentucky public and private-sector leaders responding for The Lane Report's annual economic outlook survey report that 2014 finally produced solid if unspectacular gains – but enough to create consensus that 2015 forecasts of slow growth accelerating.
While the healthcare sector continues adjusting to shifting financial incentives and consumer cost-consciousness, most industries and business sectors are experiencing growing demand and activity to the degree that they can finally justify investing in more capacity. Kentucky's bourbon industry is attracting new participants, and existing members all are expanding. The Kentucky Bourbon Trail is becoming an industry unto itself and boosting tourism; downtown Louisville has seven new hotel projects and downtown Lexington two.
Kentucky ranks as the No. 3 state in vehicle manufacturing, and sales of cars and trucks were very strong in 2014 and expected to maintain that strength in 2015. With Lexus production beginning this year in Georgetown at the already massive Toyota operation there, the state could even jump to second nationally in car and light truck production.
The U.S. housing recovery is slow, but it is occurring and benefitting Kentucky's forest and wood products industry (see article on page 26), which generates more than $10 billion in annual economic impact. The Thoroughbred market has rebalanced from its low point at the beginning of the decade and is moving into an up cycle, and agribusiness as a whole is performing well, having set new receipts records in the past few of years.
Expectations are for GDP growth of more than 3 percent in Kentucky for 2015 with corresponding increases in employment. Said Kentucky Governor Steve Beshear, "2014 was an outstanding year for Kentucky, and I fully expect our economic acceleration to continue in 2015. In 2014, Kentucky's manufacturing, service and technology sectors announced more than 350 new location and expansion projects, projected to create almost 15,000 new jobs and more than $3.7 billion in investment. That's the highest business investment since we started recording data 28 years ago. Our jobless rate is 6 percent and falling – an incredible improvement over the 10.7 percent at the worst of the recession. In 2015, Kentucky will build on this momentum by attracting foreign investment, innovating in advanced manufacturing, and supporting entrepreneurs in growing new businesses across our state."
"Expect solid economic growth in 2015 and beyond. Businesses are finally beginning to spend on expansion in a big way as they have gained confidence in the recovery, though lower unemployment will exasperate already-difficult workforce hiring issues," said Kent Oyler, president of Greater Lousiville, Inc. (GLI). It appears the federal and state legislatures will mostly keep their hands out of business as they fight amongst themselves (generally a good thing), though some unelected regulators will continue to pursue decidedly anti-business agendas and the meddling battles such as minimum wage will continue to migrate to local venues (a bad thing). GLI's strategy going for 2015 is to pursue economic growth on a regional basis while continuing to advocate for a level playing field at the local, state and federal levels."
"National forecasting service Global Insight projects GDP growth of 2.6 percent for 2015 – good but not knock-your-socks-off growth. Kentucky saw positive, solid 2.1 percent year-over-year job growth in 2014 and finally regained all the jobs lost during the 2008-09 recession," said University of Louisville president, Dr. James Ramsey. "Kentucky will continue to experience economic growth in 2015 with employment growth of about 1.5 percent. This growth will be uneven, with Eastern Kentucky continuing to lag the rest of the state. Despite continued positive growth, Kentucky will continue to face significant financial policy challenges due to: loss of elasticity of tax structure; unfunded liability of the public pension programs; and no financing plan for the future costs of increased Medicaid enrollment."
According to Steve Sigg, CEO of SIS Holding Co., Inc., "Many information technology transformations are impacting almost every aspect of our personal lives, businesses and overall economy. One of the latest characterizations of this global transformation is the 'Internet of Things' – enabled through cloud computing; accessed via mobile devices; used to collaborate; creating big data that is analyzed with new technologies. The impact IoT has on the economy largely depends on what the world does with the capabilities and data. The capabilities deliver efficiencies, swift access to information and powerful decision-making opportunities; the data provides opportunity to build intelligence and drive economic decisions. The Internet of Things will shape our economic futures."
James H. Brammell, President and CEO of Louisville Water Co., said, "Louisville Water will continue to provide an excellent value for its customers in 2015 with the average residential water bill among the lowest in the region. Although residential water sales are forecasted to remain steady, we're seeing modest growth in new development and industry. Louisville Water continues to expand its regional footprint with new partnerships in Bullitt and Hardin Counties. Technology is at the forefront in 2015 as we launch a new software platform for customer care and billing."
"Blue Grass Airport was fortunate in 2014 to have experienced one of our busiest years in its history. In the year ahead, we will experience the benefits – and sometimes challenges – of a consolidated airline industry," said Eric Frankl, Executive Director of Lexington's Blue Grass Airport. "The members of our business community, the universities and leisure travelers have strongly supported the airport and our airline partners – American/US Airways, Delta, United and Allegiant. Our passengers will have access to expanded networks as well as the new non-stop destinations of Philadelphia and Myrtle Beach that were added to Lexington's route map in 2014."
"Expect the commonwealth to have a robust year with continued industry and job growth," says Dr. James Hurley, president of the University of Pikeville. "Falling gasoline prices will add to growth in tourism and discretionary consumer spending. We will continue to develop public-private partnerships across the commonwealth that will help drive innovation and job creation. Through the extraordinary efforts of the SOAR (Shaping Our Appalachian Region) initiative, Eastern Kentucky will continue to redefine and create a hybrid economy centered on energy, education, entrepreneurship and tourism. We cannot lose focus on the importance of education and our continued efforts to improve access, affordability and attainment rates."
Ruth Brinkley, CEO of KentuckyOne Health, says, "In 2015, we anticipate significant growth in the areas of wellness and primary care. Many insurers are now required to cover preventive services at no cost to consumers. As consumers better understand this, more individuals are likely to seek preventive services as recommended. We also believe patients will continue to take a more proactive role in choosing when, where and how they receive care. As a result, health systems will continue to invest in new technology, ultimately improving access, and delivering care in a more convenient and consumer-friendly manner."
"2015 promises to be a year of prosperity in the Bowling Green/Southcentral Kentucky region. Development in the Bowling Green TIF (tax increment financing) district continues to progress at an impressive rate, particularly at WKU, the gateway to downtown Bowling Green," said Dr. Gary Ransdell, President of Western Kentucky University. "A Hyatt Place hotel and a major housing development both open in 2015, as does the WKU Honors College and International Center. While WKU continues to be the economic driver for the region, the Honors College and the Gatton Academy have established the intellectual heartbeat for Kentucky."
Dr. Andrew Henderson, CEO of Lexington Clinic, said, "2015 promises more healthcare change. Last year, the number of insured individuals increased due to healthcare reform, but increasing premiums, deductibles and co-payments place a heavier financial burden on patients. Sensitive to these issues, Lexington Clinic continues to refine practices to ensure we are providing the highest quality care. We had more than 600,000 outpatient visits in 2014 and plan to open a site in Beaumont this year. As Central Kentucky's oldest and largest physician group practice and the only Accreditation Association for Ambulatory Health Care-accredited medical group practice in the state, Lexington Clinic is keeping up with the ever-changing healthcare environment and keeping the best interest of patients as our top priority."
Crinda Francke, president of ExecuTrain of Kentucky in Lexington said, "Business will have to find a way to be as imaginative as the future worker they want to attract and retain. Companies that provide dynamic learning options, social connectivity and an arsenal of personal devices will thrive. To build a competitive advantage, organizations must capitalize on the combined power of the individualized worker and social dynamics. With a five-generations workforce, workplace strategies must anticipate and accommodate multigenerational needs for work-life balance, ergonomic design, remote/flexible work arrangements and high interactivity. Smart companies capitalize both on the Baby Boomer's knowledge and the Millennial's creativity, providing a workplace that fosters collaboration and supports a ravenous appetite for continued growth and learning."
"As a hard-wired optimist, I expect a continued economic recovery. All indicators point in this direction," said Dr. Michael Benson, president of Eastern Kentucky University. "While we are at the mercy of world events beyond our control, our focus for 2015 will be on the certainties of what higher education can do for one's prosperity and future. Eastern Kentucky University, along with all of our state's outstanding colleges and universities both public and private, can better enhance the quality of life for all Kentuckians."
"2015 is expected to be a year of modest growth in commercial aviation. After five years of consolidation, we now expect the industry to focus on long-term profitability," said Skip Miller, Executive Director of the Louisville Regional Airport Authority. "Airlines will replace older 50-seat regional jets with new, larger and more fuel-efficient aircraft. After years of reducing capacity, airlines have more opportunities for growth than they have aircraft to fly the routes. Communities wanting air service growth will need to clearly demonstrate demand through an expanding local economy. Louisville is well positioned to compete, and we will work with the business community to enhance the region's connectivity to the global marketplace. As one of the world's seven busiest cargo airports, Louisville International's major role in local and national economic activity will continue. The air cargo and logistics future is bright."
"The health of our economy is intricately linked to the health of our communities. We will continue to see an increased emphasis on wellness, preventative healthcare and management of chronic diseases; employers and insurers are focusing on cost, quality and the value of investing in health. Providers will continue to increase major capital investment in ambulatory settings and technology, and away from new hospital construction," said Philip Patterson, president and CEO of Owensboro (Kentucky) Health. "Patients will become increasingly empowered to participate actively in their care through mobile applications and electronic medical record platforms."
"The University of Kentucky has forged creative pathways to prosper in a difficult fiscal climate by using our on-campus talent and collaborating with public, private and philanthropic partners. Though challenges impacting teaching, research, service and care missions persist, we are optimistic that – through partnership – we will continue to effectively serve those we touch and teach in 2015," said Dr. Eli Capiluto, president of the University of Kentucky. "Though enrollments are stagnant nationally, UK has seen five years of record classes in size, diversity and quality. More than $1.3 billion in construction underway at UK is creating jobs and new tax revenue. UK HealthCare continues to grow in patient volume, complexity of treatment and modern space to provide families with high-quality care close to home. Because of strategies set over the last decade, UK is reaching new research enterprise heights by earning competitive federal grants that support scientific discovery."
Dr. Pearse Lyons, president of Lexington's Alltech, Inc., says, "Alltech sees 2015 promising to be another exciting year. To meet demand for barrel-aged craft beers, Alltech Lexington Brewing and Distilling Co. has invested $7.5 million in local expansions to quadruple production for beer and spirits now exported to six countries. We're opening a brewing and distilling academy in Lexington, and breaking ground on Dueling Barrels Distillery in Pikeville, which we hope serves as an economic catalyst for Eastern Kentucky. We are expanding our three agricultural and nutrition business manufacturing locations in Kentucky, and see opportunity for production at our Winchester commercial algae facility, one of the two largest in the world, to become a sustainable alternative to fish oil. There is a growth market also for Alltech Crop Science's natural biostimulants as people move away from chemical pesticides and herbicides."
Dr. Geoffrey Mearns, president of Northern Kentucky University in Highland Heights, says, "Each year, the Commonwealth of Kentucky appropriates nearly $1 billion to support public higher education. Yet there is no rational relationship between the amount of state support an institution receives and the outcomes that institution produces. To create the talent our businesses need to compete in the 21st century, Kentucky must develop a rational, outcome-based funding model for public higher education. Such a model is critical to economic growth – and it's the right thing to do for every student and every taxpayer in Kentucky."
"Investing in water and wastewater infrastructure will continue to be a key priority for Kentucky American Water so we can maintain excellent services for customers in portions of 11 Kentucky counties. Our 2015 capital investment will be approximately $25 million," said Cheryl Norton, president of Kentucky American Water Company in Lexington. "We will remain focused also on increasingly efficiency to control expenses, maintain value for customers and provide a fair return to investors. As part of the American Water family and the state's largest investor-owned water utility, we have broad industry expertise and unique access to capital. In addition to bringing value to many Kentucky communities, we look forward to the prospect of expanding our services to additional areas of the state."
John Roush, president of Centre College in Danville, Kentucky, said, "While there is a clear sense of economic optimism in the commonwealth, it's uneven, and this should be a matter of concern for us all. In the higher education sector, our longer-term responsibility should be to assure that a college degree remains accessible to Kentucky's underserved populations. More immediately, we must strive to keep our educational programs strong, relevant and of the highest quality. We can achieve this by focusing on quality; developing sustainable economic models; readying ourselves for change; and making sure the culture of our campuses is characterized by hard work, enthusiasm and forward thinking."
Brian Papke, president of Mazak Company in Florence, Kentucky, says, "Economic indicators, including industrial production and capacity utilization rates, and the Institute for Supply Management Index point to continued moderate growth, especially within manufacturing, for the U.S. economy in 2015. The skilled labor shortage, however, will continue to change how manufacturers process goods; reliance on advanced manufacturing technologies will intensify. To remain competitive, our U.S. manufacturing customers will further increase their focus on multiple-process machine tools, automation and digital integration that both simplify and make production operations more efficient. Mazak has transitioned the machines and controls we produce to higher levels of technology that match requirements of the market, providing us a growth opportunity in 2015 and beyond."
"At Luckett & Farley, we're anticipating building upon the architectural, engineering and interior design momentum we've experienced within the manufacturing, logistics and higher education markets in the commonwealth," said Ed Jerdonek President, Luckett & Farley of Louisville. "Additionally, our national media and entertainment design expertise continue to provide opportunities in major media markets like New York and Los Angeles, as well as station consolidations in smaller media markets throughout the United States. As a 100 percent employee-owned ESOP company, our entire staff is eager to build upon the successes they've enjoyed in 2014, continuing to climb the wealth-creation curve for themselves and their families."
"Kentucky's agriculture sector is poised for another big year in 2015 following a record-setting $6 billion in farm cash receipts in 2014," says Kentucky Secretary of Agriculture, James R. Comer. "Tight beef supplies are expected to keep cattle prices strong. The continuing expansion of Kentucky Proud will help producers and small businesses all over Kentucky. We're gearing up for a wide scope of pilot hemp projects in 2015 so that when commercial hemp production is open to all producers and processors, Kentucky will be first in line to take full advantage."
"The Northern Kentucky Chamber of Commerce is encouraged by the year-over-year growth our region is experiencing. Most recent statistics have our three-county (Boone, Campbell and Kenton) region with the lowest unemployment rate in the state," said Trey Grayson, President nd CEO of the Northern Kentucky Chamber of Commerce. "This is due to our diversified economy, led by high-growth industries like advanced manufacturing, healthcare, informatics and logistics. In 2015, we look forward to continuing this upward trend and working with policy makers to build the most friendly business climate possible with an emphasis on our burgeoning start-up community."
Jon Stewart, president and CEO of Kentucky Employers' Mutual Insurance in Lexington, says, "As Kentucky's largest provider of workers' compensation insurance, KEMI expects continued stability and modest competition in 2015. Employers weighing coverage options should make certain insurance providers are financially stable and provide the tools and service necessary to help control workers' compensation costs. In addition to lowering rates by 5 percent overall, KEMI will continue rewarding policyholders who demonstrate commitment to workplace safety and effective claims management."
"Commercial real estate fundamentals are projected to continue on a positive path in 2015. Entrepreneurial thought is buoyant and has gained a lot of traction, and investors are searching for people with confidence who know how to surpass the average," said Malcolm Bryant, president of The Malcolm Bryant Corporation in Owensboro, Kentucky. "The need to be 'well-done' is the new normal in all real estate; new speculative construction is difficult, with high construction costs and regulations that far outweigh existing property economics. Communities are energized when public-private partnerships (P3) create more synergy together, and P3 leveraging is creating fantastic opportunities. It is an exciting time to watch our young people find a high quality of life in so many different ways."
Wil James, president of Toyota Motor Manufacturing Kentucky, said, "2014 was the best year the automotive industry has seen since before the recession. As the third-highest vehicle producer in the nation, this is good news for Kentucky. At Toyota, we're beginning the year with strong momentum following the successful launch of the new 2015 Camry, our best Camry ever. This fall, our team in Georgetown will make history as we begin production of the first U.S.-made Lexus. All said, 2015 looks to be busy, but very bright – for Toyota and the industry."
"Having trended upward in 2014, more Bowling Green and south-central Kentucky tourism growth is expected in 2015 with the addition of new events and attractions," said Vicki Fitch, Executive Director of the Bowling Green Area Convention and Visitors Bureau. "Named a Top-10 All-American city by National Geographic magazine, Bowling Green will host 12 national automotive shows bringing thousands of visitors. That includes three new events: Camaro 5 Fest; Danchuk Tri-Five Nationals, and; the GoodGuys 4th Nostalgia Nationals. The sinkhole saga at the National Corvette Museum continues to receive international publicity. Fiber optic work nears completion at Michael O. Buchanon Park, making it the only complex in the U.S. with complete simultaneous live-streaming Internet capabilities at four of its eight regulation-softball fields. The Downing Museum at The Baker Arboretum is open and displays originals by acclaimed artist Joe Downing."
Tony Campbell, President and CEO of East Kentucky Power Cooperative in Winchester, says, "Kentucky continues to have some of the lowest U.S. electric rates, which boosts our economy, especially in manufacturing. Utilities fight to hold the line on energy costs as federal regulations target coal-fired plants. Proposed carbon dioxide rules will be expensive, and could strand portions of EKPC's nearly $1.5 billion investment in coal technology over the past decade. Kentucky is working hard to offer substantial capability and opportunities in the eastern region, and EKPC and our 16 owner-member co-ops are proactively assisting the Cabinet of Economic Development in developing innovative initiatives and incentives to boost rural areas through economic development."
Jennifer Willis, Humana's Kentucky Market Vice-President, said, "Health has always been personal, but it is becoming customized. Technology empowers individuals to make better healthcare decisions. To ensure we can meet their demands, Humana is creating partnerships with doctors and other medical professionals to provide high-quality care and building relationships with our members to understand what they need and how to deliver it to them. Our goal is to make it easy for people to achieve their best health. For Humana, we're excited people are engaging in their health by wearing devices that track their activity, but we also want to help them understand and leverage the information from those devices."
"Workforce preparation is top of mind in Northern Kentucky. Primary industries want to expand operations yet need to replace a sizeable retiring workforce," said Dan Tobergte, president and CEO of the Northern Kentucky Tri-County Economic Development Corp. "NKY 'Tri-ED' is pitching in with key players in the community to encourage high school students and veterans to train with Gateway Community and Technical College for advanced manufacturing careers. We're supportive of right-to-work efforts to "get Northern Kentucky considered" for more jobs in advanced manufacturing. We are looking forward to an "all-star" year in 2015 – especially with Major League Baseball's All-Star game coming to Cincinnati."
Dave Sevigny, president of DMD Data Systems, Inc., of Frankfort and Louisville, Kentucky, and Reston, Virginia, says, "We see 2015 as a year of slow but steady growth for Kentucky's economy. Our clients are, in general, cautiously optimistic and interested in making targeted investments in technology infrastructure and software to ensure business continuity, improve security posture in the face of new threats and manage mobile devices. Kentucky companies continue to invest in easier-to-manage IT systems, and more tech work hours are being spent improving business efficiency with process management and analytics software. Continued investments by the commonwealth in an educated workforce and in uniform access to high-speed Internet service are essential to support Kentucky's future economic growth."
Louisville mayor Greg Fischer said, "Metropolitan economies are fueling global economic growth and Louisville's 2015 outlook is bright. Downtown is on the move with seven new hotels and an overhaul of the convention center. In 2014 we celebrated our two Ford plants at full capacity, a headquarters expansion announcement from Kindred Healthcare, Computershare choosing Louisville, and a global bourbon boom creating jobs and tourism. In 2015, significant development will occur in West Louisville with progress on our food hub and investments at 18th and Broadway. Employment is strong, and our new Louisville Forward economic development effort is refocusing growth and investment around five clusters: advanced manufacturing; logistics and e-commerce; food and beverage; business services; and lifelong wellness and aging care. Louisville's success means progress for the entire commonwealth."
"The outlook for Lexington's economy is bright, with increased interest from both local and outside developers to choose Lexington as the place to grow their businesses," said Lexington's mayor, Jim Gray. "To stay competitive in attracting a talented workforce, the city recently launched a jobs fund for high-priority industries. Our healthcare sector is expanding. Our colleges and universities are making remarkable investments in their students and campuses. There are more people working here today than ever before, and our unemployment rate is back to pre-recession levels. Our top economic priorities remain job creation and eliminating gaps in workforce training."
Mary Quinn Ramer, president of VisitLEX, says, "Lexington's tourism industry is poised for a strong 2015. Research indicates travelers want authentic experiences and they are exploring central Kentucky's history and heritage. There is double-digit visitation growth in at distillery visitor centers. Fayette County hotel occupancy was above the 64.9 percent national average most of 2014. In October, occupancy hit an all-time high of 75.9 percent and the average daily rate surged to $110.76, representing 5.7 percent and 8.8 percent increases, respectively, over October 2013. Average national hotel occupancy is expected to reach an all-time high 65 percent in 2015, according to STR Inc. Another reason for optimism is the unprecedented opportunity to showcase our first-class hospitality to the world during Breeders' Cup 2015 in October."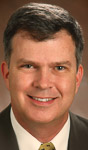 Hood Harris, president of AT&T-Kentucky, says, "We have a great opportunity in front of us in 2015. With strong leadership in the General Assembly, the commonwealth's communications laws can be modernized to keep pace with consumer demands and the rapidly changing market. I am confident that our leaders in the General Assembly will do what is necessary to pave the way for increased investment and innovation that can strengthen our schools, our economy and our job market."
Bob Quick, president and CEO of Commerce Lexington, Inc., says, "Kentucky – and more specifically Lexington – have continued a positive trend economically over the last year. Unemployment rates dropped statewide in all 120 counties and in Lexington dropped to 4.4 percent in October 2014, one of the lowest rates in the state. Lexington was cited with one of the best post-recession recoveries (No. 12, Wallet Hub) and as a Rapid Recovery Leader (No. 2, Business Facilities). Economic development activity remained steady in 2014 for the partners of the Bluegrass Business Development Partnership, which affected nearly 1,400 new jobs through company relocations and expansions here. Lexington's diverse economy, highly educated workforce and collaborative economic development efforts will continue to give us an advantage when promoting our region to clients and site selection consultants in 2015."

Dave Adkisson, president and CEO of the Kentucky Chamber of Commerce, said, "It appears the national economy is gaining some steam and employers are hiring more people as we enter 2015. I expect those trends to continue in Kentucky, although the experience will be very different across the state's nine regional economies that we track at the Kentucky Chamber. Issues about the future of Kentucky's economy will be front-and-center in 2015 as the governor's race unfolds. We can expect a full-throated debate on issues such as right to work, prevailing wage and workforce training. Meanwhile, we hope to see more announcements of business expansions in 2015 and more jobs created."
"2014 was another banner year for the south-central Kentucky region, and I look for 2015 to be another prosperous year," said Ron Bunch, president and CEO of the Bowling Green and Warren County Chamber of Commerce. "After Bilstein's announcement of 2013's largest capital investment by a new company in the commonwealth, Bowling Green followed up with nine announcements including more than $210 million in investment and over 650 jobs. There was growth in almost every sector. In July, Voqual announced the largest investment in south-central Kentucky in a decade, an international joint venture in our Transpark. With a high-quality, well-trained workforce continuing to be a top region priority, we are making significant strides in all levels of education, from elementary to post-secondary."
Lori Meadows, executive director of the Kentucky Arts Council, said, "Kentucky's creative industry, consisting of products and services that originate in artistic, cultural, creative and/or aesthetic content, is poised for growth in 2015. Recent United Nations reports confirm that the creative economy is one of the most rapidly growing sectors of the world economy in income-generation, job creation and export earnings and Kentucky is following this international trend. Immediate action on the recommendations in Kentucky's new creative industry report will build and strengthen creative enterprises, entrepreneurs and places, and this will enhance the commonwealth's growing reputation as a national leader. Kentucky Creative Industry Report: artscouncil.ky.gov/Resources/Publications/2014CreativeIndustryReport.pdf."
"Despite the admirable goal of increasing access to healthcare, the Affordable Care Act will unfortunately increase an employer's cost to provide healthcare in 2015 and beyond," said L. Briggs Cochran, president and CEO of Benefit Insurance Marketing. "Employers will have direct cost increases with new taxes and fees embedded in premiums, indirect costs with increased administrative expenses associated with reporting requirements and unknown costs with potential unrestrained regulatory action. Regardless, the vast majority of employers that are equipped with information on how ACA will impact their company have made the objective business decision to continue providing healthcare benefits in conjunction with their total compensation strategy."
Victor Staffier, chairman, CEO and Presidentof LG&E/KU, said, "Kentucky has been fortunate to have some of the lowest energy rates in the country, providing a competitive advantage in attracting and maintaining energy-intensive industries and related jobs. Recent federal environmental mandates and the proposed greenhouse gas rule are, however, jeopardizing that advantage. The proposed greenhouse gas rule would significantly increase energy costs and disproportionately impact manufacturing states like Kentucky. In fact, the Kentucky Energy and Environment Cabinet has projected a 10 percent increase in Kentucky electricity prices could result in a $2 billion decrease in state gross domestic product and a loss of 30,000 jobs in the energy-sensitive manufacturing sector, if the new rule is adopted."
"National statistics show a 2 percent ready-mix concrete production increase through September 2014 after 8-10 percent gains in 2012 and 2013," said R. Finley Messick, executive director of the Kentucky Ready Mixed Concrete Association & Kentucky Concrete Pavement Association. "The ready-mix rise will continue in urban areas of Kentucky in 2015 due in part to the green building movement, but Kentucky's rural areas are seeing little construction. Kentucky Concrete Pavement Association contractors in 2014 continued to lag way behind their counterparts in asphalt and got less contractual money from the Kentucky Transportation Cabinet than companies that mow grass. Because the KYTC is working with the industry through education and other programs to give the concrete contractors more opportunity to compete for paving projects, there is hope for an increase in concrete pavement in 2015."
Mark Green is editorial director of The Lane Report.  He can be reached at [email protected]